Deep dark chocolate devil's food cake is topped with a fluffy marshmallow frosting making for one rich and delicious dessert.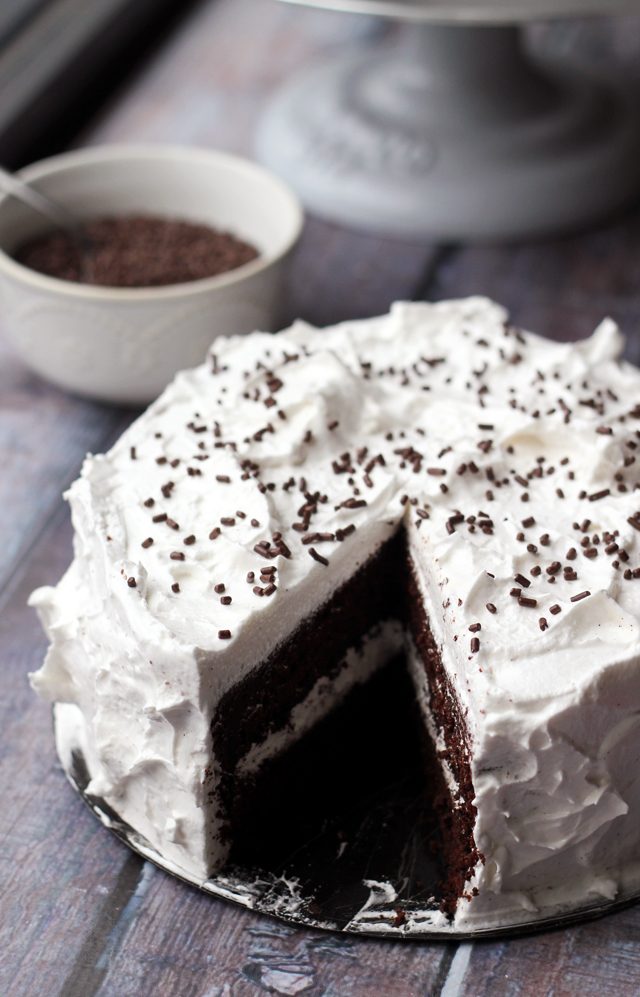 My latest scheme to beat-the-student-housing system involves a night of dark chocolate, wine, oysters, and fertility shots.
I really can't understand why the.boy "just isn't that into it".
Apparently those who are with child get preference over those who are not, yet couples and singles are ranked equally.
All of a sudden single motherhood is sounding quite appealing…
Well, my darling fiance can protest the morality of bringing a child into this world for the sole purpose of qualifying for humane living conditions all he wants.
But the proof is in the pudding.
(Err, devil's food cake.)
And I don't remember hearing any objections from across our apartment as I was piling rich chocolate cake layers on top of each other or sandwiching the fluffiest of fluffy frostings in between them.
Or as he was shoving forkful after forkful into his mouth before leaving for work.
I  have a feeling there is some compromise in our future.
Especially if I'm going to continue to use slices of this cake as bartering tools.
Can you just see me waving around a pregnancy test in the housing office (urine flying everywhere) whilst demanding an apartment upgrade?
Hey, I never promised I'd fight fair.
On that note. CAKE!
I'm not normally a girl who's into chocolate cakes, but I am marrying a boy who is. And this one is pretty fabulous.
The cake itself is tender, moist, and rich without being heavy. And then it's smothered in marshmallow frosting.
Shazam!
Those two were meant to be, I tell ya.
Devil's Food Cake with Angel Frosting
Deep dark chocolate devil's food cake is topped with a fluffy marshmallow frosting making for one rich and delicious dessert.
Yield:
1 8-inch, 2 layer cake
Ingredients
For the cake
1 oz dark chocolate, broken into small pieces
½ cup dark unsweetened cocoa powder
⅔ cup hot coffee
⅓ cup whole milk
1⅓ cups all purpose flour
1 tsp baking soda
½ tsp salt
10 tbsp unsalted butter, softened
1 cup dark brown sugar
½ cup sugar
3 large eggs
1 tsp vanilla extract
For the frosting
5 large egg whites, room temperature
1½ cups sugar, divided
1 tbsp light corn syrup
1 tsp vanilla bean paste
chocolate sprinkles, to decorate
Instructions
Heat oven to 325. Grease two 8-inch round cake pans and line with parchment paper. Grease the parchment.
In a medium bowl, combine the chocolate and cocoa powder. Pour the hot coffee into this same bowl and whisk to combine. Stir in the milk until smooth.
In another bowl, whisk together the flour, baking soda, and salt. Set aside.
In the bowl of a stand mixer fitted with the paddle attachment, beat the butter and sugars on medium-high speed until fluffy, about 3 minutes. Add in the eggs, one at a time, mixing well and scraping down the sides after each addition. Mix in the vanilla. Scrape down the bowl and mix again for 30 seconds.
Add in the flour in three parts, alternating with the chocolate mixture.
Divide the batter among the prepared pans. Bake for 35-40 minutes, rotating halfway through, until a toothpick inserted in the center comes out clean. Transfer to a wire rack and let cool for 15 minutes. Turn out onto the rack and let cool completely.
To make the frosting, put the egg whites in the bowl of a stand mixer fitted with the whisk attachment. Set aside.
In a medium saucepan over low heat, stir together 1¼ cups sugar, the corn syrup, and ¼ cup water. Increase the heat to medium-high and cook, without stirring, until it reaches 235 degrees F.
Meanwhile, whisk the egg whites on medium speed until soft peaks form.
As soon as the sugar reaches the right temperature, remove the pan from the heat.
Add the remaining ¼ cup sugar to the egg whites and mix on low. While the mixer is still running, slowly stream in the hot sugar mixture. Increase the speed to high once you have added all the sugar syrup and beat for 7 minutes, or until thick and shiny. Add the vanilla bean paste and beat again for 10 seconds.
To assemble the cake, place one layer on a serving platter. Trim it so that the cake is level. Spread 1 cup of frosting on top. Place the next layer on top and trim it as well. Frost the sides and top of the cake with the remaining frosting. Garnish with sprinkles.
Notes
Recipe from
Baked Explorations: Classic American Desserts Reinvented
For more rich and luscious cakes, check out these: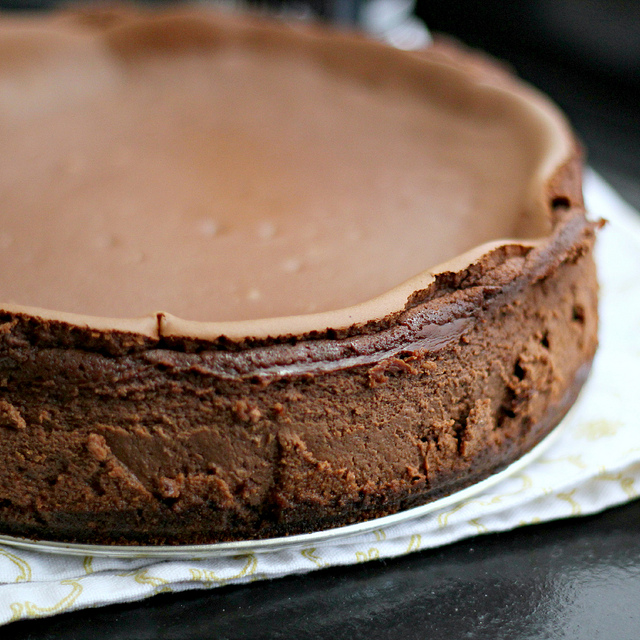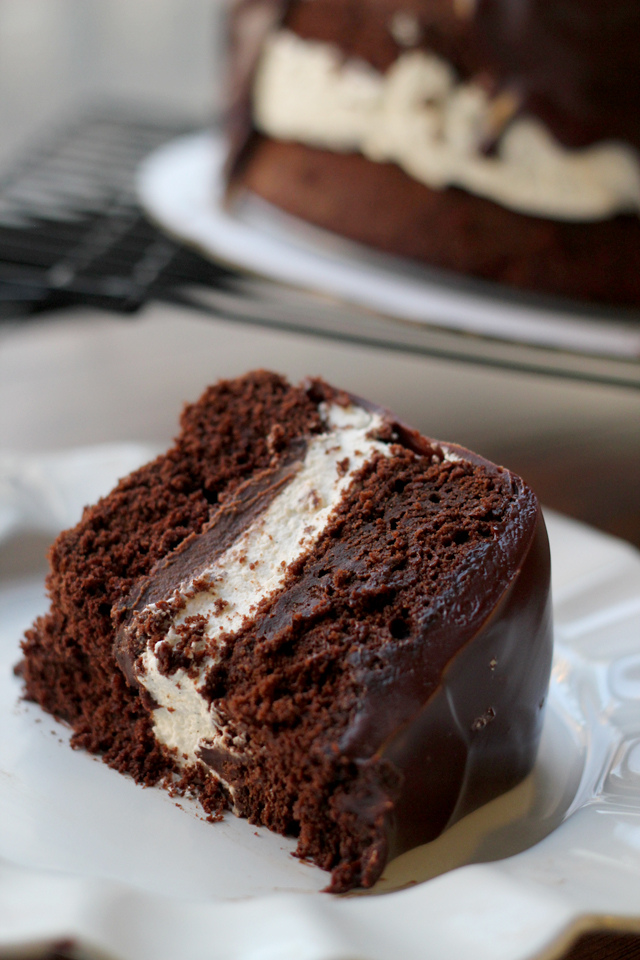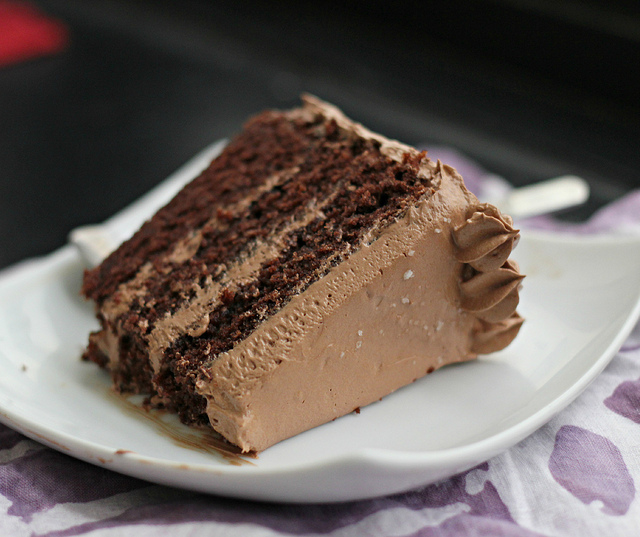 From Around the Web:
Chocolate Birthday Cake from Not Without Salt
Chocolate Whiskey Bundt Cake with Whiskey Caramel Sauce from Love & Olive Oil
Banana Chocolate Cake with Cream Cheese Dulce de Leche Frosting from Portuguese Girl Cooks
Toblerone Ice Cream Cake from The Sugar Hit
Kahlua Crunch Cake from Bakers Royale