A popular Indian recipe made from whole black lentils simmered in a rich tomato sauce with spices and butter – dal makhani is one of the most delicious lentil dishes you will ever eat!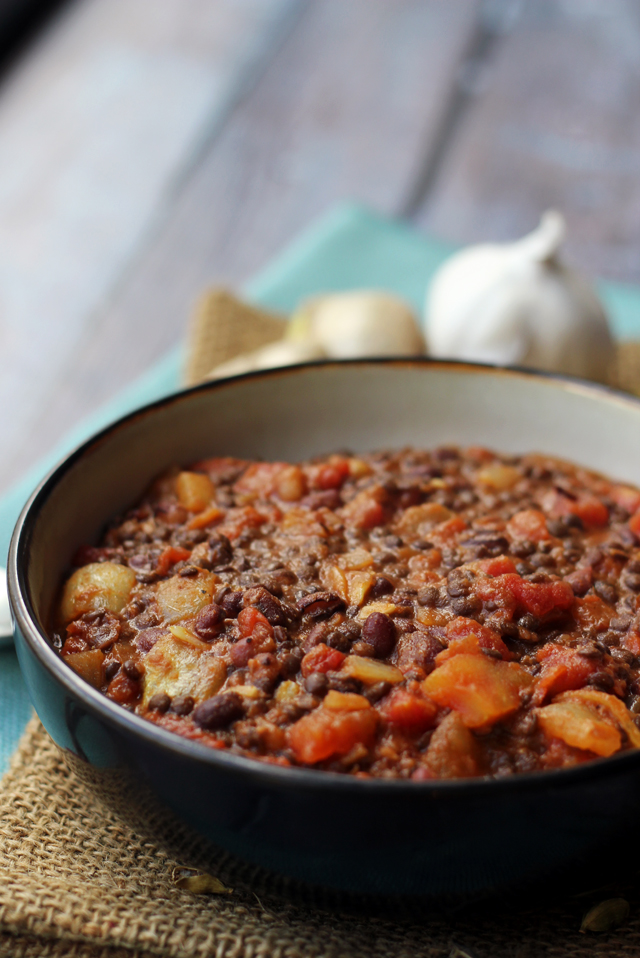 Some might tell you that the point of half marathon running is for exercise, fitness, health, this super awesome adrenaline rush that hits you after you finish the race and makes you feel like a very sore million bucks.
And yes, those are all well and good, and excellent reasons to run half marathons.
But what it's really all about is spending 13.1 miles thinking about what you are going to eat when you are done.
And then eating it.
There is very little in life that is more satisfying.
I generally spend most half marathons thinking about all the ways I can trash up breakfast so that it is really dessert, but this weekend's 13.1 through Brooklyn was all about the dal.
Maybe my muscles were crying out for protein or perhaps my subconscious remembered that I am running another half marathon this coming weekend and needed the healing, anti-inflammatory effects of ginger and turmeric.
But dal it was, and dal I had to have.
Not even dal with ice cream on top.
Just dal. Plain and simple.
And by plain and simple, I obviously mean dal with all the spices and a hint of butter.
Because I did just run 13.1 miles, after all. And that deserves a little celebratory indulgence.
Dal, for those of you who don't know, is essentially a lentil stew. It is a classic Indian dish usually made from split lentils, which tend to fall apart during cooking and turn into a big bowl of delicious mush.
This dal, however, is made with a combination of black lentils, which can hold their shape under pressure, and adzuki beans, which give a great textual contrast to the dish.
Most dals I've had from restaurants are fairly lackluster, but this one is so rich in flavor that you will be tempted to never order take-out again.
Not to mention the fact that I'm fairly sure it cured all of my post-race sore leg woes.
Running tradition in the making? You betcha. So long as I can occasionally get a bowl of ice cream on the side. Or on top. No judgment.
Dal Makhani (Black Lentils with Rich Tomato Sauce)
A popular Indian recipe made from whole black lentils simmered with spices and butter. These are probably the most delicious lentils you will ever eat!
Ingredients
1 cup dried black lentils
1 cup dried adzuki beans
water, to soak and cook beans
3 tbsp olive oil
2 large onions, chopped
6 large cloves garlic, minced
1-inch piece of fresh ginger, grated
1 bay leaf
1-inch piece of cinnamon stick
2 cardamom pods
2 dried small hot red chili peppers
1½ tbsp garam masala
¾ tsp coriander
¾ tsp cumin
¾ tsp chili powder
¾ tsp sweet paprika
¼ tsp ground fenugreek
¼ tsp ground black pepper
1 tsp coarse kosher salt
14 oz canned diced tomatoes
6 oz tomato paste
2 cups vegetable broth
4 tbsp unsalted butter
½ cup lowfat milk
Instructions
Soak the lentil and the adzuki beans in a large bowl of water overnight. Drain off the water the next day.
In a large pot, combine the beans. Cover with water by 1 inch. Add a big pinch of salt and bring to a boil. Cover and lower the heat to a simmer, cooking for 1 hour or until tender. Drain.
Meanwhile, heat the olive oil in a large skillet. Cook the onions over medium-low heat for 15 minutes, or until starting to caramelize, stirring frequently.
Stir in the garlic and ginger, and cook for 1 minute, or until fragrant.
Add the bay leaf, cinnamon stick, cardamom pods, chili peppers, garam masala, coriander, cumin, chili powder, paprika, fenugreek, black pepper, and salt to the pot. Cook, stirring constantly, for 30 seconds.
Pour the tomatoes, vegetable broth, and tomato pasta into the pot, along with the cooked beans and lentils. Bring to a boil and then simmer until thickened, about 15 minutes. Season to taste with salt and black pepper. Remove the bay leaf, cinnamon stick, and cardamom pods from the pot.
Stir in the butter and milk until combined. Serve warm, over rice or with naan.
For more variations on dal, check out these:
Red Lentil Dal with Charred Onions
Chickpeas and Chana Dal Cooked Together in a Mint Sauce
Slow Cooker Red Lentil Dal from Cafe Johnsonia
Pumpkin Dal Soup from The Culinary Life
Indian Red Lentil Dip from Daring Gourmet