Eggplant dumplings alla parmigiana are a game-changer when it comes to vegetarian meatballs! They are vegetable-based, hearty, and bursting with Italian flavor.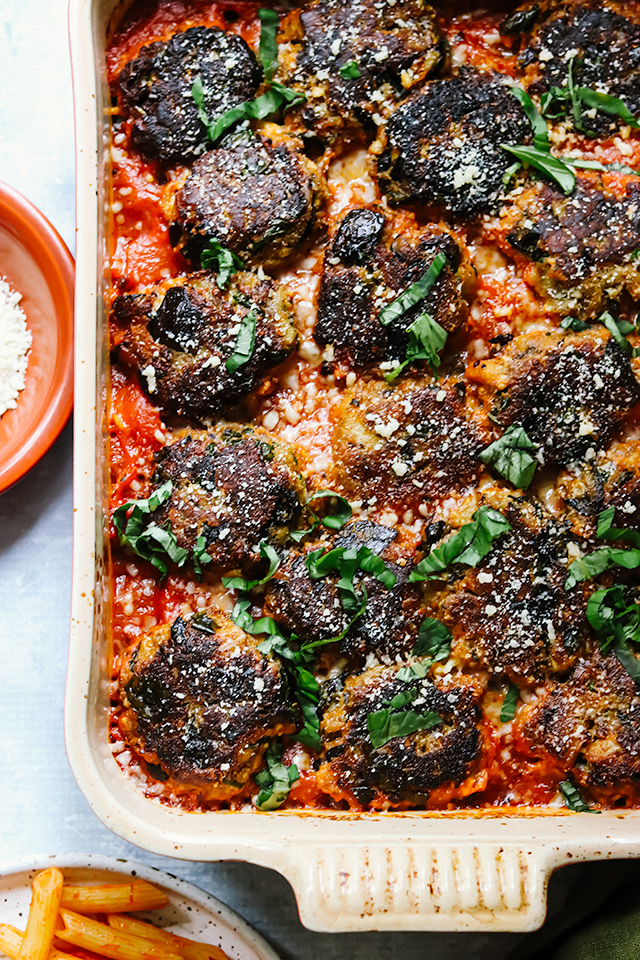 Every time I look around, I swear there's a new kind of vegetarian meatball or artificial meat substitute on the market. They are all the rage among anyone trying to reduce their animal product intake who still craves the flavors of actual meat. Even my husband says they are pretty close to the real thing, and he is fairly picky when it comes to that kind of thing.
As someone who really does not like the texture or taste of meat, I can't stand any of them! Not to mention the fact that they have just about as many artificial ingredients as a pack of Skittles. Not interested.
I so much prefer vegetarian meals that are delicious in their own right, not trying to mimic something else, and are made from real (pronounceable) ingredients.
Eggplant dumplings alla parmigiana deliver on ALL FRONTS.
I'm no stranger to eggplant meatballs, having experimented with Domenica Marchetti's version in various soups, pasta dishes, and with non-traditional flavor pairings. There's something about the eggplant that gives the veggie balls a meaty texture without actually tasting or feeling like meat at all. It's hard to describe other than that it's just delicious and extremely satisfying. 
These eggplant dumpings from (surprise surprise) Ottolenghi's Flavor cookbook are completely different from the balls I've made previously but are equally as toothsome, especially when paired with loads of parmesan cheese and a deeply savory tomato sauce.
There is really nothing better.
Whereas Domenica's meatballs feature boiled eggplant, Ottolenghi has you roast it so that it gets caramelized and charred, making for a better depth of flavor. This also prevents the eggplant from getting water-logged and eliminating the need to squeeze out any excess water (one of my least favorite steps in my previous recipe). 
The roasted eggplant is chopped until it forms a chunky mash and then mixed with breadcrumbs, ricotta cheese, eggs, basil, garlic, and parmesan cheese to form the dumpling base. The mixture is formed into balls and then lightly fried on the outside to give it a crispy exterior.
The dumplings will then finish off baking in the oven, nestled into a quick homemade tomato sauce. Make sure to top them off with more cheese and loads of fresh basil before serving to get the ultimate eggplant parm flavor experience. It is such a great meal to serve to company and, though non-traditional, would be a great vegetarian option at any holiday gathering.
This recipe is a bit of a project and does dirty a few pans, so make sure to wash and clean up as you go. I also recommend making the tomato sauce while the eggplant is roasting to save time later on. 
Serve the dumplings over pasta, polenta, risotto, or with a big hunk of bread for soaking up that sumptuous sauce.
Ottolenghi's Eggplant Dumplings Alla Parmigiana
Eggplant dumplings alla parmigiana are a game-changer when it comes to vegetarian meatballs! They are vegetable-based, hearty, and bursting with Italian flavor.
Ingredients
1¼ cups (90 g) dried breadcrumbs
4 eggplants (~1 kg), cut into 1-inch cubes
½ cup + 2 tbsp (150 ml) olive oil
salt and black pepper
6 tbsp (100 g) ricotta
2.5 oz (75 g) grated parmesan cheese, plus more to serve
1 large egg
1 large egg yolk
4.5 tsp all purpose flour
6 garlic cloves, grated
¾ cup (15 g) basil leaves, roughly chopped
28 oz cans whole peeled tomatoes, blitzed until smooth
1½ tsp tomato paste
1½ tsp sugar
¼ tsp red pepper flakes
¾ tsp paprika
1 tsp dried oregano
1⅔ cups (400 ml) water
Instructions
Heat oven to 450F.
Line a large baking sheet with parchment paper. Add the chopped eggplant to the pan and toss with 5 tbsp olive oil, ½ tsp salt, and black pepper to taste. Spread out into as even a layer as possible and place in the oven. Bake for 30 minutes, tossing halfway through.
Remove the eggplants from the oven and chop until they break down and form a chunky mash. Scoop into a large bowl and refrigerate for 10-15 minutes or until cooled to at least room temperature.
Once cool, add the ricotta, parmesan, egg, egg yolk, flour, breadcrumbs, a third of the garlic, ½ cup of the basil, ¼ tsp salt, and black pepper to the bowl. Mix well. Season to taste with more salt, if needed.
Grease your hands and then scoop the eggplant mixture into sixteen golf-ball sized dumplings.
Heat 2 tbsp of olive oil in a large nonstick pan over medium-high heat. Add half of the dumplings to the pan and fry for 3-4 minutes or until golden and crispy all over. Transfer to a plate. Add another tbsp of oil to the pan and repeat with the remaining dumplings. Set aside.
Heat oven to 400F.
To make the sauce, put the remaining 2 tbsp of olive oil into a large pan over medium-high heat. Add the remaining garlic to the pan and saute until fragrant, about 1 minute. Add in the tomatoes, tomato paste, sugar, chile flakes, paprika, oregano, 1 tsp salt, and black pepper. Cook for 8 minutes, or until thickened. Pour in the water. Bring to a simmer, then lower to medium and simmer for 10 more minutes.
Pour the sauce into a 9x13-inch baking dish in an even layer. Top with the dumplings, nestling them into the sauce as needed. Place in the oven and bake for 20 minutes, or until the sauce is bubbling. Remove from the oven and sprinkle with basil and more parmesan cheese just before serving.