THE BEST flaky homemade yeast biscuits – made with an easy laminated yeasted dough, these are fluffy, buttery, and completely addictive.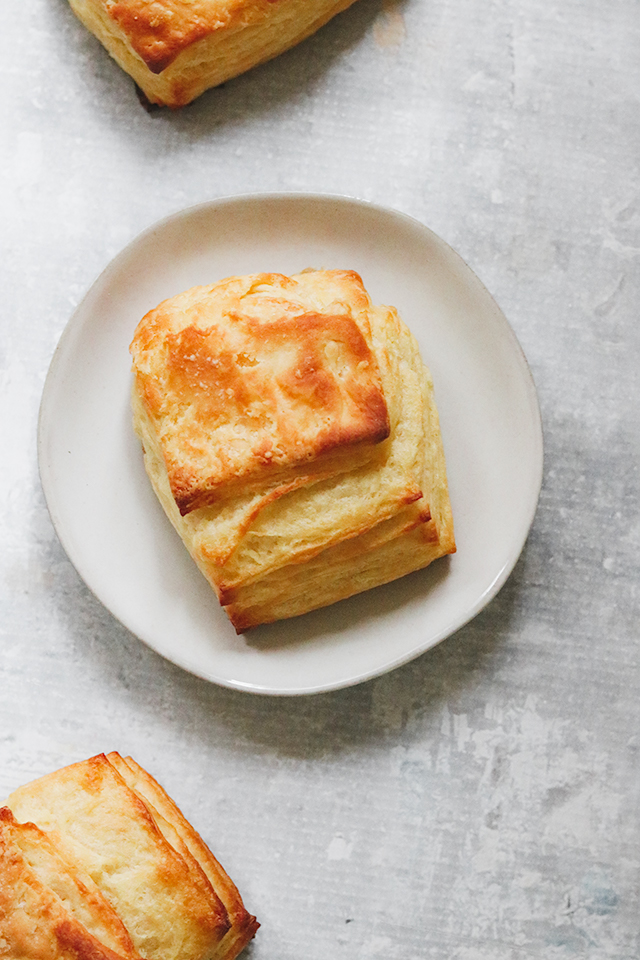 Prior to spring 2020 (ahem) I would have told you I was the least qualified person on this earth to lecture you on the virtues of a good biscuit. 
Any biscuit I ate in childhood definitely came from a can, I don't have any heirloom family recipes to pass on (unless I'm somehow distantly related to the Pillsbury family – DOUBTFUL), and even in adulthood I'd only made biscuits a handful of times – certainly not enough to consider myself an expert on anything biscuit-related.
And then the pandemic hit.
If there was ever a need for biscuit comfort in this world, THIS WAS IT. Sitting at home with a four-nager for days on end while simultaneously working full time. It could have only been more exhausting if we had more than one kid (parents of multiple children, you are the true heroes).
Suddenly I found myself wanting to eat my feelings even more than usual and strangely they tasted distinctly like layers upon layers of butter and flour and yeast.
I tried buttermilk biscuits and cream biscuits, but these rely on you having specialty milk products that were not always easily found during those early dark times, and so I finally landed on these yeast biscuits which, YES, require yeast and butter and flour and salt, but that's about it.
These are what I imagine would happen if parker house rolls and buttermilk biscuits had a baby. 
They are somehow both fluffy and flaky, and possibly one of the most addictive things I've ever eaten.
You start with a typical straightforward yeast dough and then take a hard left into laminated dough territory. It feels scary at first but when you realize that lamination is really just a matter of folding and re-rolling the dough a bunch of times, it's really not that hard. 
After a brief rise and a short stint in the oven, you're rewarded for your efforts with layers upon layers of biscuit heaven. They pair well with anything, including breakfast, lunch, dinner, and a good cry in the bathroom if that's what you're needing.
The Best Flaky Homemade Yeast Biscuits
THE BEST flaky homemade yeast biscuits - made with an easy laminated yeasted dough, these are fluffy, buttery, and completely addictive.
Ingredients
½ cup water, warmed to 120F
2 tbsp (25 g) sugar
2.5 tsp (9 g) active dry yeast
1¾ cups (210 g) all purpose flour
½ tsp salt
6 tbsp (85 g) cold unsalted butter
Instructions
In a small bowl, mix together the water, sugar, and yeast. Allow to sit for about 5 minutes or until the yeast becomes foamy. This will help to activate the yeast and make sure it hasn't gone bad or expired.
In a large mixing bowl, whisk together the flour and salt. Add in the yeast mixture and knead together for 1-2 minutes. Cover the bowl with plastic wrap and allow to rest in a warm spot for 60 minutes.
Once the dough has rested, roll it out into a rectangle with a height that is three times its width.
Use the rolling pin to bang the cold butter until it is flattened into a roughly rectangular shape. Place the butter across the middle third of your dough rectangle. Fold the sides of the dough over the butter as if you were folding a letter. The butter should now be completely encased in the dough.
Roll the dough back into a rectangle that is about the same size as your original rectangle. Again, fold the sides over the middle third of the dough as if you were folding a letter. Repeat 4-5 times.
After you roll the dough into its final rectangle, cut it into six equal-sized rectangles. Place on a parchment-lined baking sheet with at least 2-3 inches in-between them. Cover with plastic wrap and place in a warm place. Let rise until double in size, about an hour.
When ready to bake, heat the oven to 425F. Remove the plastic wrap and bake for 12-15 minutes or until puffed and golden brown on top.