This post is sponsored by Crock-It Lock-It, a universal crockpot carrier that allows you to transport your delicious slow cooked food without spills! As always, my thoughts and opinions are my own.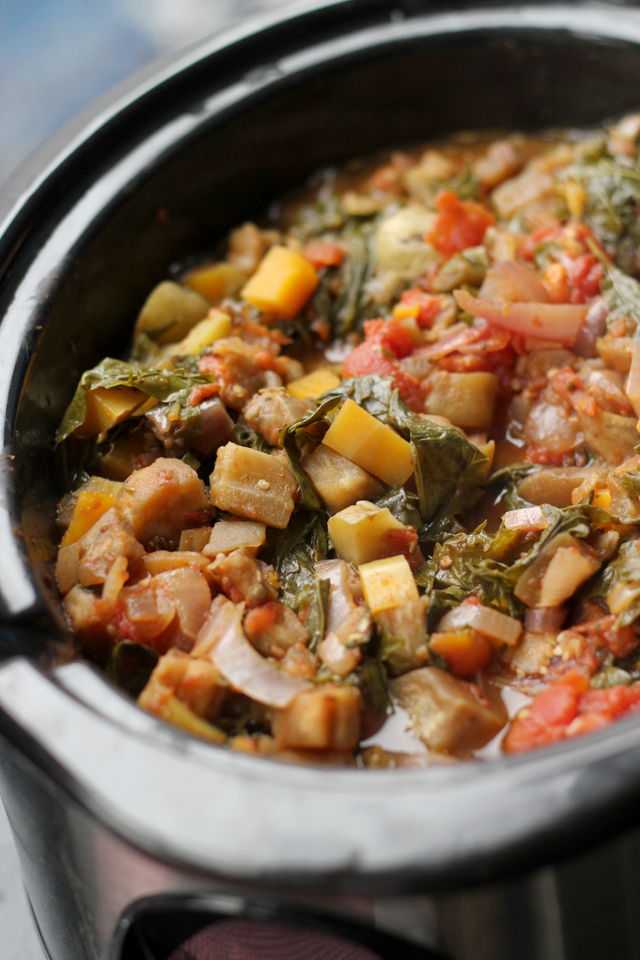 I didn't call this blog Eats Well With Others for nothing.
As you might have guessed, I am a big sharer of food.
Some might even call me an oversharer. (But I'm not friends with those people anymore.)
Suffice it to say, it is a rare occasion that I venture into someone's house without something edible to shove into their face upon my arrival.
Which is all well and good except that so many of the best things in life are not really travel-friendly.
Like, for example, anything made in the crockpot. The cover never fits on right, so the food sloshes out everywhere the second you pick it up, and it takes TWO HANDS to hold it, which means you're going to have to carry the other five things that you're bringing on your head.
Non-ideal. (I've tried.)
Buuuuttttt on the other hand, crockpot recipes tend to make enough to serve a small army with minimal effort, so they're kind of perfect for big parties (cough Superbowl Parties cough), and unless you really love leftovers, it's probably best to remember that sharing is caring.
Enter the Crock-It Lock-It, which is pretty much the solution to all of our slow cooked food transport problems. It's kind of a one-size-fits-all strap for the crockpot that essentially prevents the crockpot lid from moving while also providing you with a handle to tote it around all fashionable-like. With the Crock-It Lock-It, you can take your crockpot anywhere you go – potlucks, picnics, parties, tailgating, wedding dress shopping (WHAT?! WE NEEDED FUEL!!) – the sky is the limit!
The folks over at Crock-It Lock-It are offering up a coupon code for all of my fabulous readers, so if you decide to purchase one, enter the code "EATSWELL" when you pay, and you will receive $5 off your order!  In addition, they have also offered to let me GIVEAWAY  a crock-it lock-it to one of my readers!! To enter, please leave a comment telling me what your favorite crockpot meal is. For an extra entry, like Crock-It Lock-It on Facebook and leave a separate comment telling me that you've done so. The giveaway will run until January 15th.
Now, if you're stuck on what to make and tote around in your crockpot, have I got a stew for you!
This winter ratatouille is filled with a ton of rich slow cooked veggie flavor, as eggplant, kale, butternut squash, and potatoes are tossed with tomatoes and Italian seasoning, and allowed to simmer away for a whopping EIGHT HOURS. The smells that this will exude into your life all day long will rock your socks. And drive you a little crazy because you will be hungry for eight hours straight. It's just the price you pay for deliciousness.  I served it over a creamy goat cheese-infused polenta, though I think it would also be great tossed with pasta, rice, or any grain of your choice!
This is my submission to Week 10 of the 12 Weeks of Winter Squash!! Did you include winter squash in your life this week? If so, then link up!!

One year ago…Pomegranate-Glazed Eggplant with Tempeh, Butternut Squash and Ricotta Salata, Sweet Potatoes with Bourbon and Maple
Three years ago…Nutella Thumbprint Swirl Corn Muffins
Four years ago…Spaghetti with Artichoke Hearts and Tomatoes
Five years ago…Tofu in a Thai Red Curry Sauce
Slow Cooker Winter Ratatouille with Goat Cheese Polenta
Ratatouille gets a wintry twist with the addition of seasonal vegetables. It simmers away in the slow cooker all day and is then served over creamy, rich goat cheese-infused polenta.
Ingredients
For the ratatouille
2 large eggplants, peeled and cut into ½-inch pieces
2 tbsp coarse salt, plus more to taste
1 small butternut squash, peeled, seeded and cut into ½-inch pieces
1 lb fingerling potatoes, quartered
1 bunch kale, stemmed and coarsely chopped
2 tbsp butter, divided
1 tbsp olive oil
2 medium red onions, halved and thinly sliced
3 cloves garlic, minced
¼ cup all purpose flour
¼ cup tomato paste
28 oz whole peeled tomatoes
1 tbsp Italian seasoning
1 cup vegetable broth
freshly ground black pepper, to taste
1 cup coarsely chopped fresh basil
For the polenta
4 cups vegetable broth
2 cups water
1½ tsp salt
1½ cups polenta
4 oz goat cheese
freshly ground black pepper
Instructions
Put the eggplant in a colander and sprinkle with the salt, tossing to combine. Let sit on a paper towel to drain for 45 minutes.
Meanwhile, prepare the remaining vegetables. Grease the slow cooker with olive oil. Add the butternut squash, fingerling potatoes, and kale to to the slow cooker, tossing to combine.
Melt 1 tbsp butter in a medium pot over medium heat. Add in the onions and garlic, along with a pinch of salt. Saute for 5-8 minutes, or until onions are tender. Add to the slow cooker.
In that same pot, melt 1 tbsp butter with 1 tbsp olive oil. Whisk in the flour and tomato paste. Stir constantly until flour combines with the paste. Slowly stir in the whole peeled tomatoes. Simmer, mashing the potatoes against the side of the pot, until mixture thickens slightly, about 10 minutes. Stir in the Italian seasoning and vegetable broth. Add to the pot.
Rinse the eggplant of the salt and add to the slow cooker. Add in freshly ground black pepper and stir to combine. Cook on low for 8 hours, stirring halfway through.
Before serving, stir in the basil and remove from heat.
For the polenta, bring the vegetable broth and water to a boil. Stir in the salt. Slowly whisk the polenta into the boiling water and lower to a simmer. Simmer until polenta reaches desired consistency, stirring frequently, anywhere from 15-30 minutes. When polenta is done, stir in the goat cheese and black pepper.
Serve ratatouille atop a big scoop of polenta.
Notes
An Eats Well With Others Original