An easy skillet roasted red pepper pasta bake topped with crispy breadcrumbs and creamy pockets of mozzarella cheese.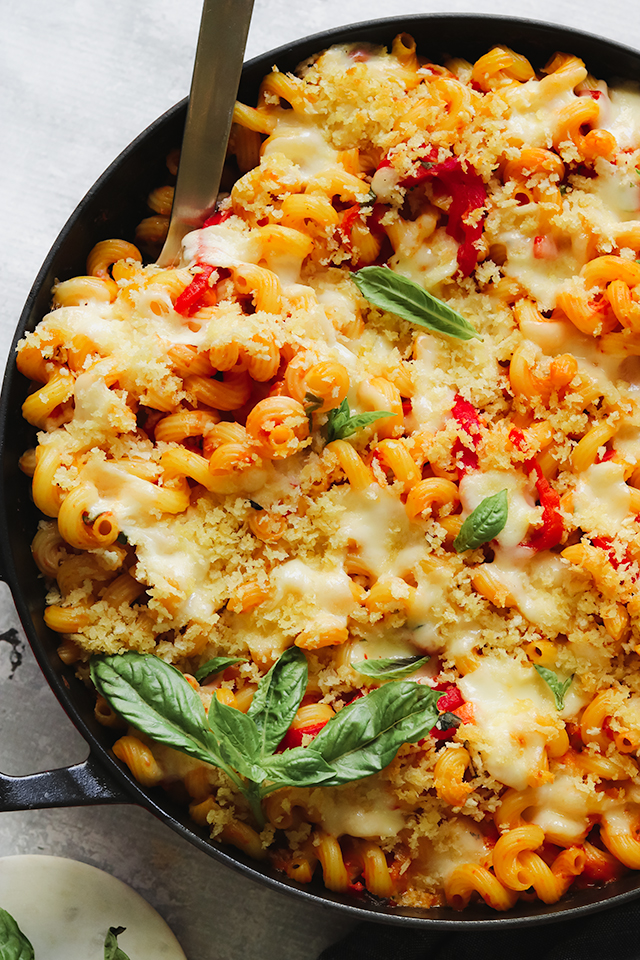 This is the story of how I swore I would *never* become dependent on jarred pasta sauce for dinner then had a kid and got pregnant and have no energy and now my child says it's her favorite meal in the world that I "make".
Motherhood (and pregnancy) is humbling you guys. That's the long and short of it.
Also – there are some impressively good jars of pasta sauce out there. We are far past the days of sugary Ragu and Prego (<– completely blame these two for my former jar sauce hatred). Now there's Rao's, Cucina Antica, Delallo, and even certain of the Whole Foods 365 brand are pretty darn good (specifically, the Tomato Mascarpone Pasta Sauce). I keep at least one jar of one of these on hand at all times for dinner emergencies and it has been life saving.
That being said, I love a good pasta bake (who doesn't) and on those days that I have a teensy bit of extra energy I go the extra mile and doctor up one of our favorite sauces to make this quick skillet version of baked ziti.
Since the sauce is basically already made for you, this comes together in the time it takes to boil water and cook your pasta, requiring just a brief stint in the oven afterward.
It is a little indulgent, seeing as how it's covered in cheese and olive oil soaked breadcrumbs, but the sauce itself is fresh and filled with red peppers, so I think it evens out in the long run.
To make the roasted red pepper sauce, pour your favorite jarred tomato sauce (make sure it is one you actually like!) into an oven-safe skillet along with thinly sliced roasted red peppers (I just use the jarred kind), water, a bit of cream, red pepper flakes and basil.
Let them all simmer together while you boil water and cook your pasta. This will allow all of the flavors to really meld together and sing.
Once it's cooked, mix the pasta into the sauce and top it with cubes of fresh mozzarella and a breadcrumb drizzle.
Pop it into a preheated oven and bake until the cheese is melted and the breadcrumb topping is golden and crunchy.
The coziest weeknight-friendly meal I ever did see! (And bonus that it makes the best leftovers.)
Dig in.
Skillet Roasted Red Pepper Pasta Bake
An easy skillet roasted red pepper pasta bake topped with crispy breadcrumbs and creamy pockets of mozzarella cheese.
Ingredients
1 lb cavatappi
1 lb roasted red peppers, thinly sliced
24 oz jarred tomato sauce
½ cup water
¼ cup half and half
pinch of red pepper flakes
½ cup basil, thinly sliced
8 oz fresh mozzarella, cut into ½-inch cubes
½ cup panko
2 tbsp olive oil
Instructions
Heat oven to 400F.
Meanwhile, bring a large pot of salted water to a boil. Cook pasta until al dente, according to package directions. Drain and set aside.
While the pasta is cooking, heat a large ovenproof skillet over medium-high heat. Add the roasted red peppers, tomato sauce, water, half and half, red pepper flakes, and basil to the skillet. Bring to a boil and then lower heat to medium. Simmer for 10 minutes. Season to taste with salt and black pepper.
Add the drained pasta to the pot with the sauce and stir to combine. Top with the mozzarella cubes.
In a small bowl, stir together the panko and olive oil. Sprinkle over the top of the pasta.
Place in the oven and bake for 13-15 minutes, or until the breadcrumbs are golden and the cheese has melted. Allow to rest for 5 minutes before serving.
Notes
An Eats Well With Others Original