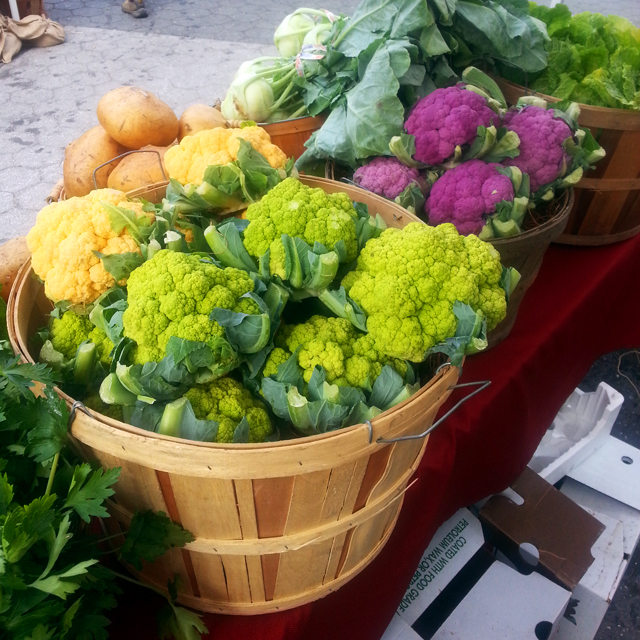 1. Somehow I can never make it to work before 9:30 but tell me to go to a farmer's market 60 blocks downtown in search of squash blossoms before 8AM? And I will be out that door by 7:30. On the dot. Puzzling.
2. I suspect this has something to do with the fact that neon cauliflower makes me feel more alive than fluorescent cells do. But that's just a guess.
3. Speaking of squash blossoms, I'm beginning to think the powers that be really don't want me to get my hands on any. In the past week, I have been to five grocery stores and two farmer's markets in search of them. And all I could find was EIGHT MEASLY ONES. And by "all I could find" I mean that I bought ALL OF THEM. To summarize: there are exactly eight squash blossoms in all of NYC. And they are all in my refrigerator. Don't ever say dedication is not my middle name.
4. Exhaustion is also (still) my middle name. If someone could come to my apartment every night and force me to go to bed before midnight, that would be ideal.
5. The.Boy and I are SO CLOSE to finishing Breaking Bad. I can almost taste it. We're at the point right now where Walt and I are not BFFs anymore. Not even a little bit. Jessie and I, on the other hand? We're a little bit in love.
6. My life has been so devoid of ice cream lately, it's not even funny. Tell me what flavor to make next. Go!
7. Also, I'm giving away a Kitchen Aid Stand Mixer!! So while you're going, might as well check that out!
8. That feeling when your building has no hot water the morning that you need to give a big presentation in front of almost 100 people? And so you can't possibly shower, let alone wash your hair. That was me. Yesterday. Please don't tell anyone.
9. I did manage to wash my underarms in the sink. Because I have some self respect.
10. I'm not even especially patriotic, but I want to star spangle everything in my life for at least the next week or so. You don't think only eating red, white and blue meals for the next week would be overkill, do you?