Addictive roasted sweet potatoes in a fragrant tomato, lime, and cardamom sauce and topped with a garlic and jalapeno salsa.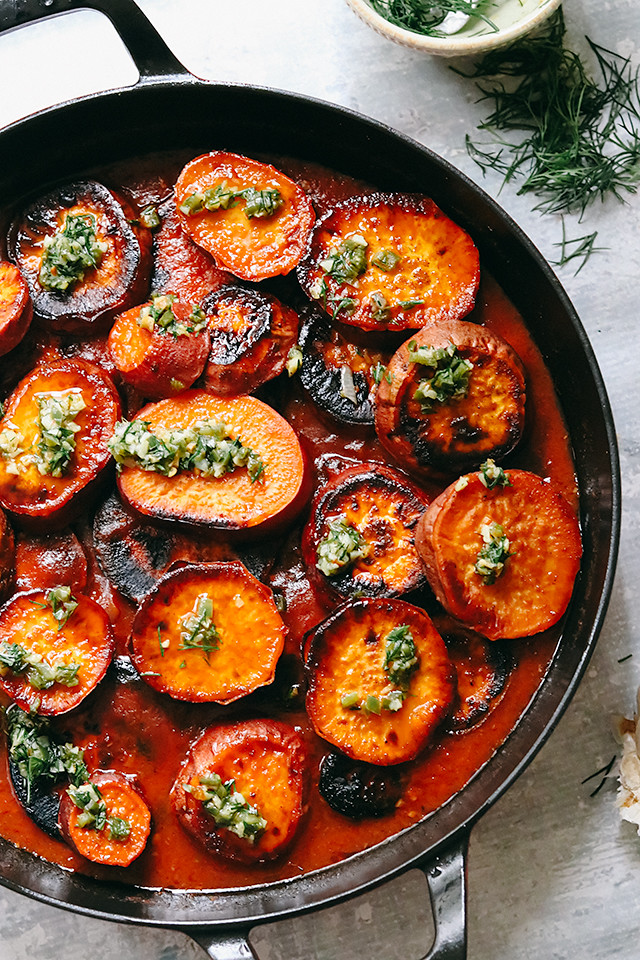 They say that whatever you do on New Year's Day sets the tone for the rest of the year, so I am planning on eating like a QUEEN.
If nothing else, next year had better be full of exceptional, exquisite delicious food. I feel like that's just about all we can hope for at this point.
The Ottolenghi Flavor cookbook is where I'm looking first for dinner inspiration. It came out in November and, in true Ottolenghi fashion, it is full of unique, surprising, and revelatory flavor combinations.
This recipe for roasted sweet potatoes smothered in a richly spiced tomato sauce was one of the first recipes to pop out at me and it instantly became a favorite. Sweet potato coins are tossed with a maple cardamom sauce and then baked until they are deeply sweet and caramelized. They're paired with a spiced tomato sauce and then topped with a punchy garlic and jalapeno herb salsa. Serve with a slice of good crusty bread for sopping up all of that sauce (perhaps made with that pandemic sourdough starter we know you've been nurturing) and you have a pretty excellent first-of-the-year meal.
Roasted Sweet Potatoes in Tomato, Lime, and Cardamom Sauce
Addictive roasted sweet potatoes in a fragrant tomato, lime, and cardamom sauce and topped with a garlic and jalapeno salsa.
Ingredients
2 lb sweet potatoes, cut crosswise into 1-inch thick rounds
2 tbsp olive oil
4.5 tsp maple syrup
½ tsp ground cardamom
½ tsp ground cumin
kosher salt and black pepper
For the sauce
5 tbsp olive oil
6 garlic cloves, minced
2 jalapeno peppers, finely chopped
2 shallots, finely chopped
14 oz whole peeled tomatoes, blended until smooth
1 tbsp tomato paste
1.5 tsp sugar
1.5 tsp cardamom
1 tsp ground cumin
1 tsp lime zest
1 tbsp lime juice
1 cup water
2 tsp finely chopped dill
Instructions
For the sweet potatoes
Heat oven to 500F. Line a baking sheet with parchment paper and set aside.
Toss the sweet potato slices with the olive oil, maple syrup, cardamom, cumin, ½ tsp salt, and black pepper in a large bowl. Spread on the prepared baking sheet. Cover the baking sheet tightly with aluminum foil. Place in the oven and bake for 25 minutes. Remove the foil and return to the oven for another 10 minutes, or until completely tender and brrowned.
For the sauce
While the sweet potatoes are cooking, combine the olive oil, garlic, jalapenos, and a pinch of salt in a large lidded saute pan over medium heat. Saute for 8-10 minutes, or until soft and tender. Transfer half of this mixture to a small bowl and set aside.
Add the shallots to the pan with the rest of the garlic mixture and saute for 5 minutes. Add in the tomatoes, tomato paste, sugar, cardamom, cumin, lime zest, and 1 tsp salt. Cook for 5 minutes so the flavors can combine, stirring frequently. Add in 1 cup of water and bring to a simmer. Cook for 5 minutes.
Transfer the cooked sweet potatoes to the sauce and gently toss to combine. Decrease the heat to low, cover the pot, and simmer for another 10 minutes.
Stir the dill and lime juice into the reserved garlic and olive oil mixture. Drizzle this over the sweet potatoes and serve immediately.