Homemade salted caramel oreos are the perfect sandwich cookie to kick off the holiday season!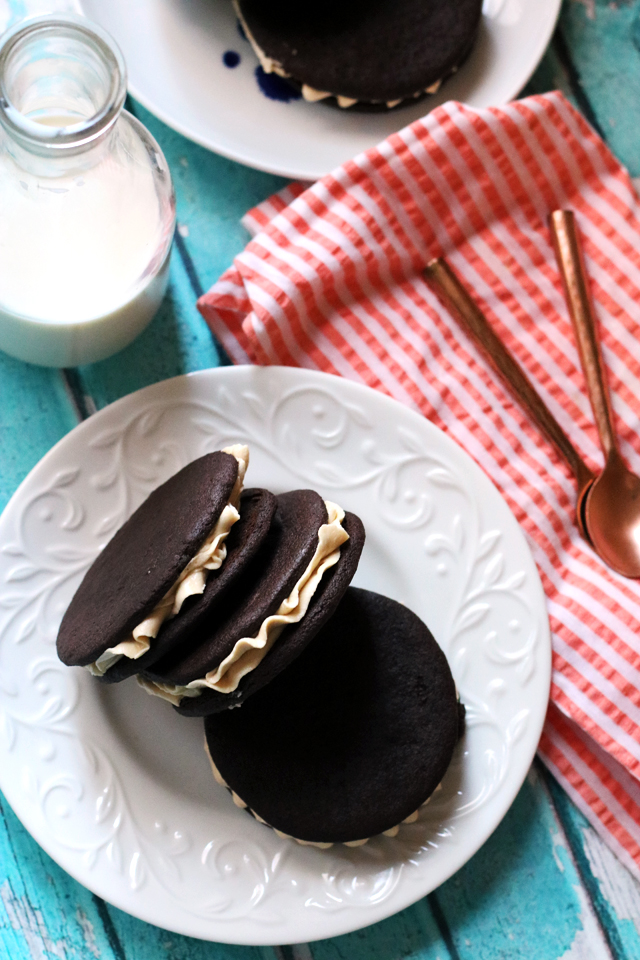 There may be things in life better than homemade oreos but honestly, I haven't found them.
It's hard to explain what's so amazing about them. It's like, they taste exactly like storebought oreos but also a gazillion times better.
More buttery, more sweet, more salty.
Like a truer version of themselves, if that makes sense.
It doesn't, but that's okay.
And – BONUS – when you make oreos at home, you can make all of those specialty flavors that you can never find in stores!!!
WIN/WIN.
I'm honestly not sure if Nabisco has ever made a salted caramel oreo. It's impossible to locate anything more exotic than double stuf in New York. But, if they haven't, THEY NEED TO GET ON THIS.
Oreos are already a pretty perfect blend of sweet and salty, but the salted caramel buttercream filling takes them to another level.
In addition to officially kicking off cookie season (yayyy!!!!!) these are also here to celebrate my friend Kayle who is expecting a sweet baby boy in just 3 short weeks! I remember those home stretch days from when I was pregnant with Remy. It felt simultaneously like time was moving at a snail's pace but also that I couldn't possibly be ready to bring home a baby because everything was happening so fast. Everyone always says that the days are long but the years are short about having a child and it is super cliche, but also very true. Enjoy every minute Kayle, both now and after the baby comes!
Kayle is the queen of cookies and so to congratulate her on the imminent arrival of her first child, we are showering her with a milk and cookies themed celebration!! If you're a cookie lover as well, you will hopefully find some inspiration in the links below, especially as we're all finalizing our holiday baking lists.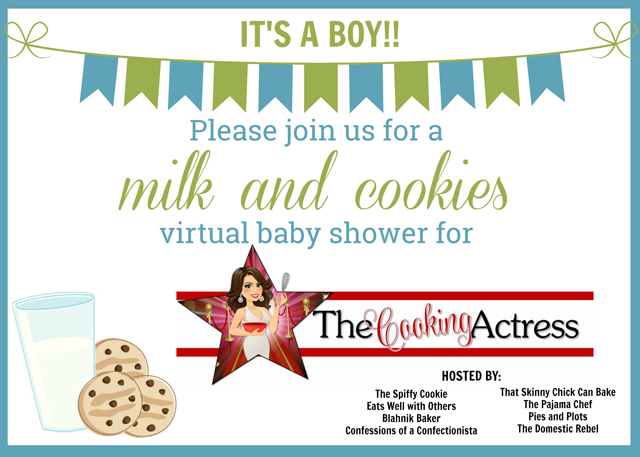 Also, check out the rest of the baby shower recipes made by my fellow hosts!
Turtle Thumbprint Cookies – by Confessions of a Confectionista
Cookie Dough Billionaire Bars – by That Skinny Chick Can Bake
Derby Pie – by The Spiffy Cookie
Chocolate Chip Rice Krispies Treat Cookies – by Pies and Plots
Eggnog Crinkle Cookies – by The Domestic Rebel
Cookie Dough Cups – by The Pajama Chef
Homemade Salted Caramel Oreos – by Eats with With Others
Double Chocolate Peppermint Cookies – by Blahnik Baker
Homemade Salted Caramel Oreos
Homemade salted caramel oreos are the perfect sandwich cookie to kick off the holiday season!
Yield:
12 sandwich cookies
Ingredients
For the homemade oreos
1¾ cups + 1½ tbsp (259 g) all purpose flour
1 cup + 1½ tbsp (87 g) Dutch process cocoa powder
? tsp (1.6 g) baking soda
8 oz (227 g) unsalted butter, room temperature
2 tsp (6 g) kosher salt
¾ cup + 1 tbsp (161 g) sugar
For the salted caramel
1 cup white sugar
6 tablespoons butter, cut into cubes
½ cup heavy cream
1 teaspoon vanilla extract
1 teaspoon flaky sea salt
For the buttercream
1 sticks unsalted butter
4 cups powdered sugar
½ cup salted caramel, room temperature
Instructions
For the cookies
In a medium bowl, whisk together the flour, cocoa powder, and baking soda until well combined.
In the bowl of a stand mixer fitted with the paddle attachment, mix the butter on medium-low speed until it is smooth. Add in the salt and mix for another 15-30 seconds. Add in the sugar and mix until fluffy, about 2 minutes. Scrape down the sides of the bowl.
Add the dry ingredients to the bowl in 2 additions, mixing on low speed for 15 to 30 seconds after each, until just combined.
Mound the dough onto a work surface or piece of parchment paper. Form the dough into a 6-inch square block. Wrap in plastic wrap and refrigerate for at least 1 hour, until firm.
Heat oven to 325. Line two baking pans with parchment paper.
Roll the dough between two pieces of parchment paper into a ?-inch thick sheet. Using a 3-inch round or fluted cookie cutter, cut rounds from the dough. If necessary, push the scraps back together and reroll, cutting more rounds until you have 16. Arrange the cookie rounds on the baking pans, leaving about ¾-inch between them.
Bake for 15 to 17 minutes, turning the pans halfway through baking, until the cookies are fragrant with small cracks on the surface. Allow to cool on the pans for 10 minutes. Transfer the cookies to a rack to cool completely.
For the salted caramel
Heat a heavy-bottomed saucepan over medium-high heat. Sprinkle 1 tbsp sugar over the bottom of the pan. Swirl until the sugar is completely melted and any clumps have dissolved. Sprinkle more sugar over the top of the melted sugar and repeat swirling the pan until all of the sugar is again melted and clump-free.
Continue doing this until all of your sugar is added to the pan and has melted, turning a dark amber color. Add the butter and whisk until completely melted and combined.
Remove the pan from the heat and slowly whisk the cream into the caramel, continuing to stir until it is smooth. Stir in the vanilla and sea salt.
Pour the caramel into a glass container to cool. Store it in the fridge in an air-tight container.
For the buttercream
Combine the butter and powdered sugar in the bowl of a stand mixer fitted with the paddle attachment, beating on medium-high speed until light and fluffy, about 3-4 minutes. Stream in the salted caramel and mix until combined. Add extra salt to taste.
Turn half of the cooled cookies over. Pipe frosting onto these cookies. Top each with a second cookie and press gently to sandwich together.
Notes
Cookies from
Bouchon Bakery (The Thomas Keller Library)
Salted caramel from
The Baker Chick
More chocolate cookies!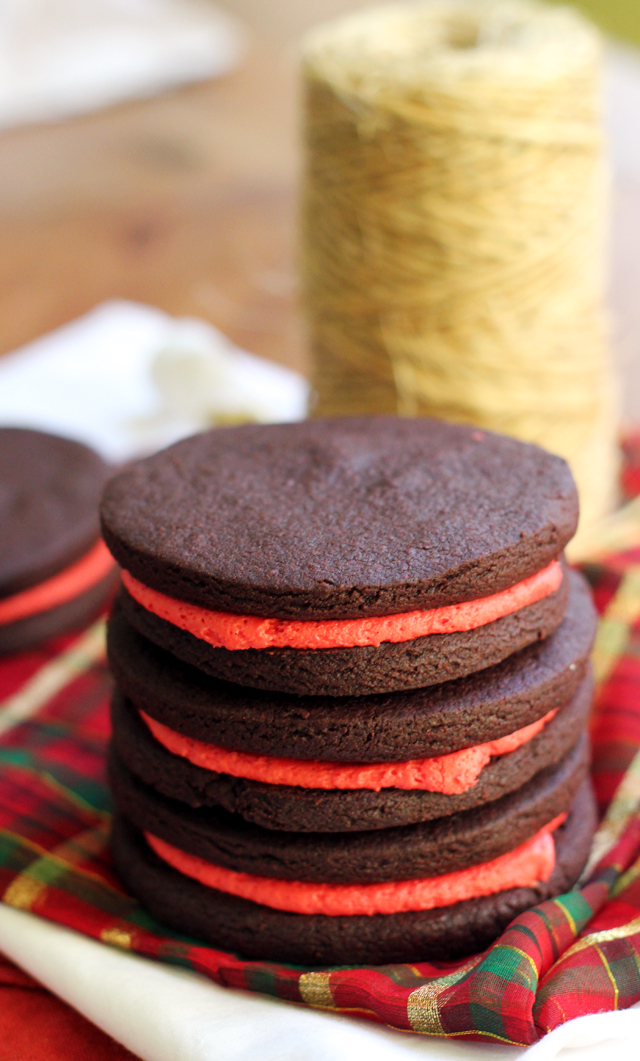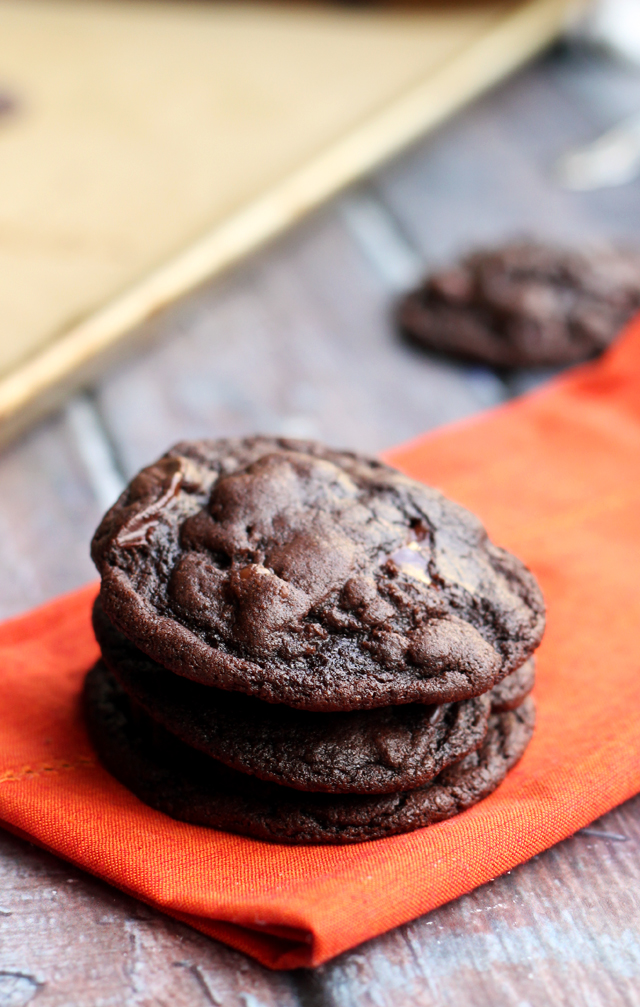 Blue Bottle Double Chocolate Cookies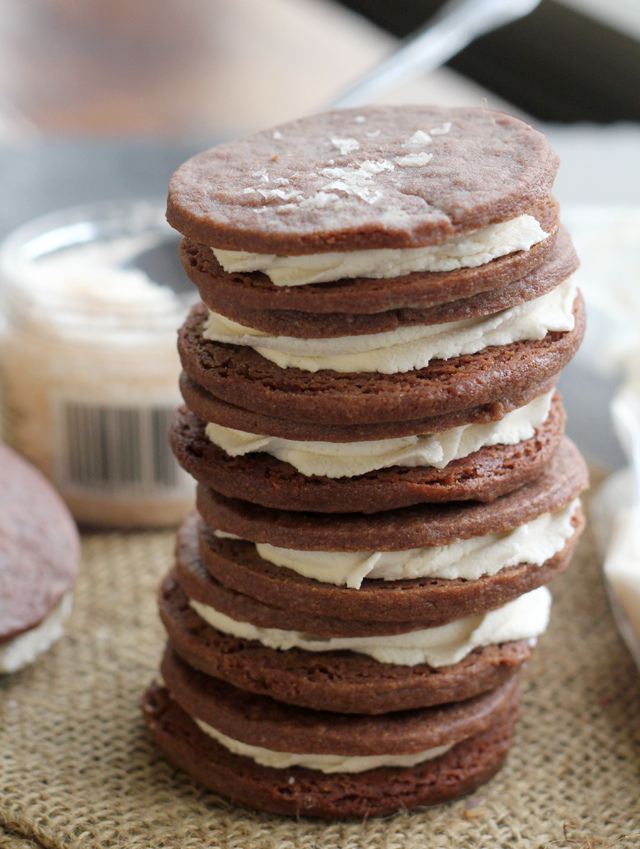 Salt-n-Pepper Sandwich Cookies