If you're a chocolate lover, these double chocolate cookies are for you! Super fudgy and chewy with large chunks of gooey chocolate in every bite.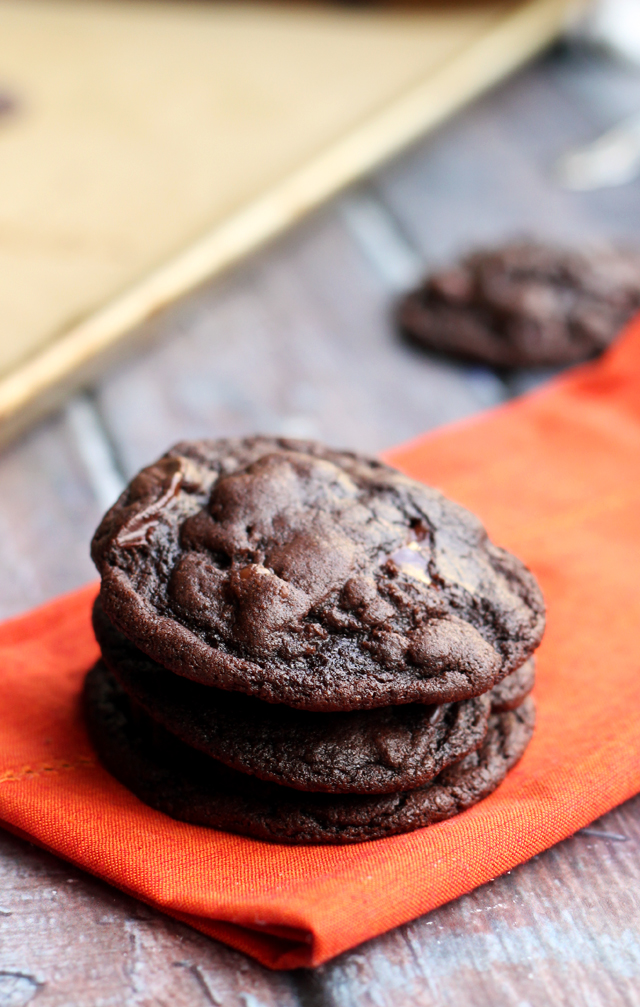 Deep down, I'm a San Franciscan stuck with a New Yorker's mind, body, address, and stride cadence.
Shocking, I know, but my love of Bi-Rite ice cream is palpable and I am firm in the belief that Blue Bottle Coffee is the closest thing to liquid gold that us mere mortals can strive for.
Also, I could probably live in the Ferry Building and want for naught for a very long period of time.
Feel free to dare me to try.
Unfortunately flying from coast to coast every weekend is not really a viable option, so until the day comes when a teleporter is invented so I can make the trip in 6 seconds instead of 6 hours, I'll just have to bridge the 3,000 miles between us the only way I know how:
By baking a lot of these cookies.
These death by chocolate daredevils come from The Blue Bottle Craft of Coffee cookbook
 and they are pretty much the richest, best, fudgiest, chocolatiest (<– totes a word) cookies I've ever had.
Not to get all hyperbolic/exaggerate-y or anything.
But they're pretty much the chocolate cookies you always wished you could make, but couldn't. Except now you can.
You can thank me by thinking happy moving thoughts for me today and picturing all of my plates arriving at our new apartment unscathed. K thanks.
(Make sure you chop your own chocolate for these, because the huge chunks that end up as molten gooey heaven are kind of the best and chocolate chips just won't yield the same results.)
Xoxo.
Blue Bottle Double Chocolate Cookies
If you're a chocolate lover, these double chocolate cookies are for you! Super fudgy and chewy with large chunks of gooey chocolate in every bite.
Ingredients
1 cup all purpose flour
⅓ cup natural cocoa powder
½ tsp baking soda
5 tbsp unsalted butter, room temperature
1 cup sugar
1 tsp good quality coarse salt
1 egg, room temperature
1 tbsp vanilla extract
3.5 oz dark chocolate, coarsely chopped
Instructions
In a medium bowl, whisk together the flour, cocoa powder, and baking soda. Set aside.
In the bowl of a stand mixer fitted with the paddle attachment, cream together the butter, sugar, and salt on medium speed until fluffy, about 5-6 minutes.
Add the egg and vanilla to the bowl, beating on medium speed, until well-incorporated, about 30 seconds. Scrape down the sides of the bowl and then mix again for another 30 seconds.
Scrape down the bowl and then add the flour mixture. Mix on low until combined and uniform in texture. Scrape down the bowl and add the chocolate. Mix on low until just combined. Refrigerate the dough for at least 3 hours or overnight.
When you are ready to bake the cookies, heat the oven to 350F.
Divide the dough into 9¼ cup portions and place on a parchment-lined baking sheet (or two) at least two inches apart.
Bake for 11-12 minutes, rotating the pan halfway through. Let cool for 10 minutes before moving to a wire rack to cool completely.
For more chocolate overdose desserts, check out these: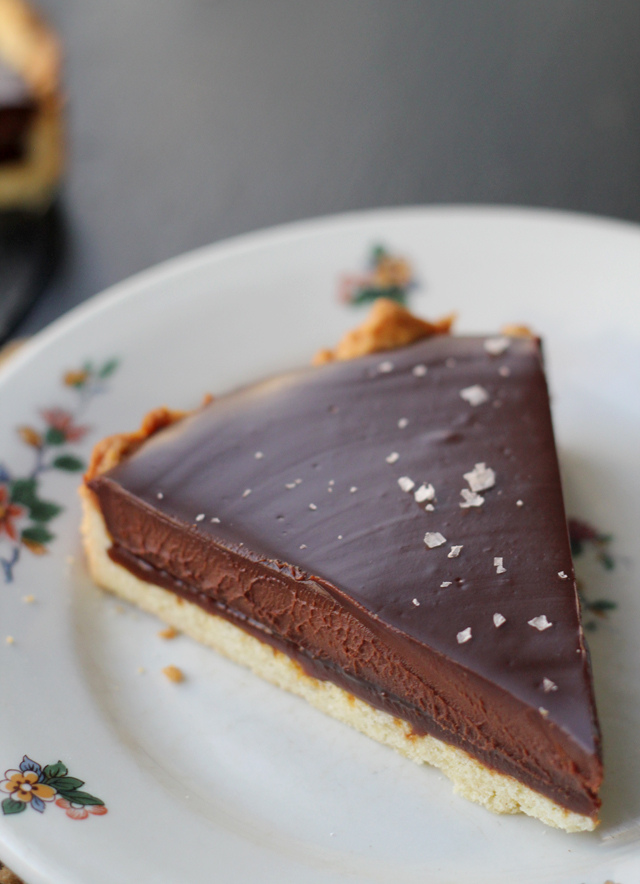 Chocolate Caramel Tart with Sea Salt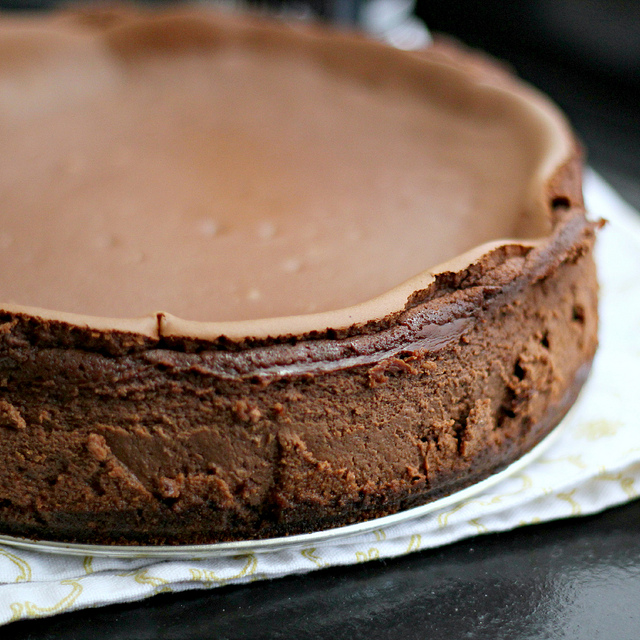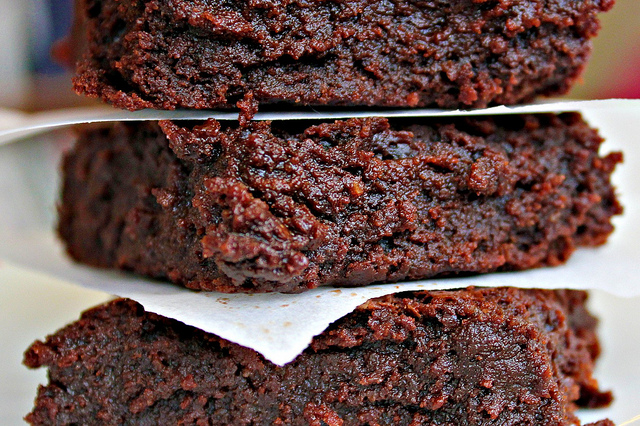 From Around the Web:
Chocolate Muffins from My Baking Addiction
Fudgy Chocolate Cake Bars from Pinch of Yum
Chocolate Mousse Pie with Peanut Butter Whip and Pretzel Crust from Oh, Ladycakes
Chocolate Cake with Bittersweet Sour Cream Frosting from Not Without Salt
Chocolate Cake with Almond Cream Filling from Hungry Rabbit NYC