Healthy and nourishing, this one pot miso noodle soup is packed full of vegetables and easy to make on a weeknight.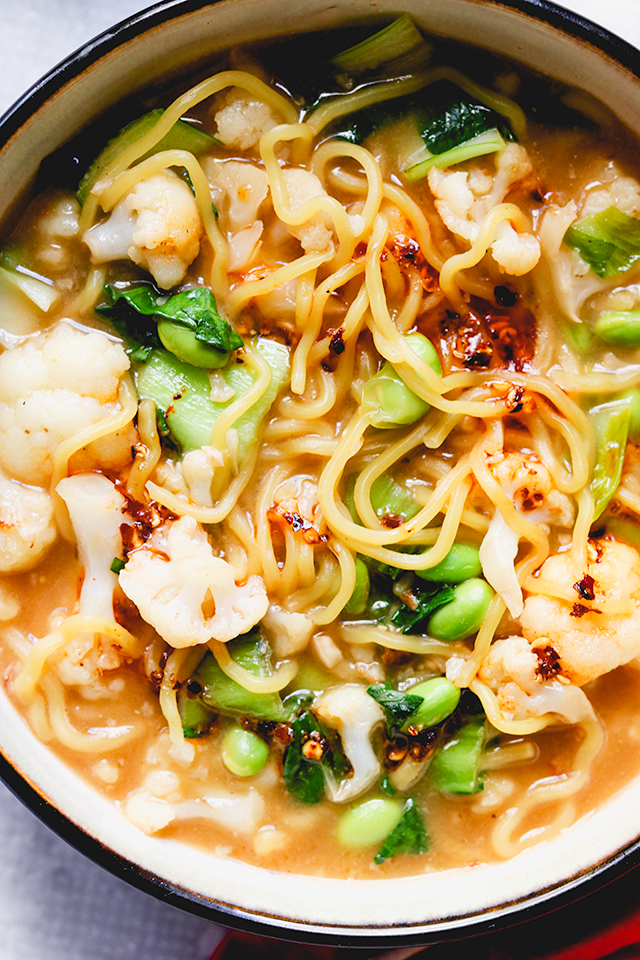 Oh, don't mind me.
Just reviving my body back to life after experiencing the SHOCK of an eighteen degree walk to school this morning following a week of what can basically be described as swimsuit weather (aka 55+ degrees).
A bowl of miso noodle soup is just the thing to defrost the blood in our veins and fill us up with soul warming, nourishing comfort.
If you're the kind of person who, like me, occasionally (okay, every time) orders extra entrees with Japanese takeout just to get more bowls of miso soup, then I think you've found yourself in the right place.
Here we're keeping that rich, umami-full miso flavor but bulking up our soup with so many good things to make it more of a main meal. Consider this a kind of clean-out-the-fridge ramen/miso soup hybrid situation that gets cooked all together in one pot probably in less time than it would take for takeout to be delivered. Yes, yes, yes you are gonna love this.
Here we go.
HOW TO MAKE THIS YUMMY ONE POT MISO NOODLE SOUP
What we need: vegetables, miso, noodles, and broth.
As I mentioned, this can totally be a whatever-you-have-on-hand vegetable situation, though I used cauliflower, bok choy, and frozen edamame. The cauliflower adds some good texture and a hint of crunch, while the bok choy kind of melts in your mouth, and the edamame are there for a protein boost.
Since the cauliflower takes the longest to cook, it's going into the pot first along with some melted butter or oil. Saute until it gets some light color on it for extra flavor. 
Next, add the aromatics. That is, garlic and miso! I used white miso for this, which has more of a mild, almost sweet flavor, but if you're looking for more miso pungency then red miso is a valiant alternative. Saute for a minute to activate their inner flavor and then stir in your broth of choice. Bring the whole pot to a simmer and let it cook together until the cauliflower is tender and the flavors have come together.
Finally, stir in the remaining (quicker-cooking) components, including the noodles! I am obsessed with the Sun Noodle Kaedama noodles (not sponsored, I just love them) because they bring that perfect noodle chew but pretty much any package of dried ramen noodles will work. Cook according to package instructions so that the noodles are cooked through but not mushy. 
Season to taste with lime juice, soy sauce, and more miso, and then serve with chili oil on the side for any spice fiends in the house. 
Diving in.

One Pot Miso Noodle Soup
Healthy and nourishing, this one pot miso noodle soup is packed full of vegetables and easy to make on a weeknight.
Ingredients
2 tbsp butter
1 head cauliflower, cut into florets
4 garlic cloves, minced
3 tbsp white miso
5 cups vegetable broth
10 oz ramen noodles
1 lb baby bok choy, chopped
12 oz frozen shelled edamame
juice of ½ lime
1-2 tbsp soy sauce
chili oil, for serving
Instructions
Melt butter in a Dutch oven or heavy-bottomed pot over medium heat.
Add the cauliflower to the pot and saute for 4-5 minutes or until lightly browned on the outside. Stir in the garlic and miso paste. Saute for 2-3 minutes, or until fragrant.
Pour the broth into the pot and bring to a simmer. Cook until cauliflower is tender, about 5 minutes.
Add in the noodles, bok choy, and edamame. Cook until noodles are tender, about 3-4 minutes.
Season to taste with lime juice, soy sauce, and more miso paste.
Divide among serving bowls and top with chili oil, if desired.