Bring a taste of authentic Venezuelan cuisine into your home with these delicious queso and pepper arepas served with kale salad and chumichurri sauce!
Disclosure: This post was sponsored by Blue Apron. As always, my thoughts and opinions are my own. Keep reading to find out how you can get an AWESOME discount on your first order!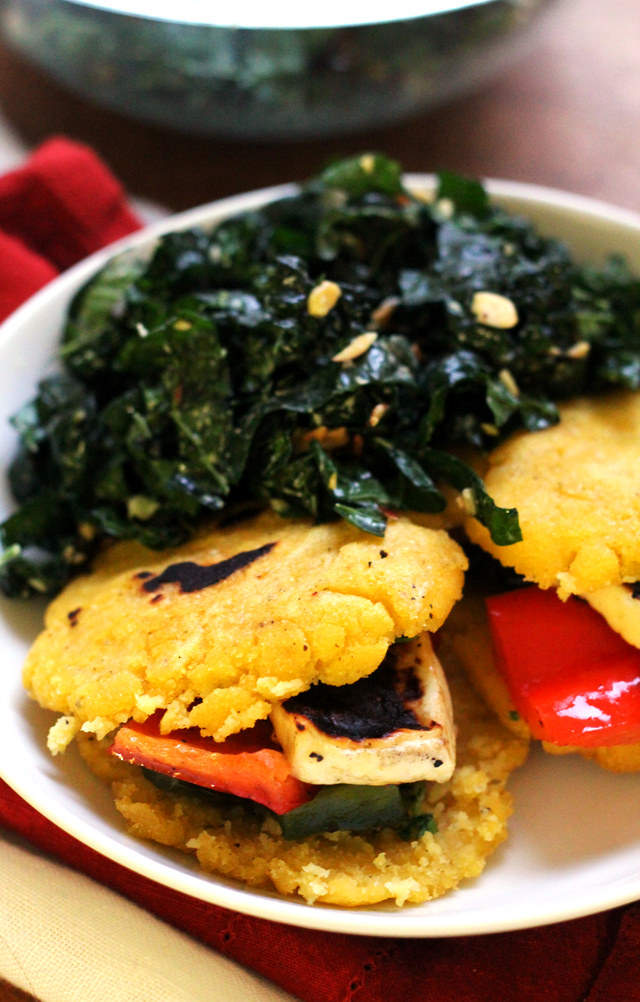 You never forget your first arepa.
I first encountered these absolutely delectable corn cake sliders in college when my roommate and I vowed to spend our senior year eating our way around the world (and through Boston), landing us in a Venezuelan restaurant where we ordered almost every variety on the menu and proceeded to eat ourselves stuffed. I've since sought out these little lovelies every chance I get, including dragging the.boy across Manhattan on his birthday a few years ago just so that I could get my fix. Hey, a girl has needs.
What's so special about these cornbread sandwiches, you may ask? Um, everything.
They're basically Venezuelan street food and consist of thick fried and baked savory corn cakes that are simultaneously crispy on the outside, and soft and moist on the inside, stuffed with everything that is good in this world. In this case, fried cheese and peppers, but I've also had them with plantains, black beans, and avocado. There is no "wrong" filling…just a whole lot of right.
I've hesitated at making them in my own kitchen for fear that I couldn't do them justice, but with a little nudge from Blue Apron, I can now proudly say I've made my first, but not my last. In under 40 minutes.
Now, that's a feat.
Ever since I re-started med school, Blue Apron has been pulling those takeout menus out of my hands and shoving me back towards the kitchen, forcing me to remember everything I love about preparing food from scratch. Every week, they send all of the farm-fresh ingredients I need to make three fabulous meals, each of which serves 2 people (though there is also a family plan available, which sends ingredients for 2 four-person meals). The ingredients are all in the perfect portions, so not only do I not have to make a trip to the grocery store, but I also don't let anything go to waste. I was also pretty excited to learn that Blue Apron is now offering a recycling program! Just send them all of the packaging for free via USPS and they will take care of it for you.
New dishes are added to the Blue Apron menu every week, so there is no getting bored or making the same five ingredient stir fry week after week, which I could certainly see myself doing out of desperation if it weren't for them. Each meal is between 500-700 calories and can be prepared in 40 minutes or less, making them perfect for weeknight preparation. There are so many meals I'm excited to try, including next week's Delicata Squash Red Curry and the following week's Acorn Squash Tempura Tacos.
But for now, I'm still reveling in the tastiness of these arepas, along with the massaged kale salad that was prepared alongside them. The arepas satisfied all of my comfort food cravings, while the kale salad added the perfect touch of nutrition and healthfulness to the meal.
Want to give Blue Apron a try for yourself? They are providing a special discount for the first 20 readers to get two free meals off their first Blue Apron order! Just use this link to order, and enjoy!

Queso and Pepper Arepas with Kale Salad and Chimichurri
Bring a taste of authentic Venezuelan cuisine into your home with these delicious queso and pepper arepas served with kale salad and chumichurri sauce!
Ingredients
1 lime, zested and quartered
1 bunch lacinato kale
1 red bell pepper
1 poblano pepper
4 oz queso para freir
2 cloves garlic
1 avocado
2 tbsp sliced almonds
1 avocado
1 bunch cilantro
1 bunch parsley
olive oil
salt and black pepper, to taste
1½ cups masarepa
1 tbsp mayonnaise
1 tbsp white wine vinegar
Instructions
Prepare the ingredients: Heat oven to 400F. Wash and dry the fresh produce. Remove and discard the stems from the kale. Thinly slice the kale leaves. Set aside. Remove and discard the stems, ribs, and seeds of the bell pepper and poblano pepper; cut into large pieces. Slice the queso into 6 planks. Peel and mince the garlic; use a zester to turn it into a paste. Roughly chop the almonds. Pit, peel, and thinly slice the avocado top with the juice of 2 lime wedges. Mince the parsley and cilantro leaves and stems; place in a bowl and drizzle with olive oil.
Make the dough and form the arepas: In a large bowl, combine the masarepa, lime zest, 1½ cups of lukewarm water, and 1 tsp of olive oil. Season with salt and black pepper; stir to form a stiff dough. Transfer to to a clean, dry work surface. Using your hands, knead the dough for 20 to 30 seconds or until smooth. Form into 6 equal-sized balls. Flatten the balls with the palm of your hand to create ½-inch thick discs.
Brown and bake the arepas: In a large nonstick pan, heat 2 tsp of olive oil on medium-high until hot. Add the arepas. Cook 3-4 minutes per side, or until lightly browned. Transfer to a parchment-lined baking sheet. Bake 13-15 minutes, or until cooked through. Remove from the oven.
Cook the peppers and queso: Meanwhile, wipe out the pan used to brown the arepas. Add 2 tsp of olive oil. Heat on medium-high until hot. Add the peppers; season with salt and pepper. Cook, turning occasionally, 2-3 minutes, or until softened. Add the queso. Cook 1-3 minutes per side, or until browned. Remove from heat and set aside.
Make the dressing and salad: While the arepas bake, in a bowl combine the kale, mayonnaise, half the garlic paste, the juice of the remaining lime wedges, and a drizzle of olive oil. Massage to combine. Season with salt and pepper to taste. Toss in the avocado and almonds.
Make the chimichurri and plate: In a bowl, combine the dressed parsley and cilantro, vinegar, remaining garlic paste, and 2 tbsp of olive oil. Season with salt and pepper to taste. Halve the baked arepas horizontally. Spread a thin layer of the chimichurri onto the cut sides. Divide the cooked peppers and queso between the arepa bottoms. Top with a spoonful of chimichurri and the arepa tops. Serve with the salad and any remaining chimichurri on the side.
Nutrition Information
Serving size:
⅓ of recipe