Sweet roasted squash brings out the spice in this delicata squash and tofu thai red curry.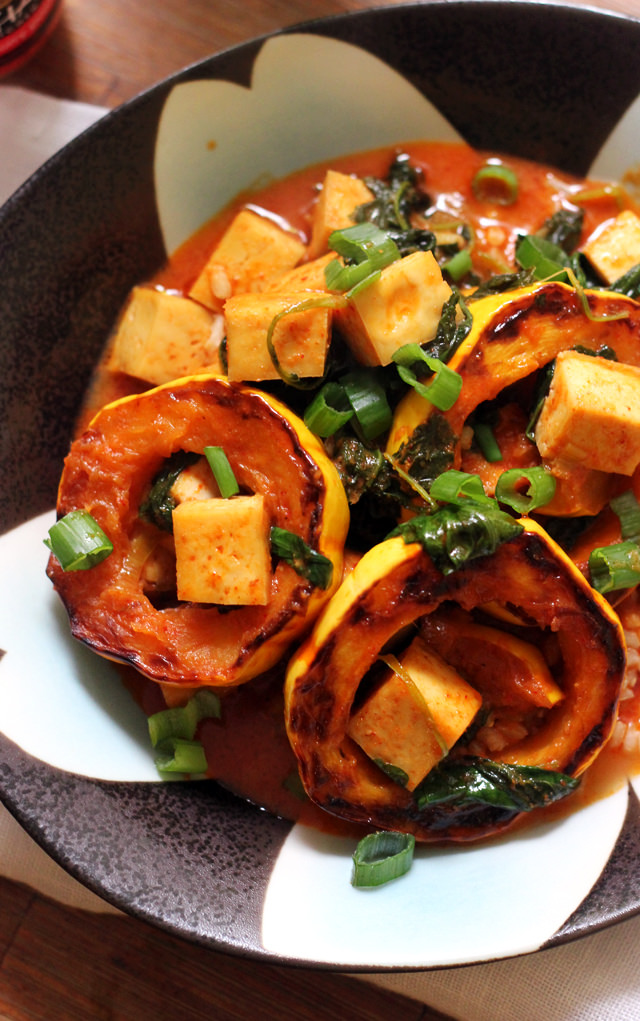 You know what's funny?
The.boy could (and does…) eat the same leftovers for DAYS and DAYS (and sometimes DAYS). But suggest that we get the same kind of takeout two weeks in a row?
….
That sound is him dry heaving in a corner.
I can't understand it!!
But basically that means that when I crave Thai food every dang day of my life, then I have to make it myself and hoard all the leftovers.
Yup, that's happening.
Thai food is one of those cuisines that seems almost impossible to recreate in your own home, but I promise that most dishes aren't. This Thai red curry is essentially a clean out the fridge meal, with roasted delicata squash thrown in for sweetness and kale because a girl needs to eat her greens every once in a while. It relies on storebought curry paste for the bold curry flavor, but you are SO welcome to make your own if you have more time on your hands than I do. (<– you're my hero)
Another frequent point of contention with making Asian cuisines is which oil to use. Everyone says to use a neutral flavored oil, but I'm all olive oil all the way. Something that tastes so right just can't be wrong.
Pompeian actually just came out with a new Smooth Extra Virgin Olive Oil that is absolutely perfect for this kind of dish, where you want the health benefits of olive oil but a less intense flavor. It is extremely low in acidity and is blended with the first cold pressing of select olives to create a mild, delicate flavor that is ideal for sautes, sauces, and stir fries. Personally, I can't get enough and will be using it whenever my next Asian food craving hits.
So, in 3….2….1….

Delicata Squash and Tofu Thai Red Curry
Sweet roasted squash brings out the spice in this delicata squash and tofu thai red curry.
Ingredients
1½ cups brown rice
1 delicata squash
4 tbsp Pompeian Smooth Extra Virgin Olive Oil
salt and black pepper, to taste
20 oz tofu, cut into ½-inch cubes
1 tbsp minced ginger
3 scallions, white and dark green parts minced and separated
5 oz baby kale
1¾ cups coconut milk
4 oz thai red curry paste (or to taste)
2 tbsp brown sugar
2 tbsp soy sauce
1 oz Thai basil or regular basil
Instructions
Cook rice according to package directions. Meanwhile, heat oven to 475F.
While the rice cooks, cut off and discard the ends of the squash. Slice it crosswise into ½-inch-thick rounds. Discard the pulp and the seeds. Spread on a parchment-lined baking sheet and brush with olive oil. Season with salt and black pepper. Spread the tofu on a second parchment-lined baking sheet in a single layer. Put both pans in the oven and bake for 18-20 minutes, or until squash is tender and tofu is browned and firm.
Heat the remaining olive oil in a large wok over medium heat. Add the ginger and white parts of the scallions to the pan. Saute for 1-2 minutes, or until softened and fragrant. Stir in the kale, season with salt and black pepper, and cook until wilted. Add the coconut milk, brown sugar, soy sauce, and Thai curry paste, to taste. Add the squash and tofu to the pan and let simmer for 5-6 minutes, until slightly thickened. Stir in the basil.
Serve rice topped with the finished curry. Garnish with the green tops of the scallions.
Notes
An Eats Well With Others Original
Nutrition Information
Serving size:
¼ of recipe
Disclosure: This post was sponsored by Pompeian. As always, my thoughts and opinions are my own. Thank you for supporting the brands that keep me inspired in the kitchen.