The flavors of fall come alive in these utterly autumnal maple cupcakes with maple cream cheese frosting.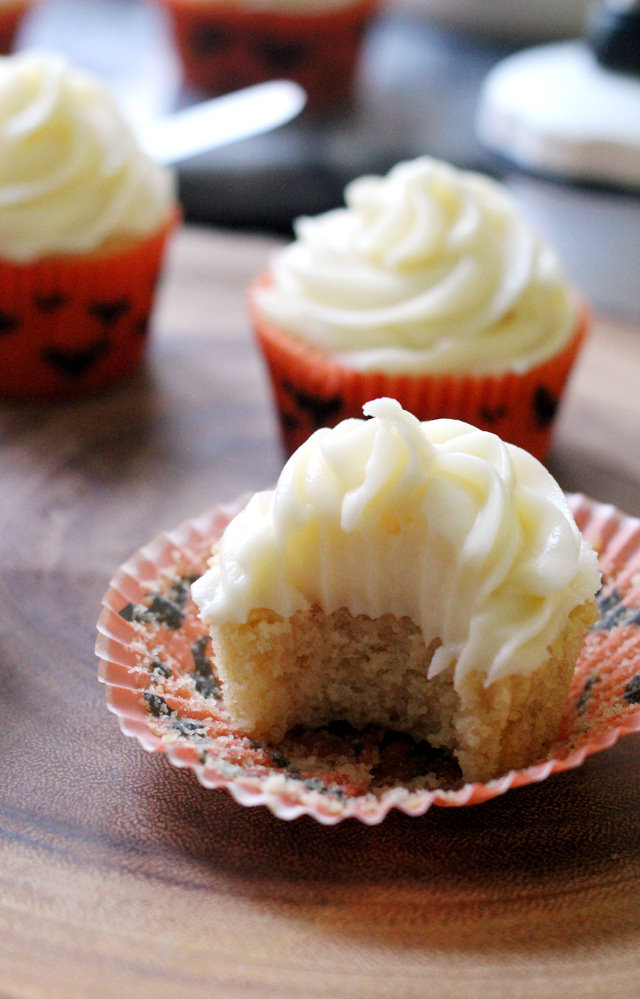 You guys remember cupcakes, right?
That most perfect of all baked goods with an ideal frosting:cake ratio that we used to really love before we became obsessed with macarons and frying laminated dough.
Am I ringing any bells?
I admit, even I haven't given them their much deserved time in the spotlight lately, but that all stops here.
Because, MAPLE CUPCAKES.
With MAPLE CREAM CHEESE FROSTING.
It doesn't. get. any. better.
Maple is like the forgotten child of the fall flavor family.
Never again.
I'm probably going to lose good food blogger points for this, but I would choose these maple cupcakes over a pumpkin cupcake any day. The.boy and I both concurred these were pretty much one of the best things we have ever eaten.
ever ever.
Containing a whopping 2 CUPS of maple syrup with no other sweetener, these hit you over the head with maple flavor and don't let you forget it. The cream cheese frosting adds a nice tartness that makes the entire cupcake eating experience feel like your favorite sweater on a brisk fall day. But tastier.
I made these cupcakes on behalf of OXO and Cookies for Kids' Cancer as part of the annual OXO Good Cookies Campaign! Basically, OXO sent me a cupcake making kit that I am OBSESSED WITH, including my new favorite non-stick pro 12 cup muffin pan, a totally clutch cupcake icing knife, and 4 piece baker's silicone decorating bottle kit that makes fancy cupcake icing swirls SO MUCH EASIER. In exchange, I get to bake cupcakes and spread the word about this awesome cause. Win/win.
Cookies for Kids' Cancer is a recognized 501c(3) public charity duly incorporated under the laws of the state of New Jersey. Any donations to Cookies for Kids' Cancer are tax deductible to the fullest extent allowable by law and 100% of proceeds raised by Cookies for Kids' Cancer fund pediatric cancer research. As part of the OXO Good Cookies campaign, OXO will be donating $100 to Cookies for Kids' Cancer for each blog post dedicated to this campaign in October and in 2015, OXO has agreed to donate up to $100,000 to Cookies for Kids' Cancer through product proceeds, bake sale matches and other fundraising efforts.
A really easy way you can support this campaign is to keep your eye out for OXO products that are labeled with this sticker (below), as 25 cents of the proceeds from each specially marked product will go towards supporting pediatric cancer research. Good quality products for a good cause? I'm all over it.
Maple Cupcakes with Maple Cream Cheese Frosting
The flavors of fall come alive in these utterly autumnal maple cupcakes with maple cream cheese frosting.
Ingredients
3 cups all purpose flour
3 tsp baking powder
1 tsp salt
½ cup unsalted butter, slightly softened
2 tbsp vegetable shortening, at room temperature
2 cups pure maple syrup
3 egg yolks
1 large egg
1¼ cups whole milk
For the frosting
¾ cup unsalted butter, softened
12 oz cream cheese, softened
4 cups confectioners sugar
2 tbsp maple syrup
Instructions
Heat oven to 325F. In a medium bowl, whisk together the flour, baking powder, and salt. Set aside.
In the bowl of a stand mixer fitted with the paddle attachment, cream the butter and shortening together until they form ribbons. Add in the maple syrup and mix until well combined, about 3 minutes on medium-high speed, scraping down the sides of the bowl as necessary.
Add the egg yolks and the egg, one at a time, beating well after each addition.
Mix in half of the flour mixture until just combined. Scrape down the sides of the bowl. Add the milk to the bowl and mix until combined. Mix in the remaining flour mixture and mix until just combined.
Line 2 12-cup cupcake pans with cupcake liners. Fill the cupcake pans so that each cupcake liner is ¾ full. Bake for 20-25 minutes, rotating halfway through the cooking time, until a toothpick inserted in the center of a cupcake comes out clean. Allow to cool in the pans for 15 minutes, then remove the cupcakes to a wire rack to cool completely.
Once the cupcakes are completely cooled, make the frosting. In the bowl of a stand mixer fitted with a paddle attachment, cream together the butter and cream cheese until smooth. Add in the confectioners sugar and maple syrup. Beat until smooth. Frost cupcakes with frosting as desired.
Notes
Recipe adapted slightly from Baked Explorations
Disclosure: Though I received free products as part of this campaign, I was not monetarily compensated in any way.