Chocolate lovers, gather round, because this quadruple-chocolate chocolate pudding is rich, delightful, and like music to your taste buds!
Disclosure: This post is sponsored by TruMoo Chocolate Milk! As always, my thoughts and opinions are my own. Thanks for supporting the brands that keep me inspired in the kitchen!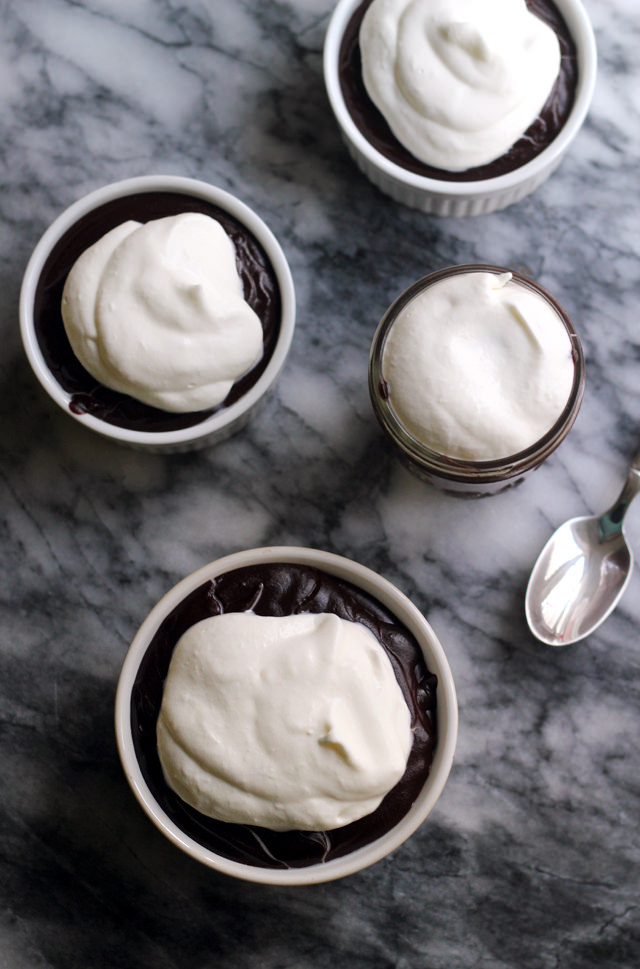 Well, that was an unexpected and unprecedented break.
First vacation! In all of Eats Well With Others history! I feel like maybe I should have granted you all the week off from work to mark the occasion?
Between you and me, between my thesis prep and just a general creeping feeling of overwhelming ennui…I needed it.
But now I'm back and ready for ACTION.
Quadruple chocolate action. Is there any better kind?
Ummm no. There is not. I speak from bowl and bowls of pudding experience.
Silky smooth semisweet chocolate + unsweetened chocolate + Dutch-processed chocolate powder + chocolate milk pudding experience.
Oh. Em. Gee.
This is real life.
When TruMoo asked me to create a recipe using their chocolate milk, I was at first puzzled. Mostly because I was unaware that there were people on this earth who actually had chocolate milk in their fridge long enough to do anything with it other than guzzle it straight from the carton.
(Do these people exist? I have doubts.)
BUT when you buy TWO cartons at one, you can slurp with one hand and whisk pudding with the other.
Multi-tasking at it's finest. I approve.
My love for TruMoo chocolate milk specifically knows few bounds, mainly because it just tastes good, but also because it contains NO artificial growth hormones and NO high fructose corn syrup. Love that.
And in case you need a REASON to head straight to the store, pick up a carton and make this…it's National Chocolate Milk Day.
Today.
Right now.
(Do it.)

Quadruple-Chocolate Chocolate Pudding
Chocolate lovers, gather round, because this quadruple-chocolate chocolate pudding is rich, delightful, and like music to your taste buds!
Ingredients
3 tbsp unsalted butter
4½ oz semisweet chocolate, finely chopped
1 oz unsweetened chocolate, finely chopped
3 cups chocolate milk
⅔ cup sugar
¼ cup Dutch-processed cocoa powder
3 tbsp cornstarch
3 large eggs + 1 large egg yolk
¼ cup heavy cream, plus more for whipped cream
1 tsp pure vanilla extract
¼-1/2 tsp fine sea salt
whipped cream
Instructions
In a microwave-safe bowl, combine the butter and chocolate. Heat in 30 second increments, stirring after each one, until completely melted. Set aside.
Heat the chocolate milk in a medium saucepan over low heat until steaming. Meanwhile, whisk together the sugar, cocoa powder, and cornstarch until well combined. Whisk in the eggs, egg yolk, and heavy cream until totally combined. Slowly whisk in about half of the hot milk, whisking constantly. Pour the cocoa mixture into the saucepan with the remaining hot milk. Bring to a boil over medium heat, whisking constantly. Lower heat and let boil for 30 seconds, until thickened. Remove from the heat.
Stir in the melted chocolate, vanilla, and salt, to taste. Pour into individual bowls or 8-ounce glass jars. Cover with a piece of plastic wrap to prevent a skin from forming. Let cool at room temperature for one hour, and then refrigerate to chill for 2 hours or more. Serve topped with whipped cream.
Notes
Adapted from
Sarabeth's Bakery: From My Hands to Yours
Nutrition Information
Serving size:
⅙th of recipe