Soup season is starting and this roasted tomato soup with mozzarella toast dippers and hearty salad is the perfect way to welcome it!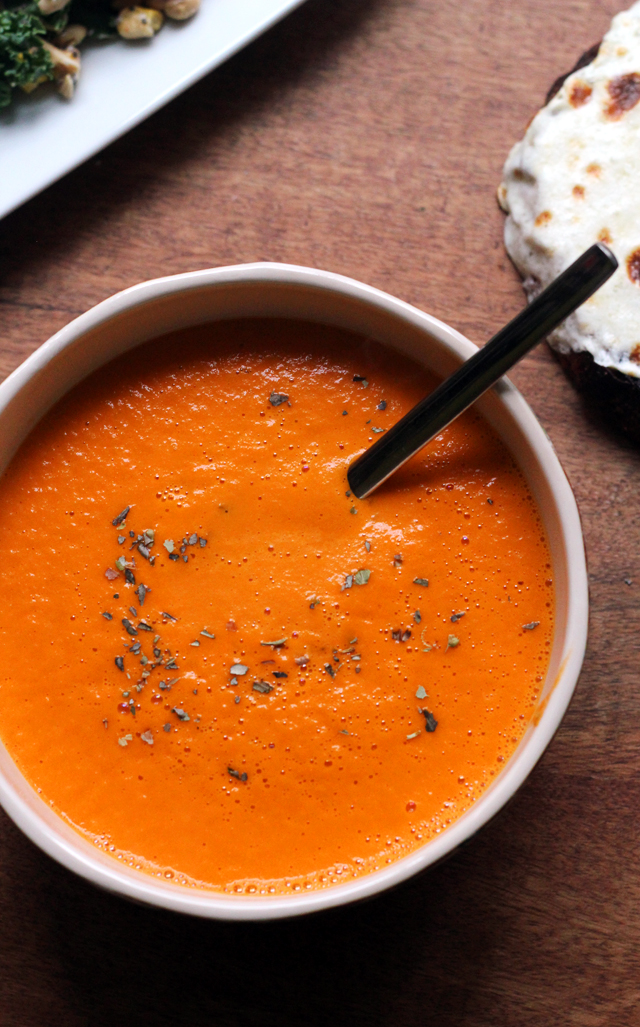 I've been a full blown medical student for exactly 24 hours now, and my caffeine intake has already reached an all-month-high!!
That's not saying too much because, let's face it, I'm pretty generous with my coffee intake as it is…but maybe it's also saying a lot because for me to have topped myself in one day….sheesh. Someone needs to restrain me.
Or develop a caffeine patch for those of us who can't be trusted around liquid stimulants. (I'm just saying, it could be lucrative.)
I've also quickly realized that lunch from now on is going to have to be very grab and go. No more luxuriating over tupperwares of steaming hot food…it's going to be more like quickly shoving whatever lukewarm thing I can find into my mouth during the ten minutes in-between seeing our last patient and afternoon rounds so that maybe, just maybe I'll have time to use the bathroom before then.
TMI? Maybe.
Real life? YES.
How grateful am I that Eat Smart Salads has pretty much stocked my fridge full of shake and eat salads so that I am set for the next few weeks while I figure out some sort of coping mechanism? VERY.
These are a godsend for those of us who want to eat healthy during the day but don't necessarily have the time or means to do so on our own. I'd previously tried (and loved!) their Super Food Gourmet Vegetable Salad Kits, which blend six or more superfoods to combine everything you need for a delicious salad, but I am even more impressed with their new line of Plant Powered Protein Salads! Each of these salads includes at least 11 grams of protein that comes from awesome plant-based sources, such as corn, edamame, chia seeds, and sunflower seeds, allowing you to stay fuller longer.
I'm not gonna lie, I've loved all the salads I tried so far, but my absolute favorite has been the BBQ Ranch. Built on a backbone of kale, cabbage, and shredded cauliflower, it is filled with nutrients, while a smoky savory BBQ Ranch dressing and extra crunch from freeze-dried corn, soy nuts, almonds, and chia seeds keeps you coming back for bite after bite.
This weekend I took it upon myself to "share" my salads with the.boy so that we could both get their nutritional benefits and I paired it with this fabulous roasted tomato soup. In it tomatoes, onions, and garlic become caramelized and extra rich in flavor after a stint in the oven and are then blended together with the remaining ingredients to make a soup that is simultaneously fresh and creamy. Then, because I can't leave well enough alone, I also made mozzarella toasts for dipping.
It's not often you can say that you crunched, slurped, AND salad-ed all in one meal…but it does feel pretty good when you can make it happen.
Roasted Tomato Soup
Soup season is starting and this roasted tomato soup with mozzarella toast dippers and hearty salad is the perfect way to welcome it!
Ingredients
2 lb ripe tomatoes
1 small yellow onion
1 tbsp olive oil
sea salt and freshly ground black pepper
3 cloves garlic
1½ cups vegetable broth
2 tbsp tomato paste
½ cup heavy cream
4 slices thick, crusty bread
4 slices mozzarella
oregano or basil, to garnish
Instructions
Heat oven to 350F.
Cut the tomatoes and onions into wedges. Scoop out some of the big pockets of tomato seeds and pulp. Spread tomatoes and onions on a parchment lined baking sheet. Drizzle with olive oil and sprinkle with salt and black pepper. Tuck the garlic cloves into the nook of a tomato. Roast until tomatoes have started to break down and have reduced in size, about 30-40 minutes. Remove from the oven.
In a blender, combine the roasted tomatoes, onions, and garlic with the vegetable broth, tomato paste, and heavy cream. Puree for five minutes on high or until hot.
Meanwhile, preheat the broiler on high. Top each bread slice with mozzarella and broil for 5 minutes, or until cheese is melted and starting to brown. Garnish with the herbs and serve warm.
Notes
Barely adapted from The Sprouted Kitchen
I was selected for this opportunity as a member of Clever Girls and the content and opinions expressed here are all my own.