A cheesy, comforting, exactly what you've been craving one pan rice and bean enchilada casserole! It's basically all of your Tex Mex cravings come true.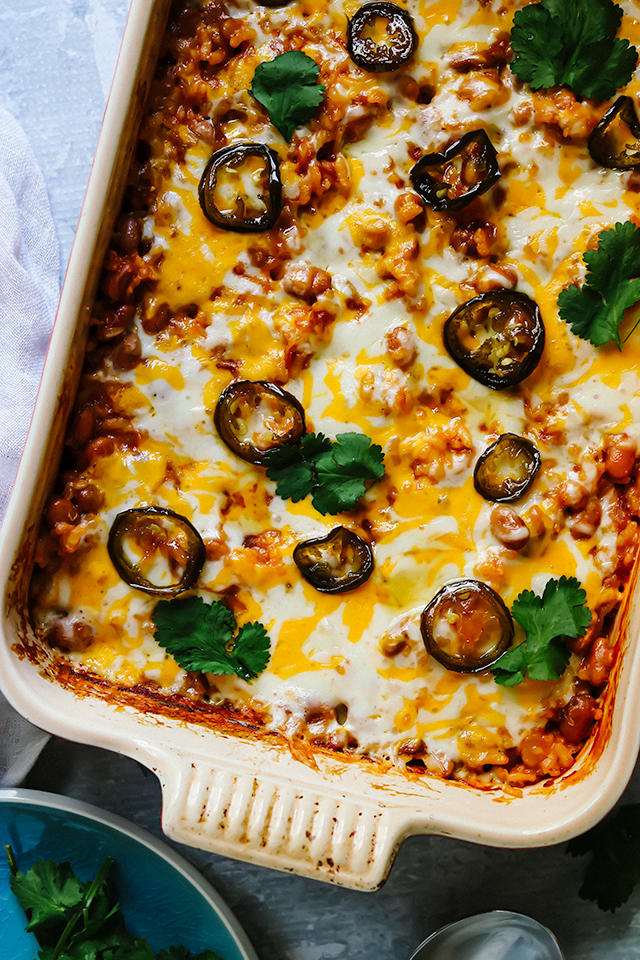 Hello new favorite (and possibly easiest) dinner EVER.
Not an exaggeration, I am in love with this meal. After one bite I literally rushed over to the pan for seconds before I'd even made a dent in my firsts.
Excessive? Perhaps, but I couldn't risk letting my husband get there before me. IYKYK.
Basically, this casserole is what happens when you're craving all things cheesy and Tex-Mex but you don't feel like making enchiladas from scratch. (So, ME every day.)
Honestly, it almost feels like cheating because it's so simple and barely even a recipe. We're just mixing things together in a baking pan and then letting the oven do its thang.
Then we're mixing in some cheese, smothering the top with even more cheese, and giving it a final burst of heat to melt it down into something glorious. 
I'm telling you – SO EASY.
This is 100% a semi-homemade kind of recipe and we need to just embrace that. 
Short grain rice, pinto beans, enchilada sauce, and vegetable broth get mixed together in a baking pan, covered tightly with foil, and then popped into the oven to bake. I used a can of Old El Paso red enchilada sauce but cooked my pinto beans from scratch in the Instant Pot. Feel free to use canned options for both or for neither – whatever season of life you're in right now is A-OK. 
Once the rice is cooked through and has soaked up most of the rich enchilada sauce, handfuls of Monterey Jack and cheddar cheese get stirred into the casserole and strewn over the top so that it is gloriously cheesy both inside and out. It's returned briefly to the oven just until the cheese is melted and perfectly gooey. I highly recommend using blocks rather than pre-grated cheese for this because the pre-grated cheese doesn't melt as well. 
Top the finished casserole off with slices of pickled or candied jalapenos (we went candied because I had some in the fridge) and then DIG IN.
And maybe just take a second helping from the get-go? 
You know you'll want it.
One Pan Rice and Bean Enchilada Casserole
A cheesy, comforting, exactly what you've been craving one pan rice and bean enchilada casserole! It's basically all of your Tex Mex cravings come true.
Ingredients
4 cups (~ 2 15-oz cans) cooked pinto beans, drained and rinsed
1 cup arborio or other short grain rice
20 oz red enchilada sauce
⅔ cup vegetable broth
½ tsp kosher salt
4 oz Monterey jack cheese, grated
4 oz yellow cheddar cheese, grated
pickled or candied jalapenos, to garnish
Instructions
Heat oven to 450F.
In a 9x13-inch baking pan, combine the beans, rice, enchilada sauce, vegetable broth, and salt. Cover tightly with aluminum foil and place in the oven. Bake for 35 minutes, or until the rice is tender.
Remove from the oven and carefully uncover. Mix the Monterey jack and cheddar cheese together in a medium bowl. Stir half of the grated cheese into the rice mixture. Top with the remaining cheese and return to the oven for 5-10 minutes, or until cheese is melted.
Top with jalapenos just before serving.
Notes
An Eats Well With Others Original