Fajita-style veggies are marinated overnight, roasted, and then stuffed into butter lettuce wraps in this delicious and easy to prep ahead weeknight meal.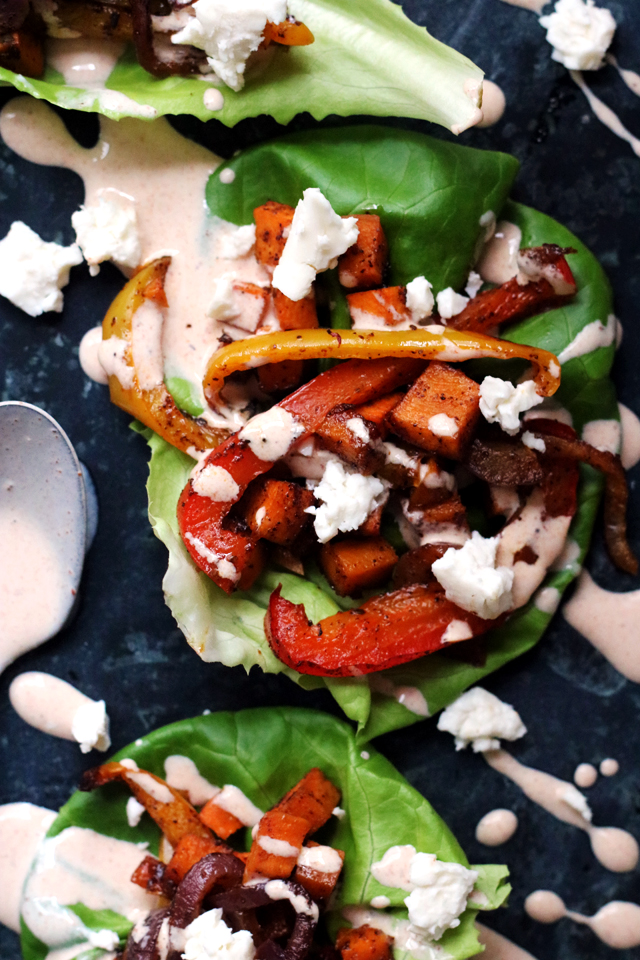 Consider this my resignation as president and founder of the "Seriously? Lettuce Wraps?!?!" club.
For the longest time, I couldn't fathom the concept of a human who would choose, of their own volition, leafy greens over complex carbs, especially when it came to how they wrapped their tacos. I mean, sure, put a gun to my head and maybe I would go with the lettuce (but only if it wasn't iceberg), otherwise I'm reaching for the tortilla every time.
And then, I don't know. We had extra butter lettuce in the fridge that I didn't quite know what to do with and a bag full of fajita veggies marinating overnight….
One thing led to another and all of a sudden I found myself eating lettuce wraps while leaning over my table post photo shoot, chipotle crema dripping off all my fingers and probably my chin, not sure of how I got there, but really glad I did.
Maybe it was fate.
(Probably it was post-night float delirium.)
Either way, I weighed myself for the first time in months yesterday and I now finally understand why none of my jeans fit, so it's a good thing these things are tasty because I will be eating a lot of them in the coming weeks as I work my way back to a normal BMI.
Who's with me?
I know everyone is into all of these very specific diets these days (high fat low carb, keto, etc) but I plan on doing this the old fashioned "calories in versus calories out" way. It's worked for me in the past (albeit, when I was much younger and had a metabolism that I didn't appreciate as much as I should have), so I'm really hoping it will work again. I tried Weight Watchers for a very brief time last year, but I think the points system was just too abstract for me and I would get really annoyed when something that I felt was pretty healthy was a gazillion points (Greek yogurt, I'm looking at you). Calories just feel more tangible and evidence-based.
Too-small jeans aside, I mostly just really want to be healthy. For my daughter. For myself. And I feel like it will be easier for me to get there now than it will be ten years from now. Time is of the essence!
Enough about me!
The filling for these lettuce wraps is SO laughably easy and perfect for prepping ahead. You basically cut all of the veggies, throw them in a ziploc bag with the spices and marinade, and then let them spend the night in your fridge. The next day you throw them on a sheet pan and let them roast for about 30 minutes. While that magic happens, you'll spend less than 5 minutes whisking together the chipotle crema and BAM.
Dinner = done.
Obviously if you have kids or significant others who just aren't that into lettuce (yet) OR if you're a non-believer like I was, these can be made with regular tortillas and it won't take even a bit of extra time or energy.
Still shocked about how much I loved these. AHHH.

Sheet Pan Roasted Vegetable Fajita Lettuce Wraps with Chipotle Crema
Fajita-style veggies are marinated overnight, roasted, and then stuffed into butter lettuce wraps in this delicious and easy to prep ahead weeknight meal.
Ingredients
1½ lb sweet potatoes, peeled and chopped into ½-inch cubes
1 red bell pepper, thinly sliced
1 yellow bell pepper, thinly sliced
1 red onion, thinly sliced
⅓ cup olive oil
1 lime, juiced
1 tbsp brown sugar
1 tbsp chili powder
½ tsp garlic powder
¼ tsp dried oregano
½ tsp smoked paprika
1½ tsp ground cumin
1 tsp kosher salt
1 tsp black pepper
5 oz butter lettuce leaves
½ cup queso blanco or queso fresco, crumbled
For the chipotle crema
½ cup sour cream
⅓ cup half and half
1 tbsp adobo sauce
pinch of salt
Instructions
In a large ziploc bag, toss together the sweet potato cubes, pepper slices, onion slices, olive oil, lime juice, brown sugar, chili powder, garlic powder, oregano, smoked paprika, cumin, salt, and black pepper. Let sit in the refrigerator for at least 30 minutes or overnight to marinate.
When ready to cook, heat oven to 400F. Spread the veggies on a parchment-lined baking sheet and roast for 30-40 minutes, or until sweet potato cubes are fork-tender.
Meanwhile, while the veggies cook, make the chipotle crema. To make this, whisk together the sour cream, half and half, adobo sauce, and salt. Store in the refrigerator until ready to use.
To serve, top the butter lettuce leaves with equal amounts of roasted veggie filling. Drizzle with the chipotle crema and sprinkle with the queso crumbles. Serve warm.
More of my favorite fajita flavors: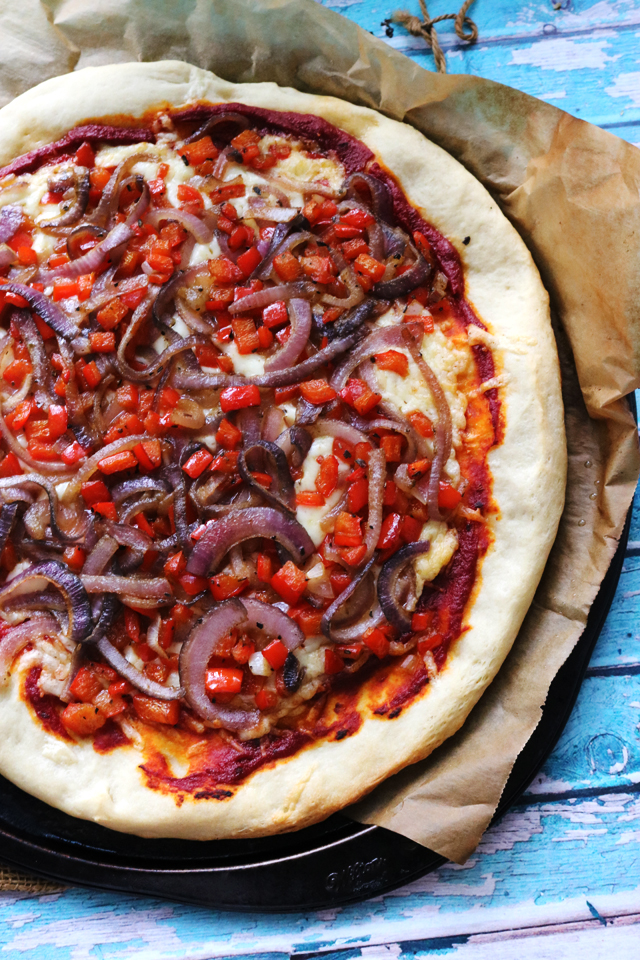 Cheesy Vegetarian Fajita Pizza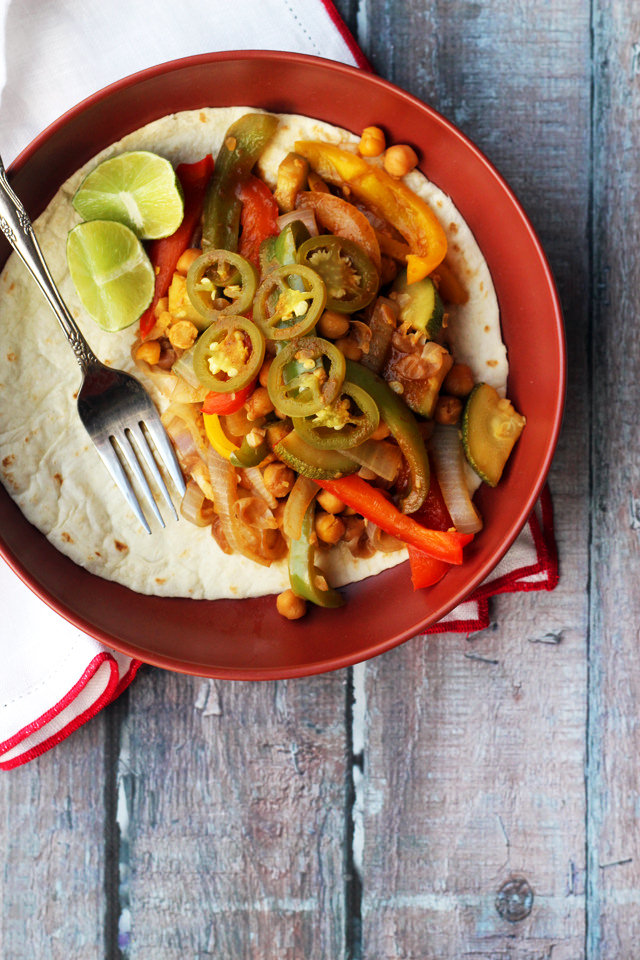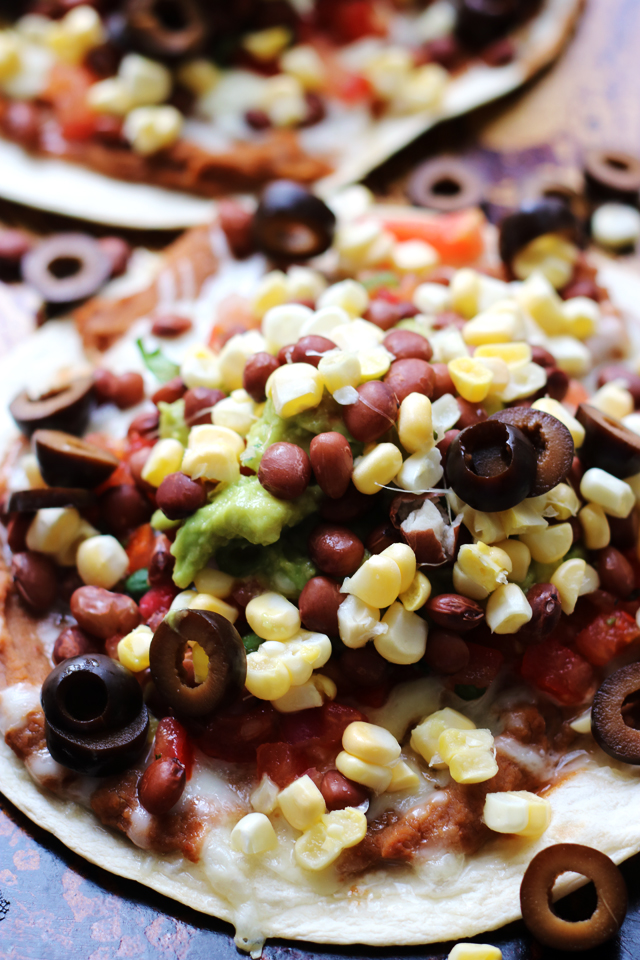 Mexican Seven Layer Dip Tostadas