Everything is better in bite-sized form! Eat your favorite spring fruit in these juicy two bite rhubarb cream cheese hand pies.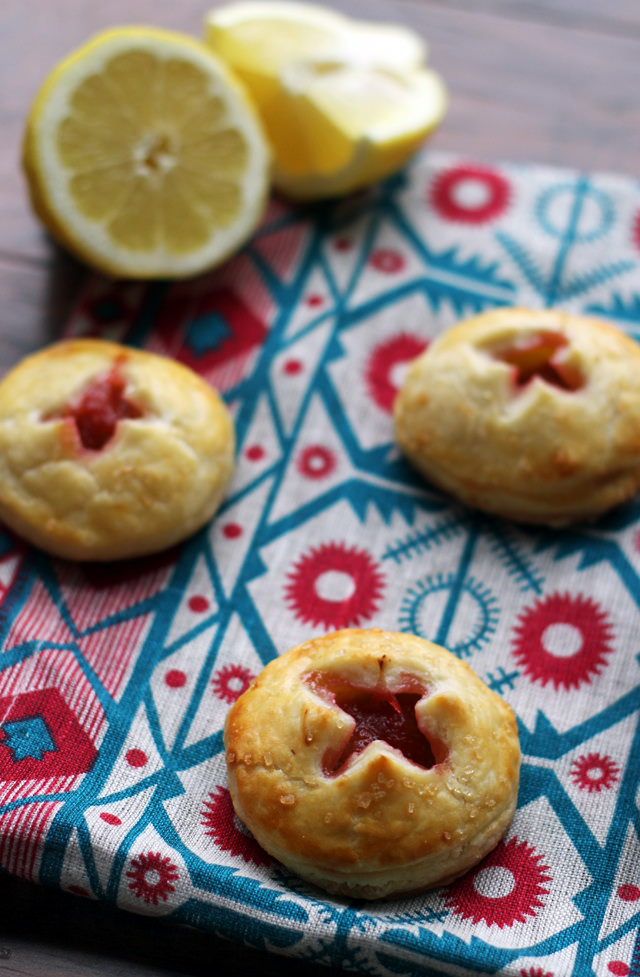 From what I can tell, baby-wearing is the new little black dress.
Which is why ALL THE COOL KIDS are doing it.
And by that I mean, almost everyone I know is set to bring a wee bairn into this world within two weeks of my wedding date.
Which basically means the probability of someone is going to go into labor AT MY WEDDING is pretty much 100%. No pressure to all those with due dates in and around November 29th. (But seriously, make it happen. Bride's orders.)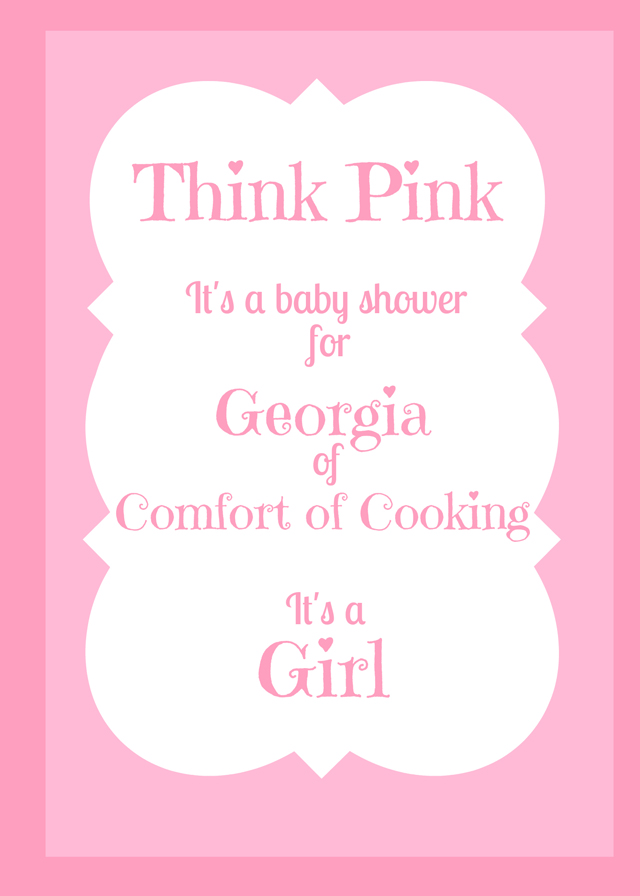 My friend Georgia is set to enter the world of mommydom a biiiitttt sooner than that. Like, any day now.
And I couldn't be happier for her!
Neither can all of her blogger friends, which is why we've all banded together to throw her a surprise baby shower!
Georgia is such a sweetheart, and I can always feel her warmth and compassion shining through in her posts and comments.
Or maybe that's just the warm fuzzy feeling I get when I look at her delicious food. Hmmm.
Either way, I'm sure the little girl she is about to bring into this world will be just as delectable as any of her culinary creations, if not more so.
And to restrain myself from nibbling down on her sweet cheeks, I'll need something equally as appetizing to shove into my mouth. Like these hand pies, which pretty much make for the perfect sweet sour creamy buttery bite.
Being that these only require one hand to eat, they leave ample opportunities for baby holding, baby cheek pinching, and playing pin-the-tail-on-the-umbilical-cord (an age old baby shower game). So no matter whether you have a baby, know someone with a baby, or just want to get in on some hand pie double fisting action, these are the sweet treats for you.
And if they also happen to win you "Daughter of the Year" award on Mother's day…then don't say I didn't warn you.
Congratulations, Georgia! Can't wait to meet your sweet baby girl.
I wish you and your growing family all the happiness and hand pies your hearts can take!!
Rhubarb Cream Cheese Hand Pies
Eat your favorite spring fruit in these juicy two bite rhubarb cream cheese hand pies.
Ingredients
For the crust
3¾ cups all purpose flour
1½ tbsp sugar
1½ tsp salt
1½ cups unsalted butter, cold and cut into small cubes
¾-1 cup buttermilk
For the rhubarb filling
1 lb rhubarb stalks, trimmed and cut into ½-inch pieces
⅓ cup sugar
For the cream cheese filling
4 oz cream cheese, room temperature
⅓ cup sugar
1 tsp lemon zest
2 tsp lemon juice
1 large egg yolk
For assembly
1 egg
1 tbsp water
coarse sugar
Instructions
To make the pie dough, in the bowl of a food processor, pulse together the flour, sugar, and salt. Add the butter pieces to the bowl and pulse until the pieces are pea-sized. Add in ¾ cup of the buttermilk and pulse until the dough starts to come together. Turn out onto a clean surface and knead until it is fully combined, adding more buttermilk as needed.
Split the dough in half and pat into a disc. Wrap in plastic wrap and refrigerate for at least an hour or overnight. Repeat with second half of dough.
For the rhubarb filling, put the rhubarb and sugar in a medium pot. Cover and cook on medium-low heat for 15 minutes, no need to stir. Increase the heat to medium, remove the lid, and cook for another 10-15 minutes or until running a spoon across the bottom of the pot leaves a trail. Remove from heat and let cool.
For the cream cheese filling, whisk together the cream cheese, sugar, lemon zest, lemon juice, and egg yolk. Chill until ready to use.
Heat oven to 400. Line two baking sheets with parchment paper. Beat remaining egg and 1 tbsp water. Set aside.
On a well-floured surface, roll out the dough until it is about ⅛th-inch thick. Using a cookie or biscuit cutter, cut the dough into 2 or 3-inch circles.
Brush half of the dough circles very lightly with the egg wash. Top with 1 tsp rhubarb filing and 1 tsp cream cheese filling. Top each with a second circle that has been vented by making small cuts in it. Press the edges together so that they form a seal. Transfer to the prepared baking sheet and repeat with remaining dough. Brush the tops with the egg wash and sprinkle with coarse sugar.
Bake for 15-20 minutes, or until puffed and golden. Allow to cool before serving.
For more cute hand pie ideas, check out these:
Mini Caramel Apple Hand Pies with Brown Sugar Glaze
Frosted Berry Hand Pies by Foodiecrush
Vanilla-Cardamom Pear Hand Pies by An Edible Mosaic
Mini Lemon Hand Pies by Lemons for Lulu