Whether you call them a pop tart or a hand pie, these are an irresistible snack full of apple cinnamon and brown sugar fall flavors.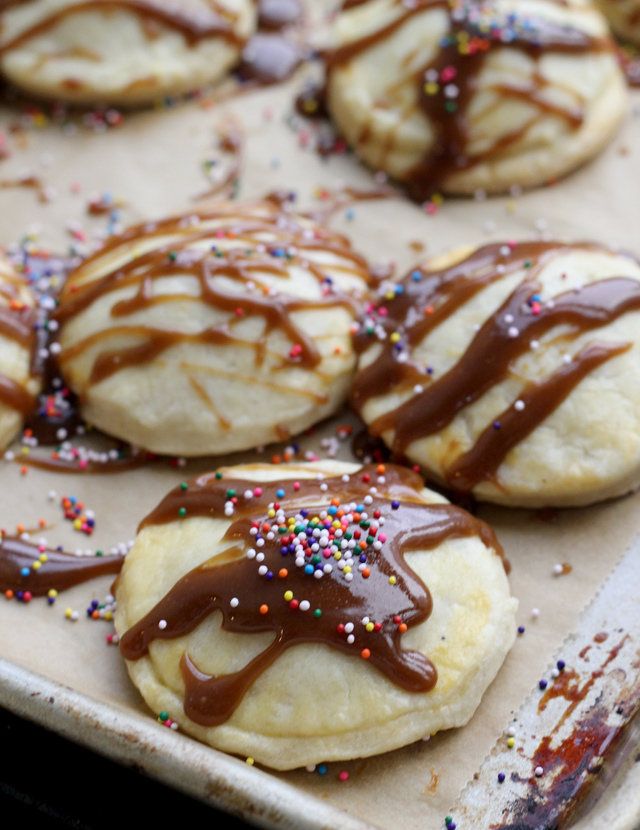 I missed out on the part of childhood that involved eating artificial fruit covered in artificial pie crust and an artificially colored glaze for breakfast.
Woe.Is.Me.
The Pop Tart was persona non grata in our household, along with Fruity Pebbles, Cocoa Pebbles, and Cookie Crisp. Although Fruit Loops and Golden Grahams and Cinnamon Toast Crunch were, strangely, totally acceptable.
I will never understand parenting.
Well the joke is on you now, mom, because now that I am old, not only can I buy Pop Tarts myself (except that I wouldn't. ever. even if my life depended on it. ew.) and eat them for ALL THE MEALS, but I can also make them. And eat them for ALL THE MEALS.
#winning
In case this was unclear to anyone besides me, pop tarts are actually hand pies. In breakfast-appropriate clothing.
Who knew? (Well, obviously, those of you who were allowed to eat them. Doh.)
And pie for breakfast? That's totally the kind of thing I can get behind.
Also, eating brown sugar glaze straight from the pan and getting rainbow sprinkles in every crevice of your life. I support you.
These are filled with so much caramel cinnamon apple brown sugar. Like, real apples. Bet your pop tart can't do that.
I tried to get the.boy to affirm my belief that they were just like the apple cinnamon pop tarts but BETTER. But he just said they tasted more like toaster strudel.
Meh. What does he know. It's not like he ate them for breakfast every day of his childhood or anything like that.
Psssshhhhhh.
All I know is…don't waste your weekend by not making these. K, thanks.
One year ago…Buckwheat Harvest Tart
Two years ago…Baked Penne with Roasted Vegetables,
Three years ago…Spinach and Onion Curry Pizza on Pumpkin Pizza Dough
Four years ago…Cacio e Pepe Spaghetti Squash
Caramel Apple Pop Tarts with Brown Sugar Glaze
Whether you call them a pop tart or a hand pie, these are an irresistible snack full of apple cinnamon and brown sugar fall flavors.
Ingredients
For the crust
3 cups all purpose flour
1¼ tsp salt
8 oz chilled butter, cut into ½-inch dice
For the filling
2 tbsp butter
2 honeycrisp apples, peeled and cubed
1 tsp lemon juice
1 tsp flour
2 tbsp brown sugar
½ tsp ground cinnamon
pinch of nutmeg
½ tsp vanilla extract
1 egg
For the glaze:
⅓ cup brown sugar
3 tbsp butter
1 tbsp milk
pinch of sea salt
sprinkles
Instructions
For the crust, combine the flour and salt in the bowl of a food processor. Pulse to combine. Add in the cold butter and pulse until the mixture resembles coarse, wet sand. Stir in 4-5 tbsp of ice water until the dough just starts to come together.
Divide the dough in two and pat each half into a disk. Cover with plastic wrap and refrigerate while you make the filling, about 30 minutes.
For the filling, melt the butter in a medium saucepan over medium-low heat. Add in the apples, lemon, flour, brown sugar, cinnamon, and nutmeg. Saute for 15 minutes, stirring often. Remove from the heat and stir in the vanilla. Allow to cool while you roll out the dough.
Line 2 large baking sheets with parchment paper. Beat the egg with 1 tbsp water.
On a piece of floured parchment paper, roll out one of the disks of dough to a 10x13-inch rectangle. Using a biscuit cutter, cut out as many circles as possible and place them on one of the parchment-lined baking sheets. Gather up the remaining dough and re-roll it, cutting out circles, until there isn't enough dough left. Repeat with second disk of dough.
Place a heaping tsp of apple filling in the center of half of the dough circles. Brush the egg mixture around the edges of the dough circle and then top with another circle of dough. Crimp around the edges to seal. Brush with the egg all over. Repeat until all of the mini pop tarts are filled and sealed.
Refrigerate for 20 minutes.
Preheat the oven to 375.
Bake one baking sheet at a time, for 20-25 minutes or until dough starts to turn golden brown. Allow to cool before glazing.
To make the glaze, in a small saucepan, bring the brown sugar, butter and milk to a boil, stirring often. Stir in the sea salt and allow to cool for five minutes. Drizzle over the pop tarts.