All the flavors of the classic eggplant parm, wrapped up into one veggie burger and served atop the best burger bun in town.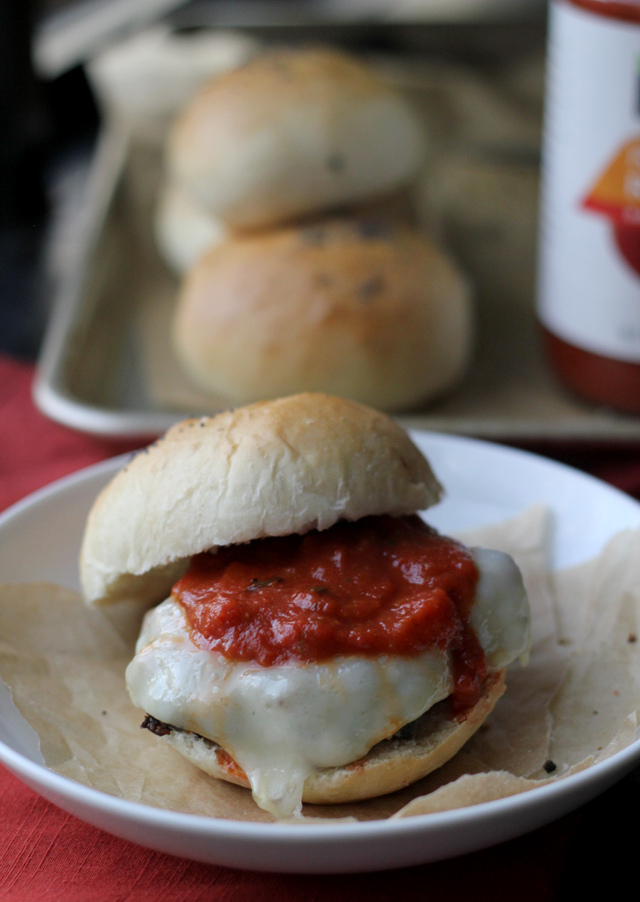 So, about that time I spent exactly five minutes in Atlanta, screaming, kicking, and running through the airport like a girl unhinged.
Oh, I didn't tell you about that?
That's perhaps because it occurred this weekend as I was en route to Charleston by way of Newark and with a pit stop in ATL.
A pit stop, in fact, that was supposed to last one and a half hours, but because a subset of people who work at Delta can't seem to get their acts together, ended up being exactly five minutes, and thus will henceforth be known as That Time That Delta Tried to Ruin My Life (And My Cousin's Wedding Weekend).
It all started in one of the most unpalatable places in New Jersey, otherwise known as Newark International Airport, otherwise otherwise known as the place where punctuality and timeliness and the hope of making your transfer flight go to die. Our flight was delayed by about 30 minutes from the outset for no true explicable reason other than that Newark couldn't get the plane we were supposed to take into its landing sequence in any kind of reasonable time frame. Airlines usually overestimate the time it will take to fly from one place to another for precisely this reason so, fine, we would still make it with a little over an hour to spare.
We finally board the plane, are starting to pull away from the gate, when, due to a MISCOMMUNICATION between the pilot and the pushback tug (the guy driving the little car that helps pull the plane away from the gate) there is a thud. A big thud. A thud that requires us to pull back into the gate and wait for two inspection crews to come check out the aircraft. Not only does the fact that the pilot cannot seem to communicate with the pushback tug-ger give you little to no hope that he will be able to effectively communicate with air traffic control…but now you have added a half hour to your late-ness. And are currently in the midst of a state of panic.
Eventually, we are cleared to pull away from the gate, but then the powers that be in Newark have to find a way to fit us into the-already-a-mess takeoff lineup. That's another half hour.
And before we knew it, we were in the air with an expected time of arrival that coincided exactly with the time our transfer flight was supposed to be lifting off. If I thought I was in a state of panic before…I was wrong. This was the state of panic. Full force.
So we land in Atlanta, immediately pull out our smartphones and see that, lo and behold, our second flight has been delayed by fifteen minutes!! Meaning we have exactly fifteen minutes to deboard the plane and get to our second gate. There is hope!
The.Boy decides to take one for the team and shove his way to the front of the plane so that he can run ahead and try to get the gate attendant to hold our flight for a few minutes if need be.
So my sister and I, carry-ons in tow, exit the first aircraft only to discover that our second flight is in ANOTHER TERMINAL in the Atlanta airport.
All of a sudden, there is little to no hope. But we both look at each other, understanding what we are thinking in the way the only sisters can. Take a deep breath.
And run.
Never have I ever been so glad to be at the peak of marathon training fitness in my entire life. Because sprinting up and down an elevator while holding luggage? Not easy. Not easy at all.
Running a 5-minute-mile pace while holding luggage and trying to dodge ALL THE PEOPLE. Even harder.
Long story short, the gate attendant at the second flight pretty much ignored all of The.Boy's pleas (/screams/threats) to hold the flight.
But we made it nonetheless. With a whopping thirty seconds to spare.
Boo-yah.
And take that Delta. I will NEVER be flying with you again.
There is really no good segue for heading into these burgers, other than the oh so cliche – comfort food! We deserved it.
But, you should know that these are kind of the best veggie burgers I've ever made. Two eggplant-haters ate them and wanted seconds.
And the buns? I will never buy another storebought burger bun ever again in my entire life. I solemnly swear. Because these are the pinnacle of bun perfection.
Another thing to note is that I made these on a T-fal OptiGrill that I was sent to review! Basically, it is an indoor grill with precision grilling technology that can sense the quantity, temperature, and thickness of whatever you're cooking so that it can cook it perfectly every time. It's perfect for grilling inside during the colder months and also for grilling wetter/looser items (like veggie burgers!) that are wont to fall through the grates of an outdoor grill.
(Even though I was sent an OptiGrill for free, I was not compensated for this post in any other way AND my thoughts and opinions on it are my own.)
One year ago…Pumpkin Oatmeal Cinnamon Chip Cookies
Two years ago…Lasagna Tart, Pad See Ew
Three years ago…Chickpea and Quinoa Salad with Lemon and Tahini, Pumpkin Spice Milkshake with a Cranberry Sauce Swirl
Four years ago…Linguine with Roasted Red Pepper Pesto, Pumpkin Chocolate Chip Scones
Homemade Poppy Seed Burger Buns
Homemade burger buns with a thin, chewy outer crust and a soft fluffy inside - perfect for holding up to any burger!
Ingredients
2 tbsp unsalted butter, room temperature
1 egg plus 1 egg white, separated
3½ cups all purpose flour
¼ cup sugar
1¼ tsp salt
1 tbsp active dry yeast
¾ cup lukewarm water
poppy seeds
Instructions
In the bowl of a stand mixer fitted with the paddle attachment, combine the butter, egg, flour, sugar, salt, and yeast. Mix briefly to combine. Mix in the water until well combined. Switch to the dough hook and knead on medium-high speed for 4-5 minutes. Add water by the tsp, if necessary, until it comes together.
Put dough in a large bowl and allow to rise, covered with a damp dish towel or plastic wrap, until it doubles in size, 1-2 hours.
Gently deflate the dough and divide it into 8 equal pieces. Shape each piece into a ball and flatten it slightly so that it is about 1-inch thick. Place on a parchment paper-lined baking sheet. Cover with plastic wrap and allow to rise for an hour.
Preheat the oven to 375.
Whisk the egg white with 2 tbsp of water. Brush the buns with the egg whites and then sprinkle with the poppy seeds. Bake for 15-18 minutes, or until golden. Allow to cool on a wire rack before slicing.
Eggplant Parmesan Burgers
All the flavors of the classic eggplant parm, wrapped up into one veggie burger.
Ingredients
1 large eggplant (about 1 lb)
kosher salt
1 cup panko
¼ cup parmesan cheese
2 tbsp minced parsley
1 garlic clove, minced
freshly ground black pepper
1 egg, lightly beaten
marinara sauce
4 slices mozzarella cheese
Instructions
Cut the eggplant into 1-inch cubes. Bring a pot of salted water to a boil. Add the eggplant and boil uncovered until eggplant is soft, about 10 minutes, pushing them down as necessary so that they stay in the water. Drain and let cool. Then press out as much water from the eggplant as possible (I used this Potato Ricer to do it). Very finely chop eggplant.
In a bowl, combine the eggplant with the breadcrumbs, cheese, parsley and garlic. Season to taste with salt and pepper. Mix in the egg.
Split eggplant mixture into four patties. Cook on an electric grill or shallow fry in olive oil for 3 minutes total, turning once halfway. Transfer to a plate lined with paper towels.
Preheat oven to 350.
When ready to serve, place each burger on a parchment-lined baking sheet. Cover with marinara sauce and a slice of mozzarella. Heat in the oven until cheese has melted, 2-3 minutes. Serve atop a burger bun.
Notes
Adapted from
My Calabria
via
Big Flavors From a Tiny Kitchen