Lasagna gets infused with some Mexican flair in the form a butternut squash filling and spicy beer-chocolate mole sauce.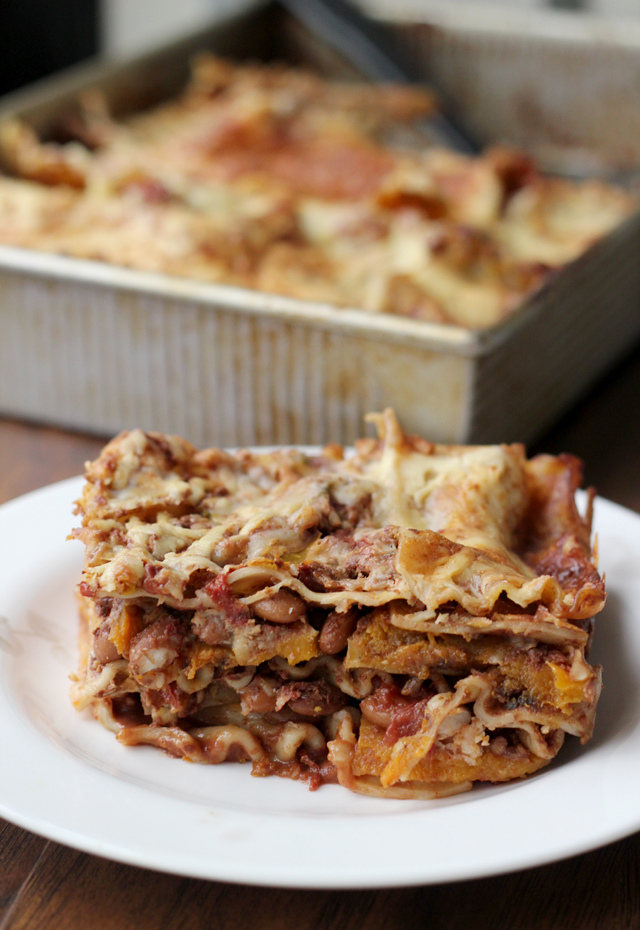 If I haaaaavvveee to carb load and eat ALL THE PASTA for this little marathon thing that I'm doing in three weeks.
Then you're going down with me.
So sad for you. Don't look so forlorn.
And because variety is the spice of life. You know what else has carbs?
Beer and chocolate.
Triple carb loading? Say whaatt?! Oh, yes. We're doing this.
The truth is, you would be a total weirdo if, while brainstorming savory recipe ideas for beer+chocolate, mole never popped into your head. It's like…THE way to eat chocolate for dinner.
You know, other than just…eating chocolate for dinner. But I wouldn't know anyone who is involved in shenanigans like that. Ahem.
Mole tacos–>Mole enchiladas–>Mole enchilada casserole–>Mole lasagna.
You can see the logical progression, right?
Sweet caramelized roasted butternut squash stuffed into lasagna noodles that are draped in a spicy chocolatey beer-infused tomato sauce and sprinkled with a good hearty layer of cheddar cheese. It just had to happen.
That's my story and I'm sticking to it.
(As a side note – Rachel of Rachel Cooks is featuring me on her A Day In the Life series today! Head on over here to check it out!)
And for even MORE excitement, in addition to providing me with the delicious chocolate to create this recipe, Divine has offered a giveaway to THREE of my readers!! Divine, which, by the way, is the premium chocolate brand and Fair Trade social enterprise co-owned by cocoa farmers in Ghana, has added two new products to its delicious range of chocolate, which are being launched exclusively with Whole Foods Market in October. THREE winners will be awarded a gift set that includes (1) Divine Dark Chocolate Apricots – Tangy sun-dried apricots from the Mountain Fruits cooperative in Northern Pakistan enrobed in Divine's critically-acclaimed dark chocolate AND (2) Divine Dark and Milk Chocolate Mixed Nuts – Crunchy Fairtrade almonds, cashews and brazil nuts from Liberation Foods enrobed in Divine's rich dark chocolate and creamy milk chocolate.
To enter, all you have to do is leave a comment telling me whether you're more of a milk, dark, or bittersweet chocolate kinda person. For extra entries you can
Follow @joanneeatswell on Twitter and Tweet: I'd love to win @DivineChocUSA Dark Chocolate Apricots and Dark & Milk Chocolate Mixed Nuts #DivineInNYC
Like Divine Chocolate USA on Facebook (www.facebook.com/divinechocolateUSA) and leave the comment: I'd love to win Divine Dark Chocolate Apricots and Dark & Milk Chocolate Mixed Nuts. Sent by Eats Well With Others #DivineInNYC
Follow @DivineChocUSA on Twitter and Tweet: I'd love to win Divine's Dark Chocolate Apricots and Dark & Milk Chocolate Mixed Nuts #DivineInNYC @joanneeatswell
Good Luck! Three winners will be selected at random and notified by October 21st. Divine Chocolate is responsible for delivery of the Gift Sets. This giveaway is open to US residents only.
Mole Butternut Squash Lasagna
Lasagna gets infused with some Mexican flair in the form a butternut squash filling and beer-chocolate mole` sauce.
Ingredients
½ large butternut squash, halved lengthwise and sliced thinly
2 tbsp olive oil, plus more for brushing
2 cloves garlic, minced
1½ lb heirloom tomatoes, coarsely chopped
14 oz canned diced tomatoes
12 oz Bluepoint Brewery Oktoberfest
1.5 oz bittersweet chocolate
½ tsp chipotle chili powder
¼ lb dried beans, soaked overnight and boiled until tender
salt and black pepper, to taste
8 oz cheddar cheese or pepperjack, shredded
12 lasagna noodles
Instructions
Preheat oven to 400.
Arrange butternut squash slices on a parchment-lined baking sheet. Brush with olive oil and sprinkle with salt and black pepper. Bake for 30 minutes or until tender.
In the meantime, heat olive oil in a large pot. Add the garlic and saute over medium heat until fragrant, about 30 seconds. Add in the heirloom tomatoes and the canned diced tomatoes. Saute until tomatoes start to break down, about 10 minutes. Add in the beer, chocolate, and chili powder. Reduce for another 20 minutes. Season to taste with salt.
Coat the bottom of a 9x13-inch pan with one cup of the sauce. Top with four lasagna noodles, half of the butternut squash and half of the beans. Top with a third of the cheese and a second layer of sauce. Repeat with four more noodles, the rest of the butternut squash and the rest of the beans. Sprinkle with half of the remaining cheese. Top with the remaining noodles, the remaining sauce, and the remaining cheese.
Cover with aluminum foil and bake for 30 minutes. Remove foil and bake for 15 minutes more until top is crispy and browned. Let sit for five minutes before serving.
Notes
An Eats Well With Others Original
Nutrition Information
Serving size:
⅛th of recipe