If you had to sum up the feeling of summer in one taste, this summer on toast would be it! Topped with heirloom tomatoes, basil, ricotta, and a poached egg it brings the essence of summer to the table.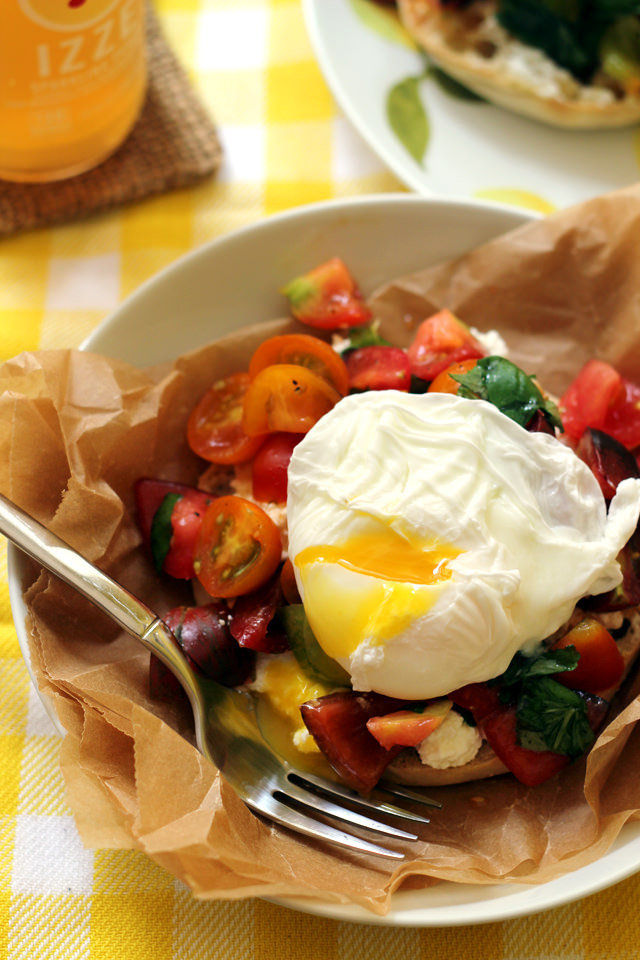 New rule.
You are not allowed to make ONE SINGLE PUMPKIN RECIPE until you get this summer on toast in.your.mouth.
So it shall be written and so it shall be done.
This is for our own good!!! I promise.
I look at those people buying Halloween candy in August and think to myself that they are just jumping from season to season without really celebrating LIFE.
They're certainly also not stopping to smell the basil, chop the tomatoes, or throw it all on a toasty English muffin with a ricotta schmear and calling it brunch.
Basically: they're missing out on everything.
We don't want to be those people.
Aside from the fact that I never want this barrage of produce to end, can I tell you what else I'm going to miss about summer when it's gone?
Easy entertaining, that's what.
In what other season does having people over for a meal not require you to slave over an oven for hours?! Exactly. Only in the summer is it totally possible to not turn on your oven at all, keep things simple, and still serve a meal that feels five-star-high-class. The proof is in these toasts.
So, longtime readers will know that I am crazy about brunch. It's my favorite meal to eat, cook, and host, so it's no surprise, I'm sure, that when my friends and I get together to celebrate something, it is almost always over brunch. Normally I spend hours stressing over what to make, but not this summer.
Because this toast. Is. Everything.
It is impossible not to love, it's fifty shades of awesome, and it packs so much veggie punch that you can't help but feel good about eating it.
Also, it takes less than 10 minutes to make. So you also can't help but feel pretty good about making it. Over and over and over. (And over.)
Another summer(/all the time) get-together staple that I can't live without?
IZZE. I have been a HUGE fan of their sparkling juices for a while now (their peach flavor is my spirit drink), so I was thrilled to find out that they are releasing a new line of sparkling waters! Unlike other sparkling waters I've tried, these really pack some true-to-the-fruit flavor punch, and come in Blackberry Pear, Mandarin Lime, and Raspberry Watermelon. They are perfect for when you want to drink something with a bit of flavor, but not be overwhelmed by sweetness and come in at around 10 calories per 12-ounce serving, with just a hint (1-2 grams) of organic cane sugar to make the fruit flavors pop.
That, my friends, is my kind of sparkling drink.
So, my brunch invitation is forthcoming……..right?

Summer On Toast
If you had to sum up the feeling of summer in one taste, this summer on toast would be it! Topped with heirloom tomatoes, basil, ricotta, and poached egg it brings the essence of summer to the breakfast table.
Yield:
8 breakfast toasts
Ingredients
2 tbsp olive oil
40 oz small heirloom tomatoes, coarsely chopped
2 oz basil, thinly sliced
salt and black pepper, to taste
4 sandwich size English muffins, split and toasted
1 lb ricotta
8 large eggs
Instructions
In a large bowl toss together the olive oil, tomatoes, and basil. Season to taste with salt and black pepper.
Spread about 2 oz of ricotta onto each English muffin half. Top with a few spoonfuls of the tomato basil mixture.
To poach the eggs, fill a medium pot with water so that it is about half full. Bring to a boil. Reduce the heat to a simmer and add 1 tbsp vinegar. Break each egg into a small ramekin and pour it gently into the pan, only adding 2-3 eggs at a time depending on the size of your pan. Cook for 3 minutes. Remove with a slotted spoon and serve the tomatoes.
Notes
An Eats Well With Others Original
Nutrition Information
Serving size:
1 breakfast toast
I was selected for this opportunity as a member of Clever Girls and the content and opinions expressed here are all my own.