Tomato sauce gets swapped out for a puree of roasted roots in this cheese pizza with spicy roasted carrot and red onion sauce.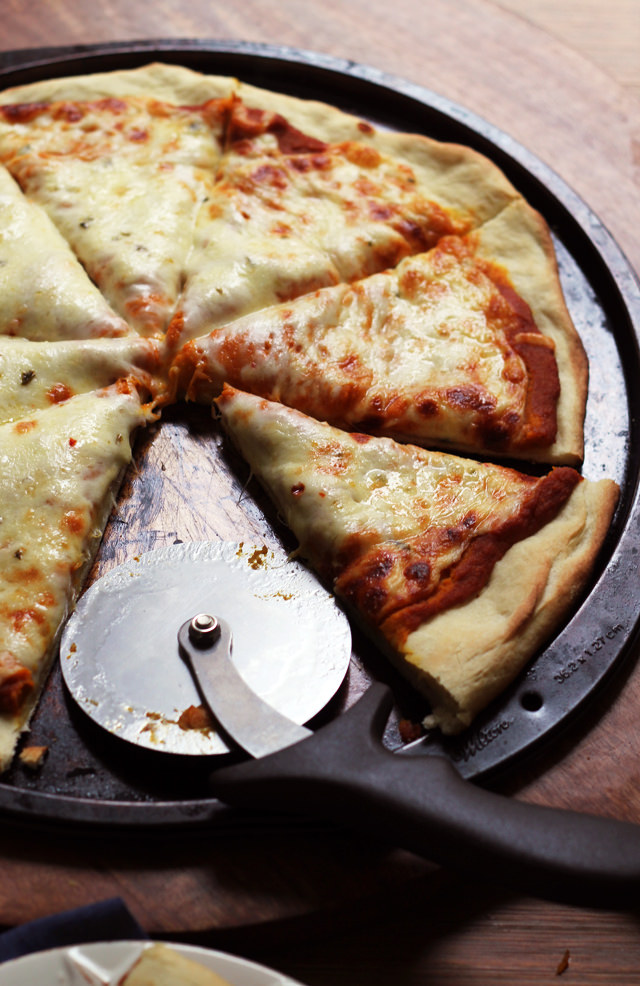 I'm freeing pizza from its tomato sauce clutches.
Crazy, I know, but here me out:
Tomatoes have had a monopoly on pizza sauce for, like, eternity.
Monopolies are illegal in the US.
DOWN WITH TOMATOES.
Totally sound logic, am I right?
To be honest, I've never felt very strong ties to tomato sauce, my Italian ancestry notwithstanding. Even as a child, I would tolerate it if there was cheese involved, but otherwise I wanted nothing to do with it. I've come around to it a little bit over time, but it's still not my favorite. Probably never will be.
Instead I propose: CARROT SAUCE.
Really. CARROT SAUCE.
Just roast up a pound of carrots along with a sliced red onion and then puree to a spreadable consistency. DONE.
It's sweet, it's savory, it's spicy, it's orange, and it just feels right to smother it in-between carbs and cheese. (<– all selling points)
That first bite tastes a little weird because you expect tomato sauce, but on the second bite you really get into it, and by the third you're hooked.
Four slices in and you'll be all like tomato who? Exactly right.
Cheese Pizza with Spicy Roasted Carrot and Red Onion Sauce
Tomato sauce gets swapped out for a puree of roasted roots in this cheese pizza with spicy roasted carrot and red onion sauce.
Ingredients
For the pizza dough
1 tbsp active dry yeast
pinch of sugar
1 cup lukewarm water, divided
3 cups bread flour
2 tsp sea salt
2 tbsp olive oil
For the pizza
1 lb carrots, cut into ½-inch cubes
1 red onion, thinly sliced
1 tbsp olive oil
1 tbsp gochujang
salt, to taste
8 oz sliced part-skim mozzarella
4 oz pepperjack, grated
Instructions
In a small bowl, combine the yeast with a pinch of sugar and ¼ cup lukewarm water, stirring to combine. Let sit for 5 minutes. If it becomes foamy, then the yeast is alive and raring to go! If not, then the yeast is probably dead or too old and your dough won't rise, so go buy more.
In the bowl of a stand mixer fitted with the bread hook attachment, combine the flour, yeast/water mixture, remaining ¾ cup water, olive oil, and salt. Stir on medium speed until dough comes together. Stir on medium-high speed for five minutes. Cover the bowl with plastic wrap and let rise in a warm place until doubled in size, about 2 hours.
Meanwhile, prepare the sauce. Heat oven to 400F. In a large bowl, toss the carrots and red onion slices with the olive oil, gochujang, and salt, to taste. Spread on a parchment-lined baking sheet and roast for 30 minutes, or until tender.
Let the roasted vegetables cool for 5 minutes. Then, put in a blender along with ¼ cup water. Blend until smooth, adding more water as necessary so that it can form a spreadable puree.
Season to taste with salt and black pepper.
Raise oven temperature to 500F.
Rub a 12-inch pizza pan with olive oil. When the dough has risen, spread it out over the prepared pan.
Spread the carrot sauce over the dough, leaving a 1-inch border around the edges. Arrange the mozzarella slices in an even layer over the sauce. Sprinkle the pepperjack cheese on top. Bake for 10-12 minutes, or until the bottom of the pizza starts to brown. Let rest for 5 minutes before slicing.
Notes
An Eats Well With Others Original
 Pizza, pizza!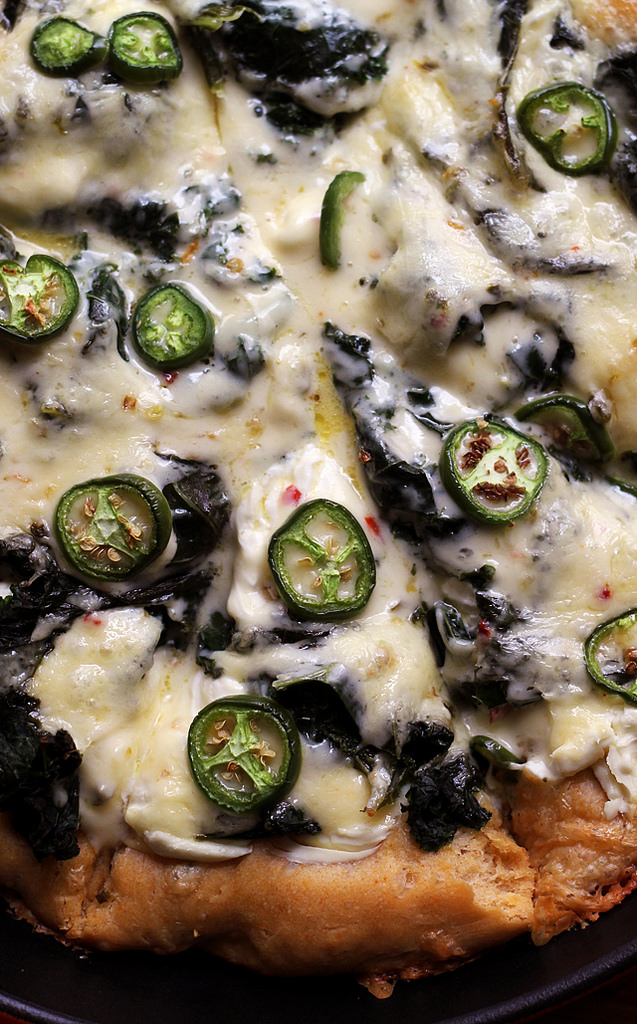 Jalapeno Popper Kale Deep Dish Pizza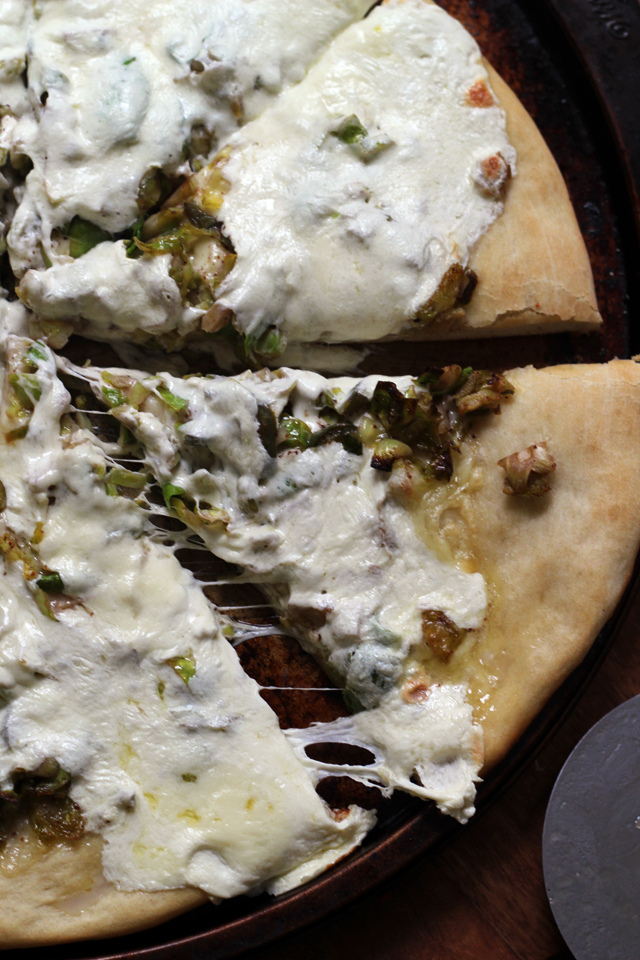 Brussels Sprout, Lemon, and Jalapeno Pizza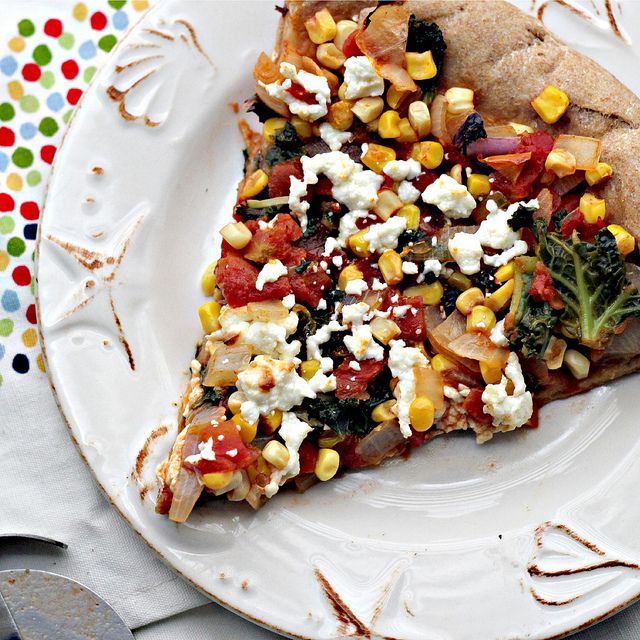 Mexican Pizza with Kale, Queso, and a Chipotle Tomato Sauce
From Around the Web:
Spinach and Artichoke Dip Pizza from Closet Cooking
Thyme and Shallot Pizza from For the Love of the South
Roasted Brussels Sprout and Red Cabbage Pizza from Oh My Veggies
Marinated Kale and Whipped Ricotta Pizza from How Sweet It Is
Butternut Ribbon Goat Cheese Pizza with Arugula Pepita Pesto from Cookie + Kate