Sour cherries can be hard to find, but if you can get your hands on them then you absolutely MUST turn them into this BEST EVER sour cherry pie. It is at once tart, sweet, and completely addictive.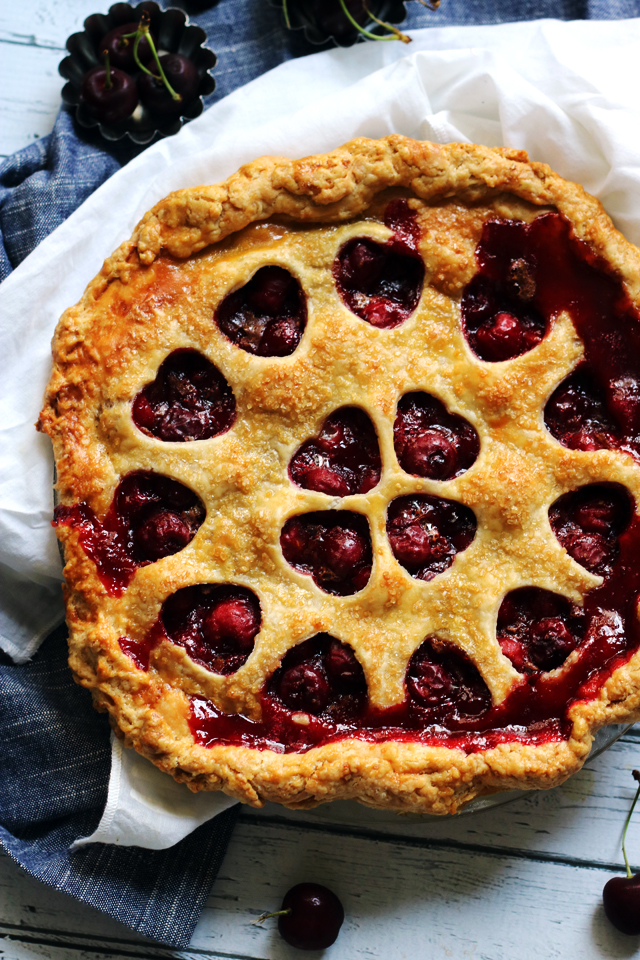 I hereby active a cherry emergency warning.
I need you to run, not walk, to your local farmer's market this instant and get your hands on some sour cherries.
Really.
Now.
I'll wait.
I say this because I made this pie a month ago after accidentally stumbling on some sour cherries at my local farmer's market and at that time they were covered in signage that said "Last Week For Sour Cherries!!".
Yet, it is now four weeks later. And I still saw sour cherries at the farmer's market last week.
Meaning maybe it was a marketing ploy that I obviously totally fell for. (<– MOST LIKELY.)
Or maybe we all just got really lucky and the season has gotten a second wind. In which case, THE TIME IS NOW to carpe diem some pie into our lives.
I choose the latter.
Because pie, you guys.
ALWAYS CHOOSE THE OPTION WITH PIE.
Best. Life. Advice. Ever.
Okay, so. THIS PIE.
It's tart, it's sweet, it's cinnamony, it's juicy…it's everything you want in a pie!!
I remember that after the.boy took his first bite, he spent the next ten minutes just walking around his parent's house saying "oh my god".
It's the sour cherries, you guys. They're seductive. And magical. And necessary.
To the farmer's market we go!

Best Ever Sour Cherry Pie
Sour cherries can be hard to find, but if you can get your hands on them then you absolutely MUST turn them into this BEST EVER sour cherry pie. It is at once tart, sweet, and completely addictive.
Ingredients
For the crust
2½ cups all purpose flour
1 tsp kosher salt
1 tbsp sugar
½ lb (2 sticks) cold unsalted butter, cut into ½-inch pieces
1 cup cold water
¼ cup cider vinegar
1 cup ice
For the pie filling
5 cups sour cherries, pitted
1 tbsp fresh lemon juice
¾ cup sugar
¼ cup packed light brown sugar
3 tbsp tapioca flour
½ tsp ground cinnamon
½ tsp kosher salt
1 large egg
2 dashes Angostura bitters
egg was (1 large egg whisked with 1 tsp water and pinch of salt)
demerara sugar, for finishing
Instructions
For the crust
Whisk together the flour, salt, and sugar in a large bowl. Add the butter to the flour mixture and toss to coat. Using a pastry blender, cut the butter into the flour until only pea-sized pieces of butter (or smaller) remain.
In a separate small bowl, combine the water, cider vinegar, and ice. Sprinkle 2 tbsp of the ice water mixture over the flour-butter mixture. Toss with your hands until fully incorporated. Add more of the ice water, 1-2 tbsp at a time, using your hands to mix. Add just enough of the water mixture so that the dough comes together into a ball. Split the dough in half and shape each half into a flat disc. Wrap in plastic wrap and refrigerate for at least 1 hour.
For the pie
Roll out one of the pie discs into an 11-inch round. Use this to line the pie plate leaving a 1-inch overhang around the edges. Wrap in plastic wrap and freeze overnight.
The next day, roll out the second pie crust disc into an 11-inch round. Cut into strips for a lattice or use a small heart cookie cutter to cut heart holes in it as pictured here. Place back in the refrigerator to chill.
Next, prepare the killing. Combine the cherries, lemon juice, sugars, tapioca, cinnamon, salt, egg, and bitters in a large bowl. Toss to combine. Pour the filling into the refrigerated pie crust. Top with the second pastry round or lattice. Crimp as desired.
Chill in the freezer for 10-15 minutes. Meanwhile heat oven to 425F and position oven racks in the bottom and center positions.
Remove the pie from the freezer and brush the pastry top with an egg wash to coat. Sprinkle with demerara sugar.
Place the pie on a baking pan on the lowest rack of the oven. Bake for 20-25 minutes, or until pastry is set and starting to brown. Reduce oven temperature to 375F. Transfer the pie to the center rack and continue to bake until the filling is bubbling and the crust is a deep golden brown, about 30-35 minutes.
Remove from the oven and let cool completely on a wire rack, 2-3 hours. Serve warm or room temperature.