This heirloom tomato pizza topped with an airy whipped pesto ricotta positively SCREAMS of summer!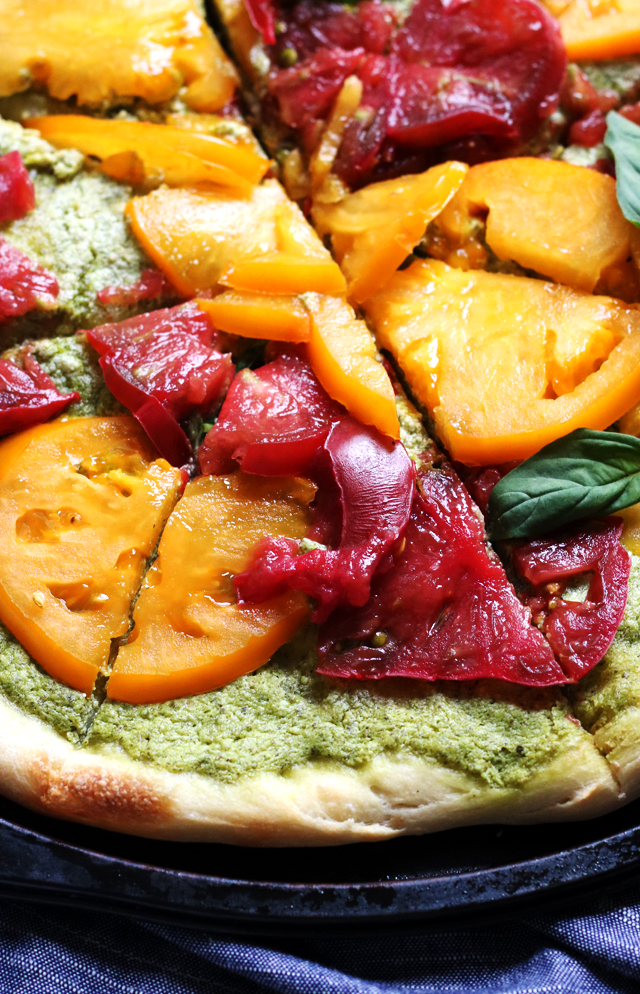 Because sometimes you just need a meal that tastes like SUMMER.
Ain't no shame in that.
And of course, after I complained about not being able to find any heirloom tomatoes, here I am posting all the heirloom tomato things.
It's karma.
But the good kind!!
I'm a firm believer in the idea that summer eating involve consuming as many raw, unadulterated tomatoes as possible.
THEY ARE NATURE'S JEWELS.
I would totally rock one of them on my finger.
Like an all natural ring pop!!!!
You guys, I might be onto something. Shark Tank?!? ARE YOU LISTENING?!
Anyways. Summer goal: eat all the tomatoes – check!
I've also been really really trying, especially since I only get one day off a week, to make my day off pizza night.
Obviously that has everything to do with the fact that my kid is obsessed with pizza and nothing to do with the fact that I'm obsessed with pizza.
What's that?
Hmmm. No comment.
The saving grace of all that homemade pizza is that because I have control over everything that goes into it, I can make it not that bad for you. Or at least uber veggie topped!
This pizza really celebrates that. Pesto and ricotta are blended together in the food processor until light and airy. The mix is then spread over a raw pizza dough and sent to the oven to bake! Meanwhile, heirloom tomatoes are sliced and lightly salted to let their juices break forth and shine.
Once the pizzas are popped out of the oven, they are topped quickly with the tomatoes along with a drizzle of torn or chiffonaded basil. The tomatoes themselves don't actually cook at all, so make sure to allow them to ripen completely or they will taste a little flat.
Heirloom Tomato Pizza with Whipped Pesto Ricotta
This heirloom tomato pizza topped with an airy whipped pesto ricotta positively SCREAMS of summer!
Ingredients
For the pizza dough
1 tbsp active dry yeast
pinch of sugar
1 cup lukewarm water, divided
3 cups bread flour
2 tsp sea salt
2 tbsp olive oil
For the pizza topping
8 oz ricotta
8 oz basil pesto
2 tbsp olive oil
2 medium heirloom tomatoes, thinly sliced
Maldon sea salt
Instructions
In a small bowl, combine the yeast with a pinch of sugar and ¼ cup lukewarm water, stirring to combine. Let sit for 5 minutes. If it becomes foamy, then the yeast is alive and raring to go! If not, then the yeast is probably dead or too old and your dough won't rise, so go buy more.
In the bowl of a stand mixer fitted with the bread hook attachment, combine the flour, yeast/water mixture, remaining ¾ cup water, olive oil, and salt. Stir on medium speed until dough comes together. Stir on medium-high speed for five minutes. Cover the bowl with plastic wrap and let rise in a warm place until doubled in size, about 2 hours.
Heat oven to 500F.
Meanwhile, in the bowl of a food processor, combine the ricotta and the pesto. Puree until smooth and airy.
Grease pizza pan with olive oil. Spread the pizza dough on the pan using a greased rolling pin or your hands until it reaches the edges of the pan. Spread the pesto ricotta over the prepared dough, leaving a ½-inch border around the edges for the crust.
Bake for 10-15 minutes or until the edges and bottom are lightly browned.
While still warm, top the pizza with the tomato slices and sprinkle with sea salt. Let sit 5 minutes before serving.
Notes
An Eats Well With Others Original