A light tomato and plum salad tossed with a sweet ginger dressing and topped with a briny nori and sesame salt.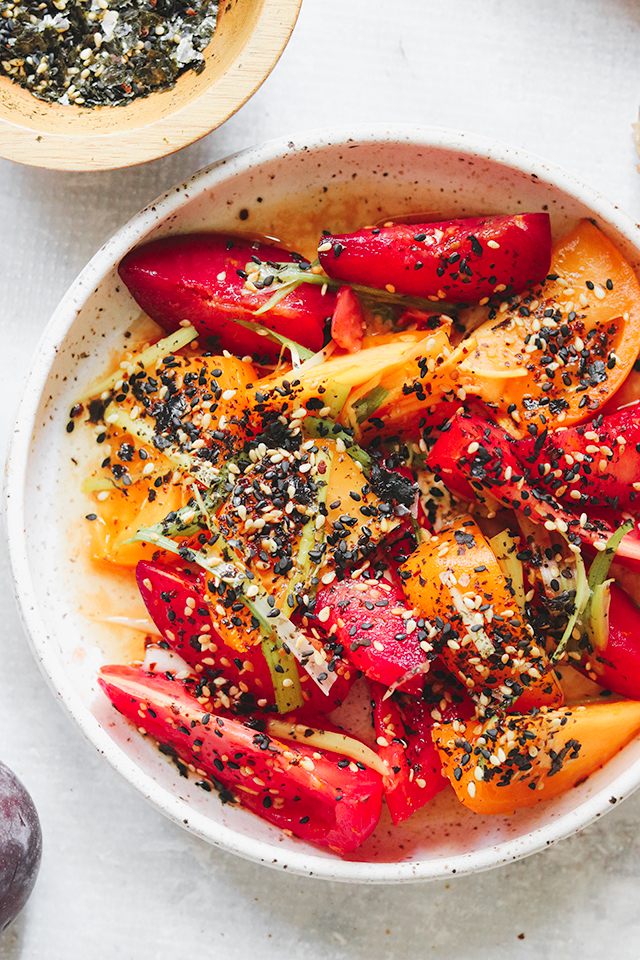 I mentioned that we had french fries at literally every meal on vacation, right? I have no regrets about that, but man, I am craving a SALAD.
Something light, refreshing, quick to prepare, full of contrasting and complex flavor elements that make you raise your eyebrows in happiness as you're eating.
Basically I want the FULL PACKAGE of salads, not to be completely high maintenance or anything.
Oh, look! Yes, yes, this will do just fine.
This tomato and plum salad was an unexpected highlight of our clean-out-the-fridge pre-vacation eats. I've probably mentioned this before (a few times) but I'm cooking my way through the Ottolenghi Flavor cookbook this year, which has forced me to try recipes I otherwise would have skipped right over. Of course there have been some recipes we didn't love, but there have been so many happy surprises as well. This salad was one of the latter – something I would have surely not made had I just been randomly choosing what to make (seaweed?! on plums?!) but it came together into something pretty magical and I beg you to give it a try.
The prep and premise for this salad is quite simple. It starts with some true heroes of the mid-summer fruit world – ripe heirloom tomatoes and plums! The tomatoes are juicy with a hint of sweetness while the plums (or pluots, if you prefer) are all intense flavor and tang. 
Cut the fruit into wedges and throw it (gently) into a large bowl.
Next comes the dressing, which is laughably easy to prepare. Made of rice vinegar, a hint of sugar, ginger, garlic, soy sauce, orange zest, and sesame oil it features a great mix of flavors – salty, sweet, pungent spice from the ginger and garlic. They work together to bring out the sweetness of the salad ingredients while also adding some savory and acidic qualities.
Finally (and this is the real gem of the salad), everything is topped with a nori and sesame-infused sea salt.
Nori sheets are blitzed to a powder in spice grinder or blender and then tossed with flaky sea salt and toasted sesame seeds. The salt is kind of briny and nutty, a little bit weird, but SO MUCH YES. It just works.
Throw it over the salad and EAT. And maybe even make a double batch because I can see so many other uses for it – as a bagel seasoning, on fish, in Asian noodle salads, sprinkled over some tofu. Yes, lets.
Tomato and Plum Salad with Nori and Sesame
A light tomato and plum salad tossed with a sweet ginger dressing and topped with a briny nori and sesame salt.
Ingredients
For the dressing
2 tsp sugar
2 tbsp rice vinegar
2 tsp soy sauce
2 tbsp sesame oil
¼ oz fresh ginger, peeled and julienned
½ garlic clove, grated
¼ tsp finely grated orange zest
½ tsp flaked sea salt
For the nori and sesame salt
½ sheet nori
2½ tsp black sesame seeds, toasted
2 tsp white sesame seeds, toasted
½ tsp flaked sea salt
For the salad
1.75 lb mixed ripe heirloom tomatoes, cut into wedges
4 ripe plums or pluots, pitted and cut into ½-inch wedges
4 scallions, thinly sliced
Instructions
For the dressing
In a small bowl, whisk together the sugar, rice vinegar, soy sauce, sesame oil, ginger, garlic, orange zest, and salt. Set aside while you prepare the remaining ingredients.
For the nori and sesame salt
Break up the nori sheet and then put into a spice grinder and grind to a coarse powder. Pour the ground nori into a small bowl and stir together with the sesame seeds and salt. Set aside.
For the salad
Prepare the tomatoes, plums, and scallions. Toss gently in a large bowl with the dressing. Spread on a serving platter and sprinkle with the nori and sesame salt. Serve immediately.