These spicy paneer stuffed peppers are a delicious dinner idea for any weeknight! Indian spices, grated paneer cheese, and tomatoes are all stuffed in sweet bell peppers and roasted. Yum!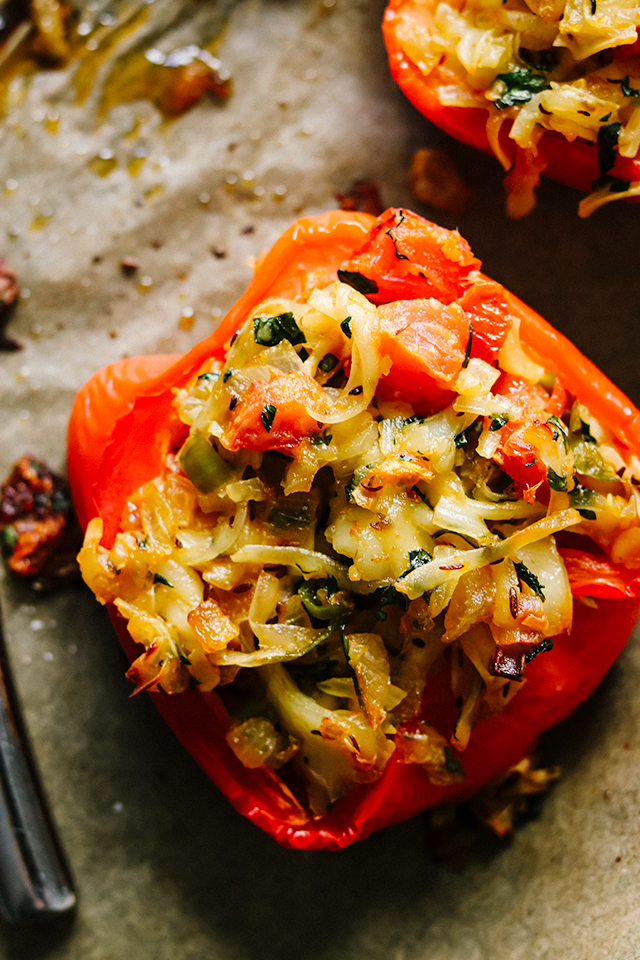 Paneer stuffed peppers coming in HOT!!!
Literally. Hot, cheesy, spicy, insanely flavorful little bowls of goodness is what these are.
Despite never having stuffed peppers during my childhood, they always feel like total comfort food to me.
It probably doesn't hurt that they're usually cheese-smothered and full of satisfying, familiar flavors. 
While the classic stuffed pepper is typically filled with ground beef in a tomato-based sauce, these peppers are a little bit more unique in that they are completely vegetarian and filled with Indian spices – a combination I can't resist.
The first step in making stuffed peppers is to prepare your peppers for filling. I used bell peppers for this recipe, but the skinnier romano peppers will also work here. 
To prepare bell peppers, I cut them in half lengthwise so that when they're placed cut side up on a baking sheet, they'll have a flat surface to rest on. Then, I carefully remove any seeds and inner membranes without breaking the pepper or messing with its integrity. You want the outer shell of the pepper to remain intact so that it will act as a bowl for the filling.
If using romano peppers instead of bell peppers, just cut a slit lengthwise down the middle of the pepper on one side and scoop out any inner seeds or membranes, again leaving as much of the pepper intact as possible.
Once the peppers are ready to go, I place them cut side up on a baking sheet and pop them into the oven to soften a bit before filling. This ensures that the peppers will be completely cooked through when its time to eat and intensifies their flavor, so that they become really caramelized and extra delicious. 
It also makes them a bit more pliable which, especially if you're using romano peppers, will make the stuffing process a lot easier.
The pre-roast can be done while you're preparing the filling so it doesn't add any extra time to the overall process. 
The next step is to prepare the filling!
You'll start by sauteing some aromatics in a little bit of oil – cumin seeds, onion, ginger, and an Indian green chile pepper (also known as a finger pepper). These add subtle spice and so much rich flavor to the pepper filling. If you can't find Indian green chile peppers, you can substitute a jalapeno or serrano pepper and adjust the amount based on your heat preference. Though the flavor won't be exactly the same, it won't make a huge impact on the finished dish.
Next into the pan are the grated paneer and diced tomato. Paneer is a pretty heat-resistant cheese so it won't melt in the skillet, it will just soften in the tomato juices and soak up some of the flavors that are already in there.
Finally, just before removing the pan from the heat, stir in some salt, ground kashmiri chili powder, and fresh cilantro to flavor the mixture. 
Once the filling is prepared, let it cool for a few minutes to make it easier to handle and then stuff it into all of your pre-roasted peppers. Make sure to divide it evenly (no one likes an under-stuffed pepper) and pile it on if you need to in order to use it all up.
Pop the peppers back into the oven to melt the cheese, finish cooking off the peppers, and let the filling really meld together. 
Then it's time to eat! Total weeknight dinner win.
Spicy Paneer Stuffed Peppers
These spicy paneer stuffed peppers are a delicious dinner idea for any weeknight! Indian spices, grated paneer cheese, and tomatoes are all stuffed in sweet bell peppers and roasted. Yum!
Ingredients
4 large red bell peppers
2 tbsp canola oil
1 tsp cumin seeds, crushed
1 onion, diced
1 Indian green chile, minced
¾-inch piece of ginger, peeled and grated
8 oz hard paneer, grated
1 large ripe tomato, finely chopped
⅓ tsp kosher salt
⅓ tsp ground kashmiri chili pepper
½ cup cilantro, minced
Instructions
Heat oven to 350F and line a baking sheet with parchment paper. Set aside.
Cut each pepper in half lengthwise and remove the seeds and membranes. Place on the prepared baking pan, cut side up. Pop them into the oven for about 15 minutes to soften while you prepare the filling.
Heat the olive oil in a medium skillet over medium heat. Once hot, add the cumin seeds and fry for 30 seconds or until fragrant. Add the onion and saute for 8 minutes, or until soft. Add in the green chile and ginger. Saute for 3-4 minutes. Stir in the paneer and the tomato. Cook for 5 minutes, or until the tomatoes have softened. Stir in the salt, kashmiri chili powder, and cilantro. Remove from the heat and stir to combine.
Allow the mixture to cool slightly, then stir it into each of the peppers halves, dividing it evenly. Place in the oven and bake for 20-30 minutes, or until the peppers are soft. Serve immediately.