Thick and chewy bucatini are tossed with a sweet corn sauce and homemade ricotta.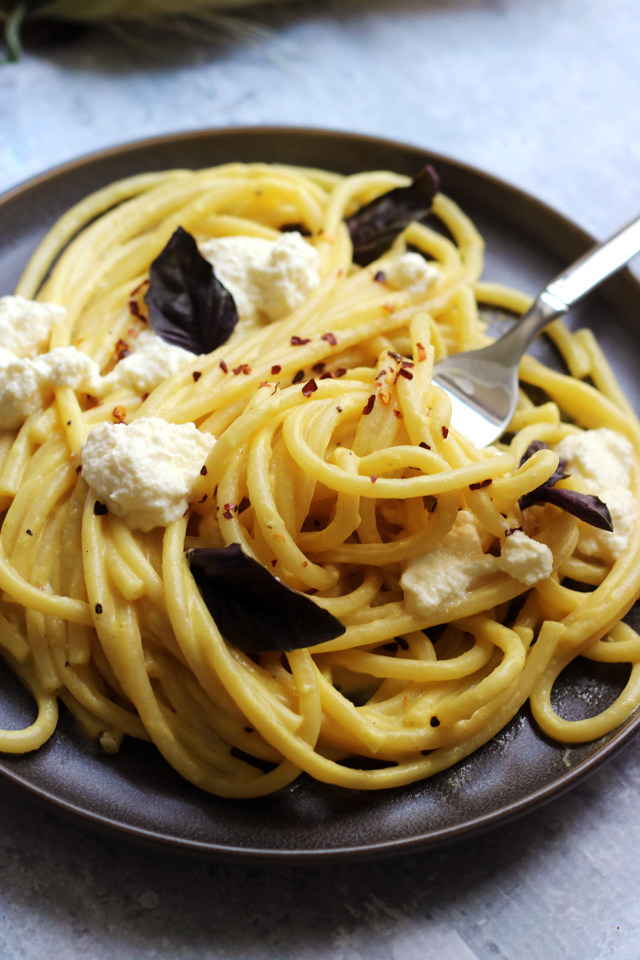 The exact right time to tackle your bucket list item of making homemade ricotta is probably not in-between every-3-day 27 hour shifts.
Off the top of my head I can think of at least ten more practical opportunities, timing-wise. BUT, I've never been known to make my life simple (like, who thought having a kid in med school was a good idea?!), so here we are.
One pot of pasta, a few choice words, and a newfound appreciation for fromagers later.
Let me just preface this by saying that making homemade ricotta is probably not hard if you haven't been awake for the preceding 27 hours (+/- 2-3 hours of broken sleep). I can't know for sure, but I can assume.
It's basically just heating milk on the stove, mixing it with vinegar, allowing it to sit and then draining it over a cheesecloth. Tada! Cheese!
It gets a little more complicated when you don't have a large enough sieve for the draining step nor do you have enough of your faculties about you to realize that beforehand or to effectively troubleshoot once you realize the overflow situation that's going on.
Guys. No biggie.
Do it in batches. It will all work out.
What's extra special about this ricotta is that it's infused with fresh summer corn! A little secret from Cook's Illustrated, it somehow makes the milk taste more like milk. I guess it's kind of like how mixing coffee into chocolate desserts makes them taste more like chocolate. It just enhances the natural flavors that are already there.
You can use the resulting ricotta for pretty much anything, but I'm partial to this bucatini that is dressed in a sweet summer corn sauce with fresh basil leaves working their way into every bite. It's a meal that is quintessentially SUMMER, and it comes together easily once you have your ricotta situation sorted out.
Bucatini with Corn Ricotta and Basil
Thick and chewy bucatini are tossed with a sweet corn sauce and homemade ricotta.
Ingredients
2 quarts whole milk
4 cups corn kernels
¼ cup white vinegar
kosher salt and black pepper, to taste
2 quarts water
1 lb bucatini
¼ tsp red pepper flakes
¼ cup fresh basil, torn into large pieces
Instructions
Heat the milk and the corn in a large saucepan over medium heat. Once the milk reaches 190F, strain it into a large bowl, reserving the corn kernels. Transfer the corn to a blender along with ½ cup of the strained milk. Allow to cool for 5 minutes.
Stir the vinegar into the larger portion of milk and let sit until curds have formed, at least 5 minutes.
Meanwhile, blend the milk and corn on high speed until smooth, about 3 minutes.Push the corn puree through a fine-mesh sieve into a 12-inch skillet. Rinse and dry the strainer, then line with a single layer of cheesecloth and set it over a large Dutch oven or pot.
Pour the milk and vinegar mixture into the cheesecloth-lined strainer and allow it to drain until the curds look like cottage cheese, about 5 minutes, reserving the whey. Transfer the ricotta to a bowl and season to taste with salt. Measure out ¾ cup of ricotta for the pasta and refrigerate the rest for another use.
Add the water to the large pot with the whey and bring it to a boil, adding 2 tbsp of salt to it. Add the pasta and cook to desired consistency. Reserve 2 cups of the pasta water and then drain the pasta.
While the pasta cooks, add red pepper flakes to the corn puree and place the pan over low heat. Toss the cooked pasta with the corn sauce, adding the reserved pasta water just until the sauce reaches the desired consistency and the pasta is well coated with the sauce. Season to taste with salt and black pepper.
Divide the pasta among serving bowls and top with the ricotta and basil.