Fusion burritos filled with creamy Indian butter paneer and sticky sushi rice.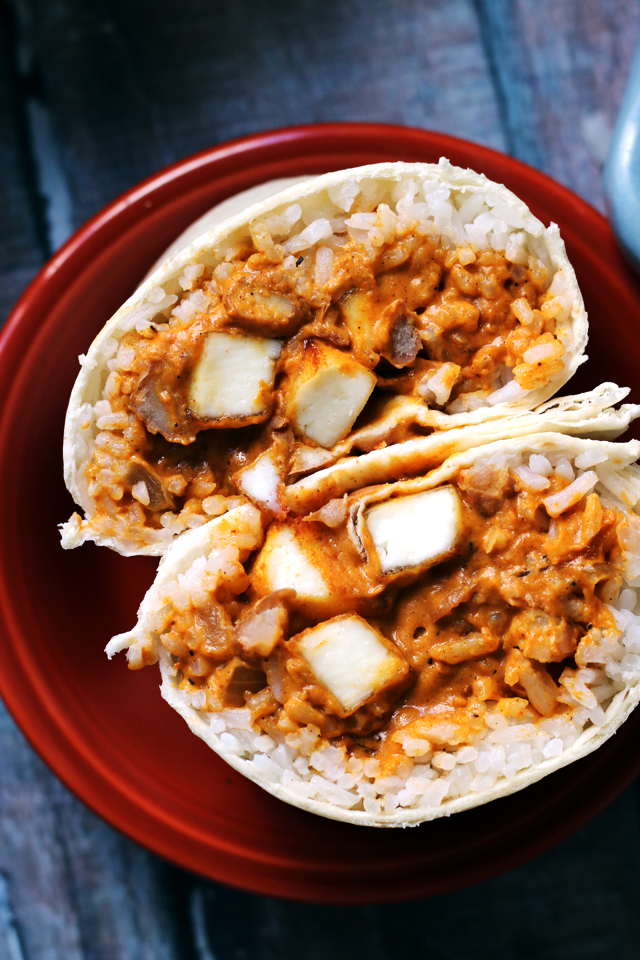 Where did we leave off?
Oh, right. I was headed to Phoenix for a wedding and dreading leaving Remy at home for the weekend.
So much has happened between then and now including:
(a) the stomach flu plague of 2017, courtesy of one of my child's small friends
(b) me almost passing out at work on Friday because of the aforementioned plague
(c) having to fly across the country and back and overall hold myself together/make wedding speeches/look presentable in front of a lot of people on no sleep and no food for daaayyyyzzzz
(d) a three hour plane delay
(e) and did I mention NO SLEEP
So excuse me for my extended absence. I've now tried to write this post three times after work and each time would just fall asleep at my computer.
On the bright side, Remy did great without us!!!
So there's that.
I'm not a stranger to this feeling of complete exhaustion but this week has been particularly bad, so I've been relying on Instant Pot meals and easy family favorites like these butter paneer burritos! I actually first made them a few weeks ago and the.boy thought they were one of the best things I've ever made.
Remy liked the rice and maybe a bite or two of paneer. Welp. You can't win 'em all!
They're really just the butter paneer recipe I posted earlier this year sandwiched between sticky sushi rice and tortillas.
EASY. DELICIOUS.
And perfect for the sleep-deprived.
Indian Butter Paneer Burritos
Fusion burritos filled with creamy Indian butter paneer and sticky sushi rice.
Ingredients
¼ cup canola oil
8 oz paneer, cut into ½-inch cubes
14 oz full fat coconut milk
½ cup cashews
5 oz tomato paste
¼ cup full fat Greek yogurt
1 small onion, diced
4 cloves garlic, minced
1 tbsp minced ginger
2 tsp vindaloo or other spicy curry powder
2 tsp thai red curry paste
2 tbsp garam masala
½ tsp turmeric
salt, to taste
1½ cups sushi rice
4 burrito-sized flour tortillas, warm
Instructions
Heat the oil in a deep cast-iron skillet over medium-high heat. Add the paneer to pan in batches making sure not to crowd the pan. Fry until browned and crispy, about 3-4 minutes and then remove to a paper towel-lined plate. Repeat until all paneer is fried. Reserve the oil in the pan.
Meanwhile, combine the coconut milk and cashews in a blender bowl. Blend until totally smooth. Add in the tomato paste and Greek yogurt. Blend again until well combined. Reserve the sauce.
In the pot used to cook the paneer, reheat the remaining oil over medium heat. Add the onion, garlic, and ginger to the pan. Saute for 4-5 minutes until onion is tender and translucent.Stir in the spices and saute for 1-2 minutes, or until toasted. Add the sauce to the pan along with the paneer. Bring to a low simmer and cook until heated through. Season to taste with salt and black pepper.
While the paneer cooks, prepare the rice according to package directions.
Divide the rice among 4 tortillas. Top with the butter paneer.
Working with one tortilla at a time, fold the side of the tortilla over the filling and then fold up the bottom edge closest to you and roll as tightly as possible around the filling into a burrito. Place seam-side down. Repeat with remaining burritos and serve warm.
Notes
An Eats Well With Others Original