One pot orecchiette puttanesca that is deeply savory with pops of bright flavor from cherry tomatoes, loads of capers, fresh herbs and pan-fried spiced crispy chickpeas.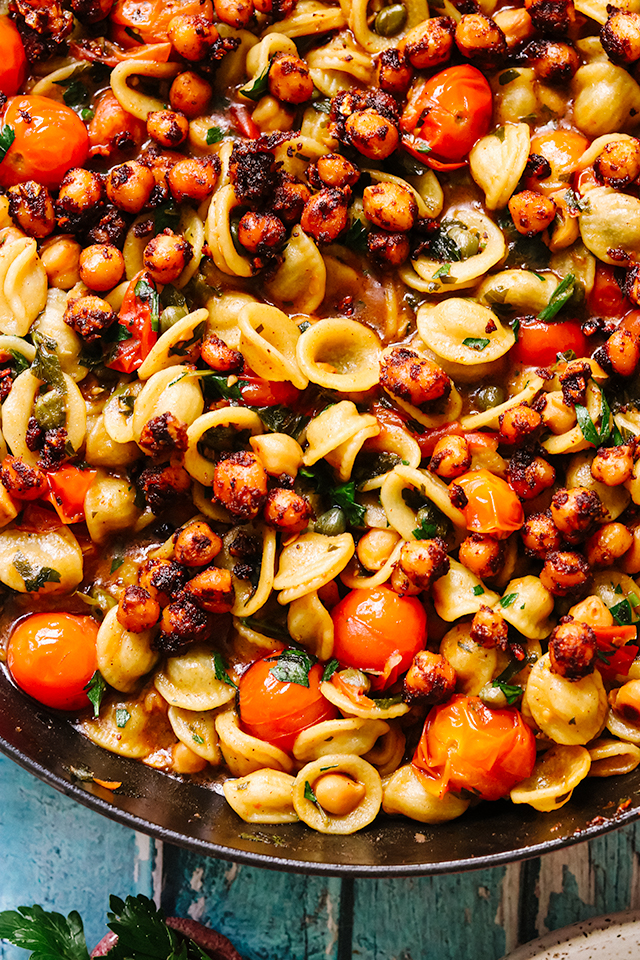 Making Mondays everywhere better with this total FLAVOR BOMB of a pasta!!
If you've ever had a puttanesca pasta before then you know that it is full of briny, deliciously savory flavors. It's a tomato based sauce that is enhanced with the additions of capers, anchovies, and olives, which add salt, tang, and umami. Rumor has it that this dish came about late one evening in a nightclub in Italy, when a group of customers came in during the wee hours of the morning and requested a meal. The owner only had a smattering of ingredients in his pantry and so he threw whatever he had into the pasta pot…and out came this dish! It went over so well with them that he later included it as a permanent addition to his restaurant's menu. 
This recipe from Ottolenghi's Flavor cookbook takes that concept and enhances it with the addition of pan-fried crispy chickpeas that are coated in a smoky spice blend of smoked paprika and cumin. About two thirds of the chickpeas are kept in the pot to allow their flavor to infuse into the pasta sauce while the remaining third are held back to add as crunchy toppers to the finished dish.
Additionally, this version features bright pops of flavor in the form of fresh cherry tomatoes and loads of parsley, while omitting the anchovies to keep it vegetarian. One change I've made to Ottolenghi's recipe is to omit the olives since my husband is not a fan, and so I added more capers in their place. However, if you're an olive lover you can scale back the capers and add them back in.
Probably one of the best things about this dish is that it is made in only one pot!!
Total selling point, and quite unusual for an Ottolenghi meal (or, let's face it….an Eats Well With Others recipe – brevity is not my strong suit). This really allows for a symbiotic relationship between the pasta and all of the sauce ingredients – the flavors of the sauce seep into the pasta while the gluten that comes off the pasta acts to thicken the sauce.
It's a win/win situation for everyone, but mostly for us because we get to eat it for dinner.
One Pot Orecchiette Puttanesca with Spiced Crispy Chickpeas
One pot orecchiette puttanesca that is deeply savory with pops of bright flavor from cherry tomatoes, loads of capers, fresh herbs and pan-fried spiced crispy chickpeas.
Ingredients
5 tbsp olive oil
6 garlic cloves, minced
1 (15 oz) can chickpeas, drained and patted dry
2 tsp hot smoked paprika
2 tsp ground cumin
2 tsp tomato paste
kosher salt
2 cups parsley, roughly chopped
2 tsp lemon zest
4 tbsp baby capers
9 oz small, sweet cherry tomatoes
2 tsp sugar
9 oz dried orecchiette pasta
2 cups vegetable broth
¾ cup + 2 tbsp water
black pepper, to taste
Instructions
In a large saute pan with high sides, combine 3 tbsp of the olive oil, the garlic, chickpeas, paprika, cumin, tomato paste, and ½ tsp salt over medium-high heat. Saute the chickpeas with the spices for 12 minutes, or until crispy, stirring occasionally. Remove a third of the chickpeas and set aside.
Meanwhile, in a small bowl, mix together the parsley, lemon zest, and capers. Add two thirds of the parsley mixture to the pan along with the cherry tomatoes and sugar. Saute for 2 minutes, stirring often, then mix in the pasta, broth, water, and ¾ tsp salt. Bring the liquid to a simmer, then decrease the heat to medium. Cover and cook for 12-14 minutes, or until the pasta is al dente.
Stir the remaining parsley mixture into the pasta. Drizzle with the remaining olive oil and divide among serving plates. Top with the reserved crispy chickpeas and freshly ground black pepper just before serving.