Cranberry pear pie combines the tart flavor of fresh cranberries with sweet seasonal pears and warm fall spices.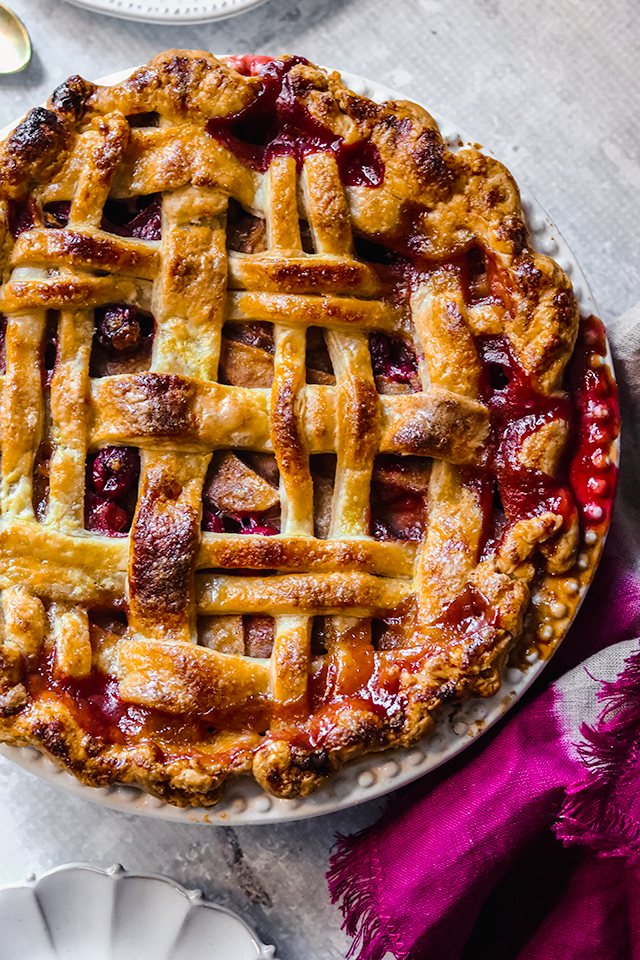 I'm either just on time or fashionably (365 days, YES I MADE THIS LAST YEAR) late, but fall pie season is here and I am not mad about it.
Of course, I could have gone with something more traditional like a variation on pumpkin or apple pie, but no no no.
Today is all about the pear!
Otherwise known as the forgotten fruit of fall. Does anyone even eat pears anymore? I hear all about apple picking and apple sauce and caramel apples, but pear love is few and far between.
Lest you think I'm some sort of pear fanatic, I'll have you know that I've only recently come around to them thanks to the persistence of my husband's law firm in sending us a box of Harry & David pears for the holidays every year.
Having a box full of the best pears on earth delivered to your house is definitely one way to win over the most ardent pear skeptic!
I'd probably still choose an apple over a pear most days when it comes to straight up snacking, but in pie form the pears at least give the apples a run for their money!
This cranberry pear pie that I made last year is one of my favorite ways to enjoy them. It's inspired by a recipe for a pear and sour cherry pie from the Ovenly cookbook. I loved the idea of sweet pears mixed with a tart component, but the combination of pears with sour cherries was a little odd to me because they aren't in season at the same time so it's impossible to find them when they're both at their peak ripeness. Frozen sour cherries are a reasonable substitute but they can be hard to find (even in Manhattan – I'd have to go to a specialty grocery store to get them), and I didn't feel like going on a wild goose chase.
Enter cranberries! The tart little jewels of the fall season. These berries are abundant at this time of year and make for excellent pie fillers given that they are naturally rich in pectin and will thicken easily once cooked down. Pear flesh, in contrast, is quite sweet and soft making them the perfect partners when it comes to pie filling.
In addition to cranberries and pears, this pie filling is spiced with the warm flavors of cardamom and cinnamon. It tastes like a warm hug and is especially delicious when topped with a scoop of vanilla ice cream.
I used my favorite all-butter crust for this pie, which comes from Sister Pie. It calls for European-style butter, which is higher in fat percentage than your average grocery store butter in America. This makes for a flakier and richer crust, but also helps make the dough easier to work with. The flakiness of this crust is absolutely unbeatable, which is why it has become my go-to. 
I went a little fancy with the topping here, making the top crust into a fun lattice design. Feel free to decorate it however you like or go simple with a regular double crust. If you do this, make sure to cut vent holes in the top before baking.
Hopefully this will be the first of many pies that will be enjoyed this baking season. I can't wait!
Yay for fall baking!
Cranberry Pear Pie
Cranberry pear pie combines the tart flavor of fresh cranberries with sweet seasonal pears and warm fall spices.
Ingredients
For the crust
2½ cups all purpose flour
1 tsp sugar
1 tsp kosher salt
1 cup unsalted European-style butter, cut into ½-inch cubes
½ cup ice
1 cup ice water
2 tbsp apple cider vinegar
For the filling
2 lb firm, ripe pears
1½ cups cranberries, fresh or frozen
½ cup (100 g) brown sugar
¼ cup (30 g) all purpose flour
1¼ tsp cardamom
½ tsp cinnamon
½ tsp kosher salt
1 tbsp fresh lemon juice
1 tsp vanilla extract
To assemble
1 tbsp unsalted butter
1 large egg, beaten
demerara sugar, for sprinkling
Instructions
For the crust
Whisk together the flour, sugar, and salt in a large bowl. Add the cold butter cubes and toss so that they are coated with the flour. Using a pastry blender, cut the butter into the flour until the largest butter pieces are the size of peas. The rest of the mixture should look and feel like Parmesan cheese.
Place the ice in a liquid measuring cup. Add ice water until it reaches the 1 cup mark, then stir in the apple cider vinegar.
Add the ice water-vinegar mixture to the pie crust mixture by the tablespoon, mixing with your hands, until the dough comes together. Remove it from the bowl and cut it into two equal pieces. Pat each piece into a 2-inch thick disc, wrap in plastic wrap, and refrigerate for at least 2 hours or overnight.
Once chilled, roll one disc of dough into a 13-inch round and the second into a 10-inch round on a floured surface. Fit the larger one into a pie plate, letting the extra dough hang over the edge. Place in the refrigerator. For the second disc of dough, cut into strips as desired for making the lattice topping. Place on a baking sheet, wrap with plastic wrap, and transfer to the fridge until you're ready to assemble the pie.
For the filling
Peel, core, and slice the pears into ⅛-inch thick slices. Place into a big bowl. Add in the cranberries and mix to combine.
In a small bowl whisk together the sugar, flour, cardamom, cinnamon, and salt. Pour over the pear mixture and stir until just combined. Add in the lemon juice and vanilla. Mix until evenly coated.
To assemble
Pour the filling into the lined pie pan, mounding it in the center. Cut the butter into small dice and dot the top of the pie with it.
Arrange the lattice strips over the top of the filling and crimp, as desired.
Refrigerate for 1 hour before baking.
When ready to bake, heat oven to 425F with a rack in the lower third of the oven.
Remove the pie from the fridge and brush the top crust with the beaten egg. Sprinkle the demerara sugar over the top.
Place the pie on a baking sheet and bake for 15 minutes or until the crust is golden. Lower the oven temperature to 350F and bake for another 45-60 minutes, or until the filling is bubbling in the center.
Remove from the oven and allow to cool for at least 1 hour before serving.