Sweet caramelized roasted root vegetables team up with a spicy salty miso-harissa dressing to make a salad that's totally craveable.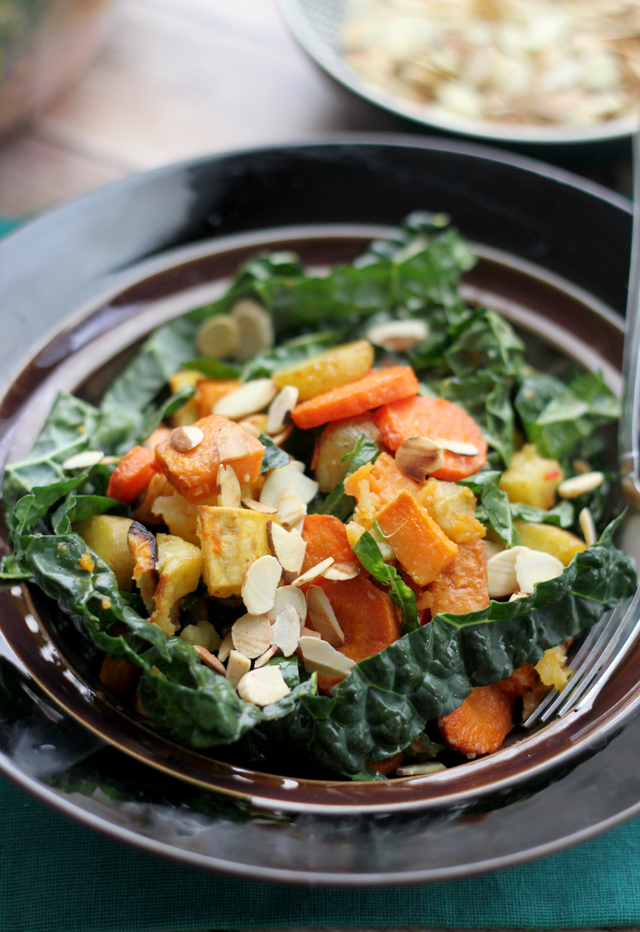 Yes, I'm a new year's cliche.
But if we're gonna do this whole healthy happy thing in 2014, then we are gonna do it HARD.
And what better way than to put ALL THE SUPERFOODS in a bowl and call it a salad? I truly can't imagine.
Carrots, sweet potatoes, butternut squash, kale, and almonds. Seriously, the gang's all here. (And roasted to sweet caramelized perfection.)
Plus we're always being told (mostly by Dr.(/not-a-doctor-at-all) Oz) that spicy food speeds up our metabolism (harissa!), and my container of miso informs me every time I open it that eating it decreases my risk of breast cancer.
So I kind of feel like I'm adding a month onto my life for every bowl of this that I inhale. (So far, um, five. And counting.)
You will too.
Speaking of 2014 goals, what's the dealio? Do we have any? Do we not? Are we clutching our bowls of brown butter close to our hearts lest they be torn away from us by health fanatic goody two shoes??
I have a few goals for the new year, some health-related, some blog-related, some life-related.
Health: Everything in moderation, including moderation. Eat dessert once or twice a week, but stop with this every night business. Make a soup or salad (or both!) at least once a week. Really get to the gym/go for a run 5 days a week instead of the two and a half I've been averaging this holiday season.
Blog: Be more organized! I think I give off the impression sometimes of having it all together, but I'm often scrambling to meet deadlines, going to bed too late, or cooking in the morning before heading off to work (late). I need to be more vigilant about making a schedule and sticking to it. To this end, I've bought this super cute planner that I will hopefully write things in. For more than just the first two weeks in January.
Life: Make a grocery budget! And stick to it. Play the piano at least twice a month. Read more books (one a month, at least).
So what are you doing to make yourself happy this year?
(Hint: Put making this salad on your list. It's super. Plus then you can cross it off and feel super accomplished.)
Week 9 of the 12 weeks of winter squash!! See what other people are cooking up and leave a link if you've cooked with winter squash this week!
Miso-Harissa Roasted Carrot, Squash, and Two-Potato Salad
Sweet caramelized roasted root vegetables team up with a spicy salty miso-harissa dressing to make a salad that's totally craveable.
Ingredients
1 lb carrots, peeled
2 medium sweet potatoes, peeled
1 lb fingerling potatoes, scrubbed
1 small butternut squash, peeled and chopped into 1-inch cubes
2 tbsp harissa, divided
½ cup olive oil, divided
a few pinches of salt
¼ cup white miso
¼ cup meyer lemon juice
1 small bunch of lacinato kale
½ cup sliced almonds, toasted
Instructions
Heat oven to 400.
Cut the carrots into thin coins. Cut the sweet potatoes into 1-inch dice and the fingerlings into thin coins. Toss the carrots, sweet potatoes, fingerlings, and butternut squash in a large bowl with 1 tbsp of harissa, ¼ cup olive oil, and salt. Spread out onto two parchment-lined baking sheets. Roast until golden and tender, about 45 minutes, tossing once halfway through and rotating the pans. Remove from the oven and let cool slightly.
In a separate bowl, whisk together the remaining harissa, miso, lemon juice, and ¼ cup of olive oil. Season to taste with salt.
Tear the kale leaves away from their stem, and slice into thin slivers.
Toss the roasted veggies with the kale and half the dressing. Add more dressing to taste. Serve with the almond slices sprinkled on top.
Nutrition Information
Serving size:
⅙th of recipe