This simple almond shortbread tart looks unassuming, but it will surprise you with how easy it comes together and how delicious and complex its subtle flavors are.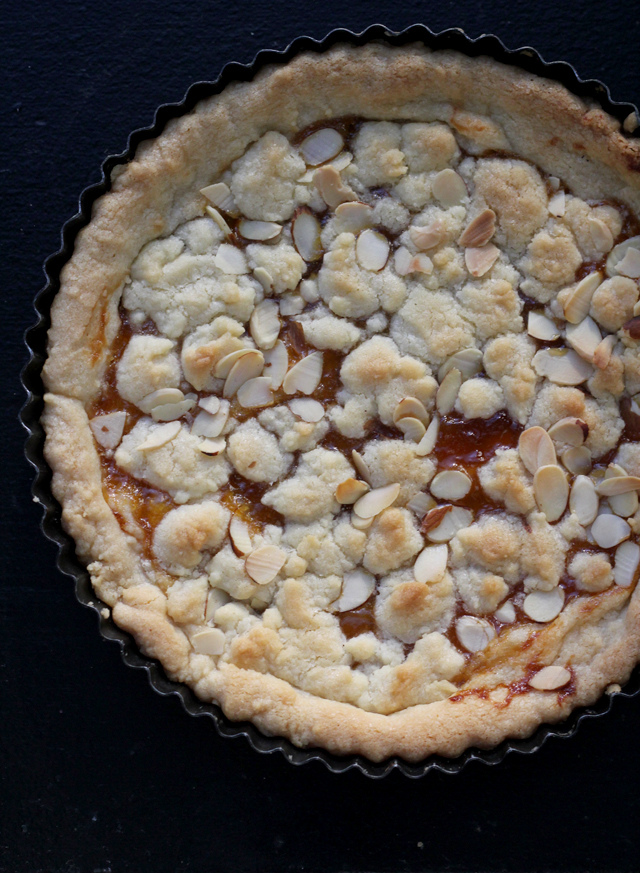 Honestly? Sometimes I kind of overdo it on the salted caramel ganache triple pumpkin cream cinnamon swirl-ness.
Part of the problem is that I don't have that gene that says things are "too sweet".
Probably because that gene is reserved for alien life forms. And my brother. Not mutually exclusive.
And the other part is that sometimes I feel like if I leave anything out, it is going to get jealous and stab me in my sleep.
Cinnamon chip mutiny – it's a real life thing. (#ihopenot #savemefrommychips)
But then there are times when even I get "crazy dessert-ed out".
Not "dessert-ed out", mind you. But just the crazy ones with multiple layers, five components, and several chill times.
It's times like these that call for this Italian shortbread jam tart, which is all the more lovely in its simplicity.
Subtle almond, a hint of sweet, a touch of apricot – it's all about the barely there flavors that come together to create something truly special. It hits all the right dessert spots without all the drama, so for those times you want to indulge, but not too much…it's pretty near perfect.
GIVEAWAY
Before I get on to today's giveaway, I just want to announce that the winner of the Love With Food giveaway, as chosen by a random integer generator, is Bianca of Confessions of a Chocoholic! Bianca, I'll be emailing you!
Remember a little while ago, when I told you about Pillsbury's new line of gluten-free products? Well, I fell in love with their cookie dough and may or may not have eaten my way through two containers of it (oops). Anyways, I'm trying to cut down a bit but I have an extra coupon left for a free product in their gluten-free line (they have cookie dough, pizza dough, and pie crust!) so I thought I would give it away to one of you! I'm sure that many of you have friends or family who are gluten-free and would love to try these out…they really do make it so much easier to entertain for those who have dietary restrictions! The giveaway will run until January 9th. All you have to do to enter is head on over to Pillsbury's website and leave a comment letting me know which of their featured gluten-free recipes you would most like to try!
One year ago…Sweet Potato Salad with Rye Berries, Pepitas and Ricotta Salata, Curry-Spiced Sweet Potato Samosas with a Persimmon-Tomato Marmalade
Two years ago…Roasted Butternut Chowder with Apples, Soft Dinner Rolls with Rosemary and Black Pepper
Three years ago…Chickpeas and Spinach with Honeyed Sweet Potatoes
Four years ago…Frozen Maple Mousse Pie with Chocolate Maple Sauce, Fried Eggs on Toast with Cheddar and Avocado
Five years ago…Penne with Spinach and Ricotta
Italian Shortbread Jam Tart
This simple almond shortbread tart looks unassuming, but it will surprise you with how delicious and complex its subtle flavors are.
Ingredients
12 tbsp unsalted butter, softened
½ cup sugar
¼ tsp pure almond extract
1½ cups all purpose flour
⅛ tsp salt
¼ cup apricot jam
⅓ cup sliced natural almonds
Instructions
Heat oven to 350.
In the bowl of a stand mixer fitted with a paddle attachment, cream together the butter and sugar on medium-high speed until light and fluffy, about 3 minutes. Scrape down the bowl and then add the almond extract, mixing until combined, about 30 seconds.
In a separate bowl, whisk together the flour and sugar. Add the dry ingredients into the butter mixture and mix until just combined. Set aside ½ cup dough. Spread it out onto a plate and put the plate in the freezer. Press the remaining dough into a 9-inch tart pan, evenly.
Using a small offset spatula, spread the apricot jam evenly over the tart, leaving a 1-inch edge all around.
Remove the reserved dough from the freezer and sprinkle it over the tart, allowing some jam to still peek through. Sprinkle with the sliced almonds.
Bake for 40-50 minutes, or until the tart becomes golden brown. Cool on a wire rack before serving.