2012, in many ways, feels to me as if it were impossible.
The whole year was an experiment in vacillation, between one extreme and another.  Like the whiplash you feel from going around a sharp turn, pulling you in every direction at once.  The buildup before the inevitable fall.
There were half marathons, one marathon, a few bad dates (but mostly really good ones), a boyfriend who I want to spend the rest of my life with, so many happy love-infused memories, and two weeks of pure torture, spent watching the best daddy a girl could ask for, die.
All I can say for 2013 is that I hope it is a year of moderation. In all things.
And through it all, of course, there was food. And you.
Everyone always says they have the best readers, but I truly believe that I do.  I am so grateful for all of your support and comments and sweet emails and just for the fact that you would give up a few minutes of your day to stop by here.
From the bottom of my heart, Happy New Year.
This salad was supposed to be my submission for the 10th week of the 12 Weeks of Winter Squash that I've been cohosting with the lovely Heather of Girlichef but I seem to be the only person on this earth who can't store winter squash for more than a week without it getting disgustingly moldy (thank god The.Boy. was there to dispose of it…I was pretty much incapacitated with revulsion).  The sweet potatoes I happened to have lying around were the perfect substitute, however, and if we squint hard enough, we can just pretend that those are butternut squash cubes, can't we?
This salad is definitely the perfect way to kick off 2013, mostly because it doesn't taste salad-like at all.  Rather, it tastes like something you want to eat. Like something you'll crave.  Like something that will make those resolutions that we all claim to not be making (but that we secretly are) all the more attainable.  So let's dig in.  And feel good about it.
Sweet Potato Salad with Rye Berries, Pepitas, and Ricotta Salata
Serves 6-8 generously, adapted from Smitten Kitchen
Ingredients
2 lb sweet potatoes (I used a mix of garnets and purple sweet potatoes)
5-6 tbsp olive oil, divided
salt and freshly ground black pepper, to taste
2 cups rye berries, soaked overnight (can also use wheat berries, spelt berries, farro, barley, etc)
1/3 cup toasted pepitas
3 oz ricotta salata, crumbled
1 tbsp sherry vinegar (plus more to taste)
1 tbsp water
1/2 tsp salt
1/2 tsp sugar
1/2 small red onion, finely chopped
Instructions
Preheat oven to 375.
Peel the sweet potatoes. Chop into 1/2-inch chunks.  Toss sweet potatoes with 1-2 tbsp olive oil and spread on a parchment lined baking sheet. Roast for 30 minutes or until tender. Set aside to cool slightly.
While the squash is roasting, cook the rye berries in a large pot of simmering salted water for 1 hour or until tender. Drain and cool slightly.
While the sweet potatoes are roasting and the rye berries are simmering, whisk together the sherry vinegar, remaining olive oil, water, salt, sugar, and red onion in a small bowl. Cover and set in the fridge until needed, at least 30 minutes.
In a large bowl, mix together the sweet potatoes, rye berries, dressing, toasted pepitas, and ricotta salata.  Add more vinegar or salt to taste.
And now, of course, in keeping with tradition, there are the top 12 reader favorites of 2012!!  Apparently you guys really love mac and cheese, dessert, and all things caramel-infused.  Tomorrow I'll be posting my favorite recipes of 2012 (at least, the ones that didn't make this list), so stay tuned!
Number 12. Quinoa Chowder with Sweet Potatoes, Spinach, Feta and Scallions 

Number 11. Creamy Spinach Spaghetti with Roasted Tomatoes

Number 10. Broccoli-Basil Mac and Cheese 

Number 9. Salted Caramel Bundt Cake 

Number 8. Millionaire's Bars 

Number 7. Stacked Roasted Vegetable Enchiladas 

Number 6. S'Mores Cupcakes 

Number 5. Avocado Mac and Cheese 

Number 4. Green Goddess Enchiladas 

Number 3. Chocolate Chip Cookie Dough Brownies 

Number 2. Italian Cream Puffs with Custard Filling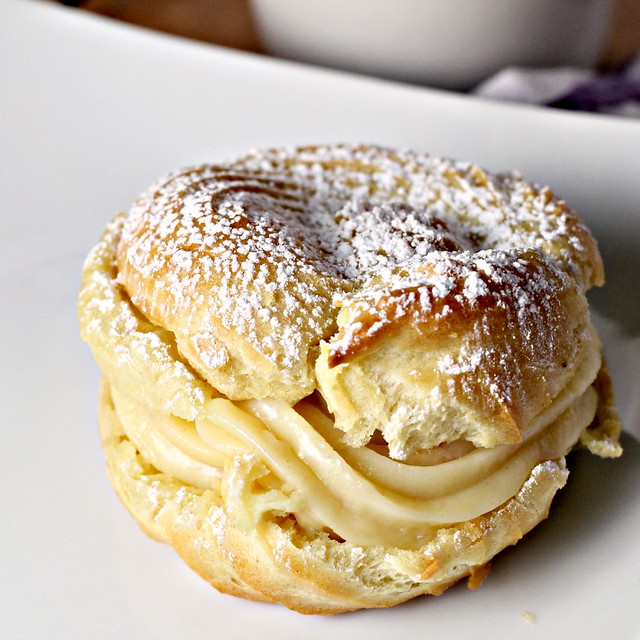 Number 1. Chocolate Fudge Brownies with Chocolate Buttercream Frosting 

You are reading this post on Eats Well With Others at https://joanne-eatswellwithothers.com. Excerpts and links may be used, provided that full and clear credit is given to the author and or owner of Eats Well With Others. All rights reserved by Joanne Bruno.