Graham cracker infused ice cream is topped with marshmallow sauce and chocolate chips, making a s'mores ice cream sundae that will soon become your favorite summer treat!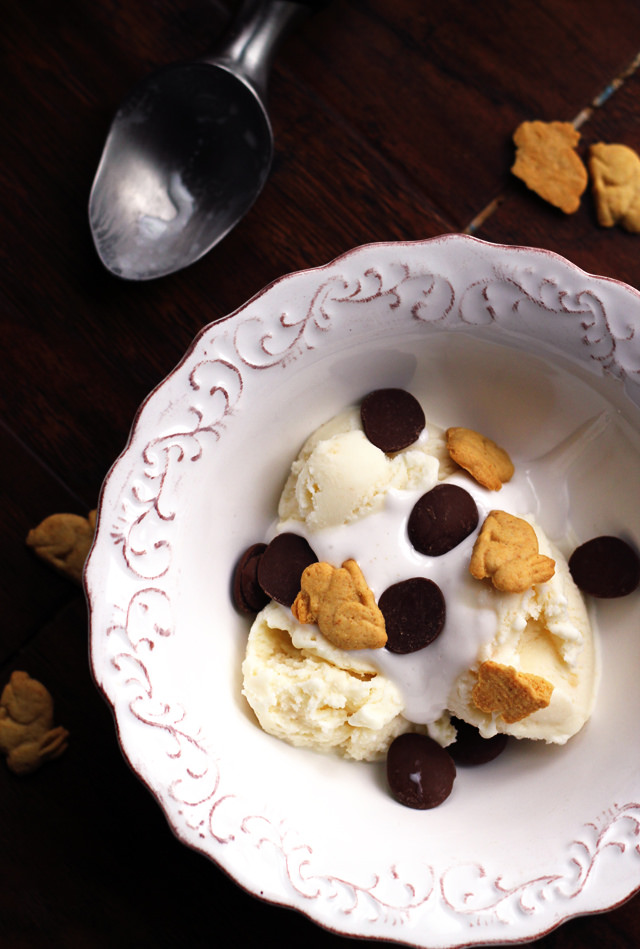 I am nothing if not extraordinarily obedient.
You ask to me jump? I'll say how high.
You want me to take the garbage out? I will pinky swear with a cherry on top that I will make sure the.boy does it.
You tell me it's National Ice Cream Month? I'll demand 30 days off from work to fulfill my frozen treat duties.
Hey, you can't blame a girl for trying.
But seriously. NATIONAL ICE CREAM MONTH. And we do not even get a single day off to celebrate.
A travesty if ever I've heard of one.
Can I tell you a secret?
Even though it will probably violate all sorts of food blogger regulations and will possibly cause you to run screaming through the room?
Are you sitting down?
Here goes.
I don't like s'mores.
There, I said it. Please don't hate me.
But I do like/love/want to have babies with things that taste like s'mores.
This totally make sense. (<–NOT)
The thing is that I don't really like marshmallows. It's kind of a textural too sweet tastes like chemicals kinda dealio.
But foods that imitate the essence of toasty marshmallows smashed between two graham crackers with a layer of chocolate in the middle for good measure? Those are okay. Apparently.
So I went ahead and made marshmallow sauce that doesn't have any marshmallows in it and ice cream that tastes like graham crackers, and I threw them both in a bowl and smothered them with chocolate chips.
Wham bam thank you ma'am. The kind of s'mores even my cold hard tastebuds can handle.
Dear National Ice Cream Month: I have arrived. Now, please decide to stick around forever. K, thanks.
I was spurred into ice cream-ing action by the folks over at OXO who offered to send me ice cream making supplies if only I would start a-churning.
Twist my arm, why don't you?
Their scooper (pictured above and below and throughout this post) is sturdy enough to really dig down deep into super cold ice cream so you don't have to wait for it to soften before digging in. Their small silicone spatula is perfect for dipping into hot custards or marshmallow sauces. Their locktop container is perfect for preventing freezer burning of your frozen treats.
Basically, they are ice cream enablers. And I wouldn't have it any other way.
S'mores Ice Cream Sundaes
Graham cracker infused ice cream is topped with marshmallow sauce and chocolate chips, making a s'mores ice cream sundae that will soon become your favorite summer treat!
Ingredients
For the graham cracker ice cream
2½ cups whole milk
1 tbsp plus 2 tsp cornstarch
2 oz cream cheese, softened
⅛ tsp fine sea salt
1½ cups heavy cream
¾ cup sugar
⅓ cup light corn syrup
½ cup chopped graham crackers
For the marshmallow sauce
1 tsp kosher or vegetarian gelatin
½ cup cold water
1½ cups sugar
1 cup light corn syrup
pinch of kosher salt
1 tsp vanilla extract
chocolate chips
Instructions
For the graham cracker ice cream, mix 2 tbsp of the milk with the cornstarch in a small bowl. Set aside. In a separate, large bowl, whisk the cream cheese with the sea salt.
In a 4 quart pot or saucepan, heat the rest of the whole milk, heavy cream, sugar, and corn syrup over medium-high heat. Bring to a boil and then let boil for 4 minutes. Remove from the heat and then whisk in the cornstarch mixture. Return to the stove and bring back to a boil. Cook, stirring constantly, until thickened, about a minute.
Remove from the heat and gradually whisk the custard into the cream cheese. Stir the graham crackers into the hot milk mixture and let sit for 3 minutes, or until the graham crackers start to fall apart. Pour through a fine meshed sieve and then into a 1 gallon ziploc bag. Submerge into a bowl filled with ice water. Place the entire ice bath in the freezer and let stand until cold, about 30 minutes.
Pour the cold custard into the frozen base of an ice cream machine. Churn until thick and creamy, according to the machine's instructions. Put the ice cream into a storage container and store in the coldest part of the freezer, until firm.
Meanwhile, make the marshmallow sauce. Stir together the gelatin with the cold water in the bowl of a stand mixer fitted with the whisk attachment.
Bring the sugar, corn syrup, and salt to a boil in a saucepan over medium heat and cook without stirring until a candy thermometer reads 240F. Pour the syrup over the gelatin mixture and add the vanilla. Beat on low speed for 2 minutes. Increase to speed to high and then beat until the syrup becomes thick and white. Transfer to a glass jar with a lid and store for up to one month in the refrigerator.
Serve chilled ice cream topped with marshmallow sauce and chocolate chips.
Notes
Ice cream from
Jeni's Splendid Ice Cream Desserts
and marshmallow sauce from
Saveur
For more s'mores flavored sweet treats, check out these: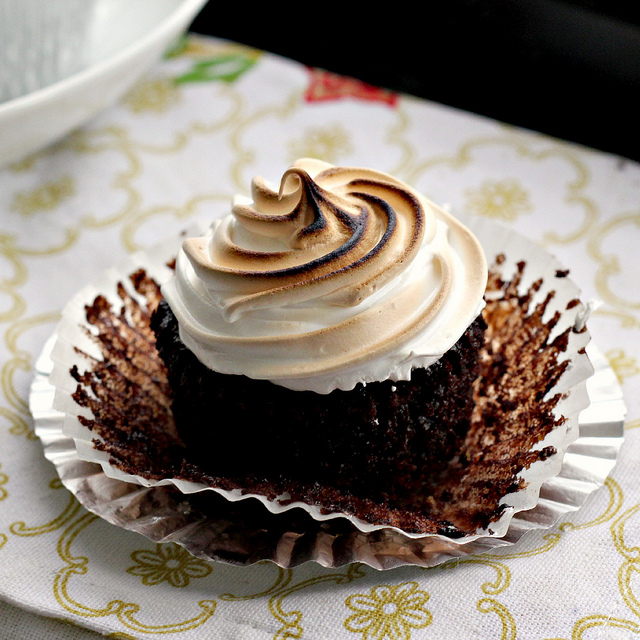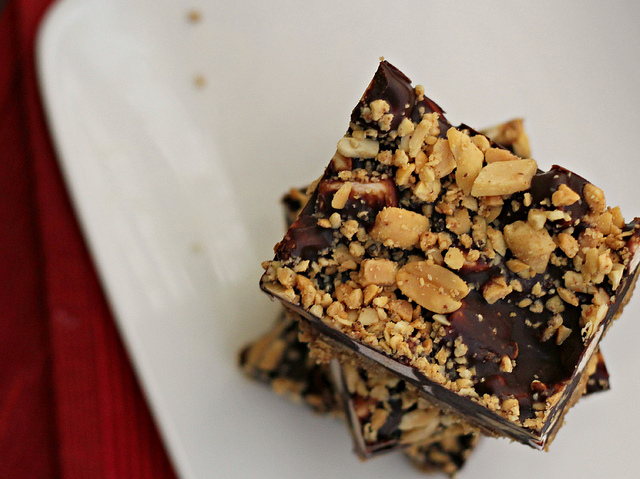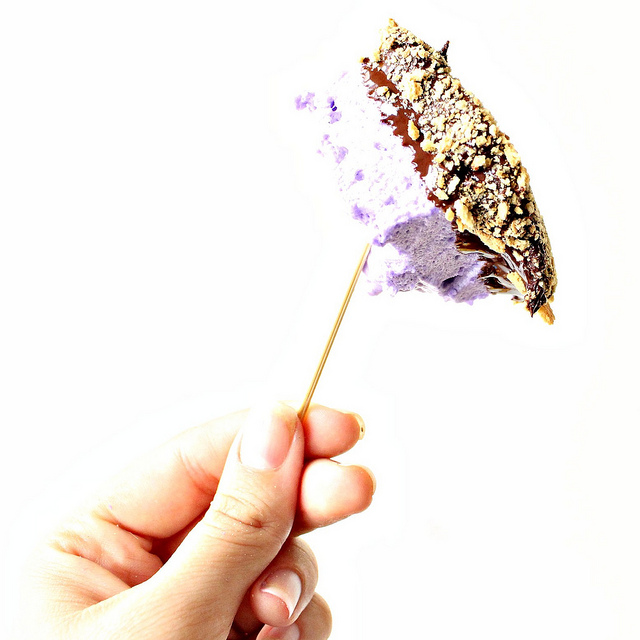 From Around the Web:
Chocolate Dipped S'mores Ice Cream Sandwiches from Love & Olive Oil
S'mores Croissants from Milk and Honey
S'mores Peanut Butter Cookie Sandwiches from Buns in My Oven
S'mores Brownies from Keep it Sweet Desserts
S'mores Krispie Treats from The Baker Chick
Disclosure: I received OXO products for free in order to create this post, however I received no monetary compensation. As always, my thoughts and opinions are my own.