Sweet and spicy chipotle honey bbq cauliflower wings topped with a fresh mango salsa and served over a bed of cooling coconut rice.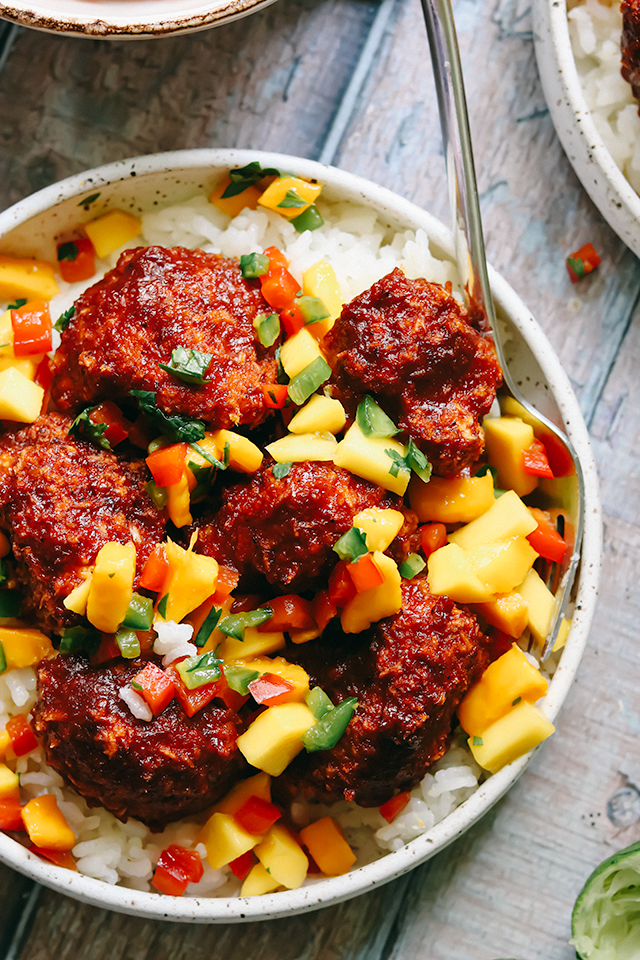 !!!!!!!!!!!!!!!!!!!!!!!!!!!!!!!!!!!!!!!!!!!!!!!!!!!!!!!!!!!!!
All the exclamation points because there are not enough words to describe how excited I am about these bbq cauliflower wings!! 
Crispy sauce-drenched battered and panko-crusted cauliflower on top of a bed of sweet and salty coconut rice with a mango salsa drizzle.
I MEAN.
The flavor? INSANE.
The textures? So spot on.
I almost cried when we finished this batch but then I realized I am an adult and can just make it for dinner every night if I want. #thisis34
This was my first foray into the world of cauliflower wings, but it will not be my last. These turned out better than I imagined even in my wildest dreams and I foresee so many wing flavor combos in my future. The options are truly endless!
The wings themselves couldn't be easier. Take a head of cauliflower and break it down into larger-than-bite-sized florets. You want a size that is manageable to eat in a few bites but not so small that you'll go crazy having to batter and bread all of them. It's a fine line.
They get tossed first in a simple milk and cornstarch based batter and then crusted in panko bread crumbs. The panko is a bit more resilient than your standard breadcrumb and it will hold up better to the sauce you'll eventually douse them in. Crispy AF wings, FTW! 
Onto the chipotle-honey bbq sauce, which will completely blow your mind.
When I set to making these, I was hoping for a sauce that was sweet, sticky, but also mouth-burningly spicy (in a good way). This delivered BIG TIME.
It could not be easier to make and comes together with a handful of ingredients that you probably already have in your pantry. My word of caution is to use a barbecue sauce you truly love here because the flavor will be very prominent. I would also use something that's a little light on the spice because you'll get so much heat from the chipotles and you don't want it to be completely overwhelming/inedibly spicy. This recipe makes a LOT of sauce, and you will definitely have enough to freeze half of it for future meals. SUCH a win because once you try this, you'll want to make it again and again.
Since the wings bring so much to the table in terms of heat and spice, I chose to pair them with more cooling sides. 
The coconut rice is sweet, salty, and completely addictive. It's a bit more indulgent than your usual coconut rice but it is worth it for a meal like this. 
Fresh mango salsa is used to top the wings, adding some juicy sweetness as well as extra texture from the red bell pepper crunch.
Each bite will have your mouth watering and will keep you coming back for more. It is flavor heaven!!
I know what I'm having for dinner tonight.
Chipotle Honey BBQ Cauliflower Wings with Mango Salsa and Coconut Rice
Sweet and spicy chipotle honey bbq cauliflower wings topped with a fresh mango salsa and served over a bed of cooling coconut rice.
Ingredients
For the chipotle honey bbq sauce
1.5 (7 oz) cans chipotle chiles in adobo
1.5 cups barbecue sauce
½ cup packed brown sugar
¼ cup bourbon
10 cloves garlic
juice of 1 lime
For the cauliflower wings
1 large head of cauliflower
1.5 cups flour
6 tbsp cornstarch
1.5 cups milk
½ tsp kosher salt
½ tsp black pepper
1 tsp garlic powder
2-3 cups panko breadcrumbs
For the coconut rice
1.5 cups jasmine rice, rinsed and drained
1 (14 oz) can coconut milk
¼ cup sugar
1.5 tsp kosher salt
For the mango salsa
3 ripe mangoes, diced
1 red bell pepper, seeded and diced
¼ cup cilantro, minced
1 jalapeno, seeded and minced
juice of 1 lime
salt, to taste
Instructions
For the chipotle honey bbq sauce
Combine the chipotles, barbecue sauce, brown sugar, bourbon, garlic, and lime juice in the bowl of a blender or food processor. Process until completely smooth.
For the cauliflower wings
Heat oven to 450F. Line a baking sheet with parchment paper and set aside.
Break the cauliflower into larger florets (approximately the size of chicken wings).
In a medium bowl, whisk together the flour, cornstarch, milk, salt, black pepper, and garlic powder until thick and completely smooth. Pour the panko into a separate bowl.
Toss the cauliflower florets into the wet batter in batches, making sure they are completely coated. Next, transfer them to the panko bowl and coat them completely in the panko. Place on the prepared baking sheet in a single layer.
Place in the oven and bake for 25-30 minutes. Remove from the oven and brush with the chipotle honey bbq sauce. Place back in the oven for another 5 minutes to allow the sauce to set and soak into the wings.
For the coconut rice
Combine the rice, coconut milk, 1.75 cups water, sugar, and salt in a medium pot over high heat. Bring to a boil, stirring occasionally, then lower to a simmer. Cover and simmer for about 20 minutes. Remove from the heat and let sit for 5 minutes. Fluff with a fork and serve.
For the mango salsa
Combine the mangoes, bell pepper, cilantro, and jalapeno in a medium bowl. Season with lime juice and salt, to taste.
To serve
Divide the coconut rice among serving bowls. Top with the cauliflower and spoon the mango salsa over the top.
Notes
An Eats Well With Others Original