Cheesy gruyere and scallion bread – the perfect accompaniment to a bowl of soup, salad, or topped with fresh or grilled vegetables.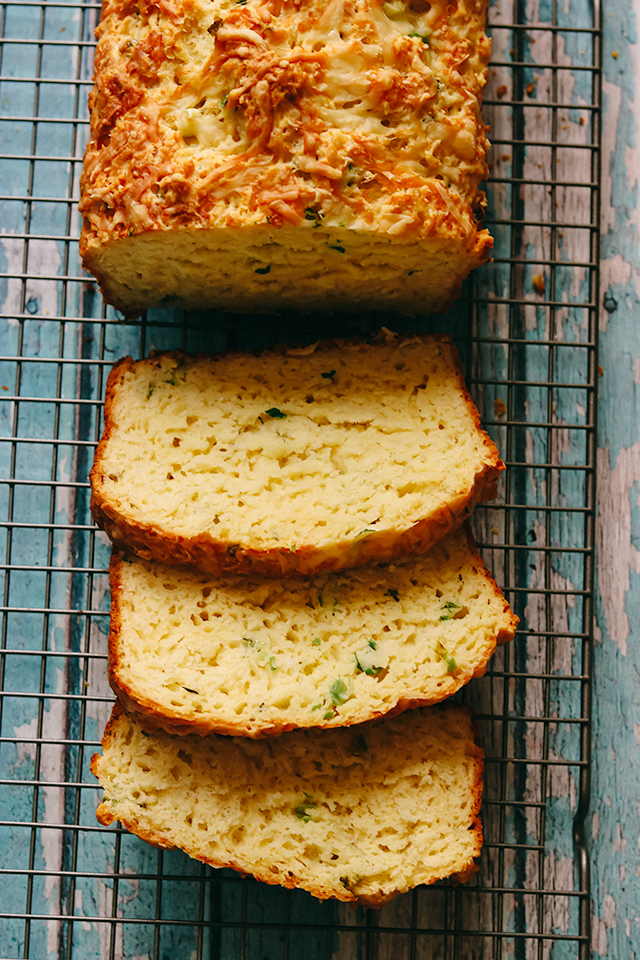 There's this ridiculous, NOT FUNNY (okay, maybe a little funny) meme going around about how fully vaccinated people can now throw out their sourdough starters.
Well. I WOULD NEVER.
My starter and I are bonded together for life. Nothing short of a mold infestation could get me to dispense with it. NOTHING.
buuuuuttttt as much as I love making sourdough (and I do, I REALLY DO) it is a two day process and sometimes you just NEED BREAD and you need it NOW. Not in 24-48 hours, ya know?
Good news: there's a quickbread for that.
A cheesy savory oniony goes-with-everything quickbread!!!
Look, sweet quickbreads get a lot of love in this world – banana bread, zucchini bread, etc – while savory quickbreads are kind of left for dead out in the recipe archive wilderness. But why? It shouldn't be so.
Savory quickbreads are the answer to so many of life's carb problems. Like when you need a quick something or other to go with soup, or a canvas for fancy toast, or just a midday snack. There's really no wrong way to eat them. 
This cheesy gruyere and scallion bread, with its pockets of melted cheese and sharp scallion flavor, checks allllllllllll of the boxes.
It comes together in one big bowl (no mixer required!) and bakes up in about an hour to give a moist (sorry), dense, chewy, absolutely delicious bread!
There's also a cheese crust on top that is pretty spectacular. 
Make it tonight! Or tomorrow. Whenever the mood strikes. 
It's that easy.
Cheesy Gruyere and Scallion Bread
Cheesy gruyere and scallion bread - the perfect accompaniment to a bowl of soup, salad, or topped with fresh or grilled vegetables.
Ingredients
4 tbsp unsalted butter, melted and cooled
2.5 cups (325 g) all purpose flour
1.5 tsp baking powder
1 tsp fine sea salt
½ tsp baking soda
3 tbsp scallions, thinly sliced
1 tbsp minced chives
2 cups (198 g) grated Gruyere cheese
2 large eggs
1 cup (240 mL) buttermilk
Instructions
Heat oven to 350F. Grease a 9x5-inch loaf pan and set aside.
In a large bowl, whisk together the flour, baking powder, salt, baking soda, scallions, chives, and 1.75 cups of the gruyere.
In a medium bowl, whisk together the melted butter, eggs, and buttermilk. Add the wet ingredients to the dry ingredients and fold together to combine.
Pour the batter into the prepared loaf pan and spread it in an even layer. Sprinkle the remaining gruyere over the top of the loaf.
Place in the oven and bake for 45-55 minutes, or until a toothpick inserted in the center comes out with just a few moist crumbs attached.
Allow to cool for at least 10 minutes in the pan, then remove the loaf to a wire rack and allow it to cool completely before cutting and serving.