This vanilla cloud cake has the texture of an angel food cake but with a rich vanilla flavor and is perfect for just about any occasion.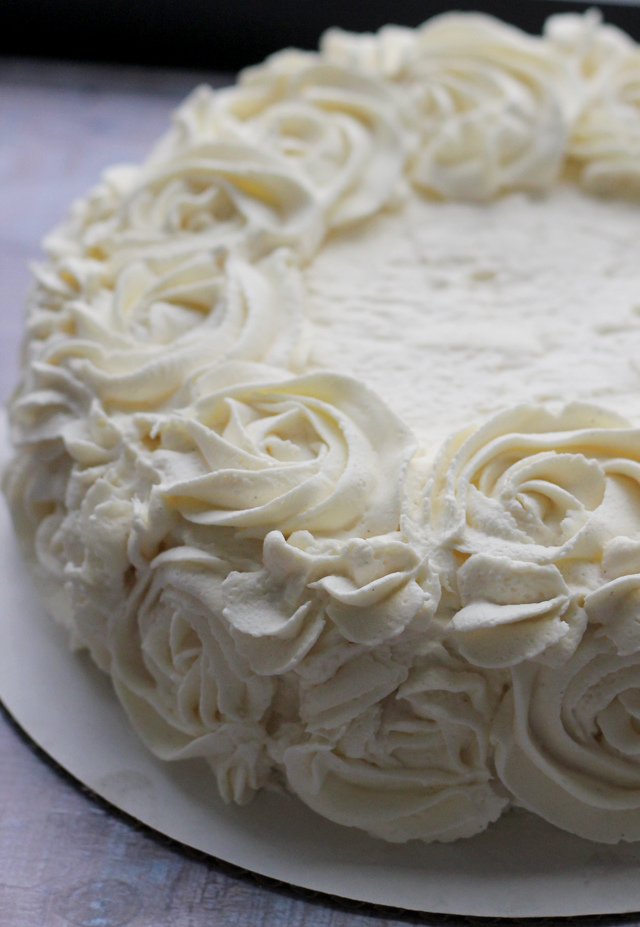 This is a vanilla cake for chocolate lovers.
The real deal, bonifide, you can just take those glimmers of skepticism I see in your eyes and put them back where the sun don't shine cake.
As the lone vanilla fiend marrying into a family of chocolate lovers, I like to think I am an expert on such matters, as I am often put in the awkward position of having to choose between making things I don't really like OR figuring out how to make something sans cacao that is so delicious that the chocolate isn't even missed.
And I'm a little stubborn when it comes to my sweet treats. So there's that.
But if you're going to convince chocolate fiends that something wholly vanilla is worth eating, you really have to bring your A game.
And this cake is basically your A++ game.
It's light and fluffy in the way of the angel food cake, but it is rich with vanilla flavor and smothered in a creamy, subtly sweet, and slightly tangy cream cheese/whipped cream fusion frosting.
With this on the table, it's pretty much guaranteed that everyone will go back for seconds…even the loudest of the chocolate enthusiasts.
Have you guys tried Coffee-Mate's new line of Extra Sweet & Creamy flavor? Not only does it add a little bit of extra oomph (in the form of creamy sweetness) to your coffee, but it is my secret ingredient in this frosting. It adds just the perfect amount of sweetness to compliment the cream cheese tang, but without being overbearing or sickeningly sweet.
Coffee-Mate has several levels of coffee creamer sweetness, ranging from Original to Italian Sweet Creme, and now to their newest offering – Extra Sweet & Creamy. So no matter how you take your coffee (or your frosting) there really is a flavor for everyone.
Make sure to follow Coffee-mate on Twitter for more delicious fun and even some giveaway opportunities!
Two years ago…Shepherd's Pie with Chard-Lentil Filling
Three years ago…Kerala-Style Edamame Curry
Vanilla Cloud Cake
This vanilla cloud cake has the texture of an angel food cake but with a rich vanilla flavor and is perfect for just about any occasion.
Yield:
1 10-inch bundt cake
Ingredients
For the cake
1½ cups superfine sugar, divided
¾ cup cake flour
2 cups egg whites, room temperature
2 tsp cream of tartar
½ tsp salt
1 tbsp vanilla bean paste
For the frosting
8 oz lowfat cream cheese, room temperature
6 oz white chocolate, melted and cooled
1¾ cups heavy cream
¼ cup Coffee-mate Extra Sweet & Creamy liquid creamer (or more heavy cream)
1 tbsp vanilla extract
1 tsp vanilla bean paste
Instructions
Heat oven to 350, making sure there is a rack in the lower third of the oven.
Whisk together half of the sugar and the flour. Set aside.
In the bowl of a stand mixer fitted with the whisk attachment, beat the egg whites, cream of tartar, and salt on a medium-high speed until it holds soft peaks. With the mixer still running, slowly pour in the remaining sugar and beat until glossy and forms stiff peaks. Mix in the vanilla bean paste.
Add the flour mixture to the egg mixture in three additions, gently folding after each. Scrape into a 10-inch angel food cake pan with a removable bottom and smooth to ensure the surface is even. Bake for 40-46 minutes, or until the cake is deep golden, cracks have formed in it, and a toothpick inserted in the center comes out with just a few crumbs. Invert the pan onto the neck of a wine bottle so that it hangs upside down. Let cool. Run a thin spatula or knife around the edge of the pan so that the cake loosens. Transfer to a serving platter.
For the frosting, beat the cream cheese and melted white chocolate together in the bowl of a stand mixer until smooth. In a separate bowl, whip together the heavy cream and Coffee-mate until stiff peaks form. Add in the vanilla extract and bean paste. Stir about one third of the whipped cream into the cream cheese so that it is easier to mix in. Gently fold in the remaining whipped cream.
Frost the cake as desired.
Notes
Adapted from
Pure Vanilla: Irresistible Recipes and Essential Techniques
Rose frosting technique inspired by
I Am Baker

I was selected for this opportunity as a member of Clever Girls Collective and the content and opinions expressed here are all my own.