These blood orange Greek yogurt poppy seed pancakes are full of bright citrus flavor and lots of protein from the yogurt, making them a healthy breakfast treat! Thanks so much to the California Milk Advisory Board for sending me a gift card to offset the cost of ingredients in this recipe. By posting this recipe I am entering a recipe contest sponsored by the California Milk Advisory Board and am eligible to win prizes associated with the contest. I was not compensated for my time.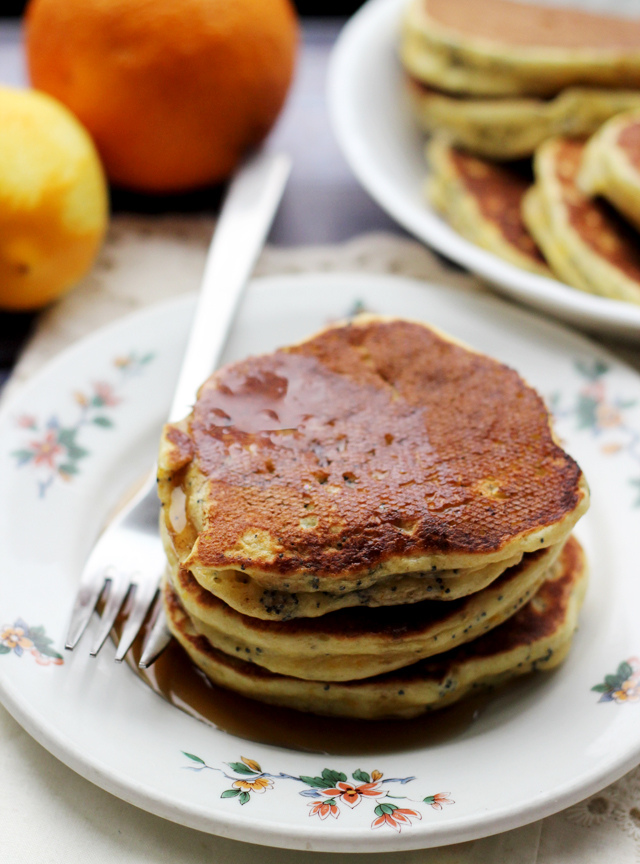 How committed are you to this "give-up-dairy-eggs-and-butter-for-Lent" thing?
Because I'm not sure we could or should wait 40 days for these pancakes.
I mean, Josh Hartnett somehow managed it back in 2002, but somehow pancake celibacy seems harder than, uh, that other kind.
Breakfast is the most important meal of the day, after all.
And weekend-worthy breakfasts? They should probably be protected by some kind of commandment or constitutional right.
Thou shalt not mess with pancake consumption. Or something.
Did they have pancakes back in Moses's day? If not, sad.
Just so sad.
The best thing about these pancakes is that they don't have to be reserved solely for weekend consumption because they're good for you!
They don't contain a single ounce of butter or oil, and instead get their fluff and richness from a serious dollop of high protein Greek yogurt. Combine that with a bright and happy blood orange zest infusion and a light drizzle of real maple syrup?
And you have yourself a breakfast of champions.
Just try not to power through your day after downing a batch of these. It will be near impossible.
Did you know that March is National Nutrition Month?!
I think we can all agree that nutrition, health, and wellness are passions of mine.
Part of that is in making good healthy choices while still being able to incorporate many of the foods that you already love, which is why this year's theme emphasizes "enjoying the taste of eating right".
Many people equate dairy consumption with unhealthy eating, but it can be part of a balanced diet if you make the right kind of choices! I, for one, eat lowfat Greek yogurt every morning with a good dollop of peanut butter on it, as well as use it in countless other places as a substitute for sour cream, mayo and even heavy cream on occasion! It is a great healthy ingredient that is high in protein and calcium.
In order to raise awareness about how important dairy can be in a healthy diet, The California Milk Advisory Board and their nutrition partner, The Dairy Council of California have challenged Recipe Redux members to create a lightened up recipe using California Dairy, which is where these pancakes come in! I used Wallaby Greek yogurt in these, and it provided the perfect fluff factor to these pancakes, without the need for any extra milk, butter, or oil.
One year ago…Bailey's Mint Chocolate Whoopie Pies
Two years ago…Chocolate Brownie Cookies with White Chocolate and Roasted Macadamia Nuts
Three years ago…Roasted Leg of Lamb with Tzatziki and Pomegranate Tabbouleh
Four years ago…Baked Lemon Pasta, Spicy Turkey Burgers on Avocado-Guacamole Buns
Five years ago…Cajun Chickpea Cakes with Mashed Sweet Potatoes, Oatmeal-Raisin Pancakes, Fettuccine with Sun-Dried Tomato Turkey Meatballs
Blood Orange Greek Yogurt Poppyseed Pancakes
These blood orange Greek yogurt poppyseed pancakes are full of bright citrus flavor and lots of protein from the yogurt, making them a healthy breakfast treat!
Ingredients
1 cup flour
1¼ tsp baking soda
¼ tsp salt
2 tsp blood orange zest
3 tbsp sugar
1 cup lowfat California Greek yogurt (I used Wallaby Greek yogurt)
2 large eggs, lightly beaten
1 tsp vanilla
1 tbsp poppy seeds
Instructions
In a small bowl, whisk together the flour, baking soda and salt. Set aside.
In a second small bowl, combine the blood orange zest and sugar, rubbing them together with your fingers to release the essential oils from the orange zest. Set aside.
In a large bowl, whisk together the Greek yogurt, eggs, and vanilla. Whisk in the orange sugar mixture until combined. Fold in the flour mixture until just combined.
Stir in the poppy seeds.
Heat a griddle or nonstick skillet. Pour the batter onto the griddle (or into the pan), a quarter cup at a time, making sure not to crowd the griddle/pan. Cook on one side until small bubbles start to form and pop, about 2-3 minutes. Flip and cook for another minute more. Remove to a plate and repeat with remaining batter. Serve with maple syrup.
Nutrition Information
Serving size:
3-4 pancakes