This is a Sponsored post written by me on behalf of Organic Choice for SocialSpark. All opinions are 100% mine.
Feels more and more like spring with every bite of this fruity spinach salad with barley and cinnamon vinaigrette!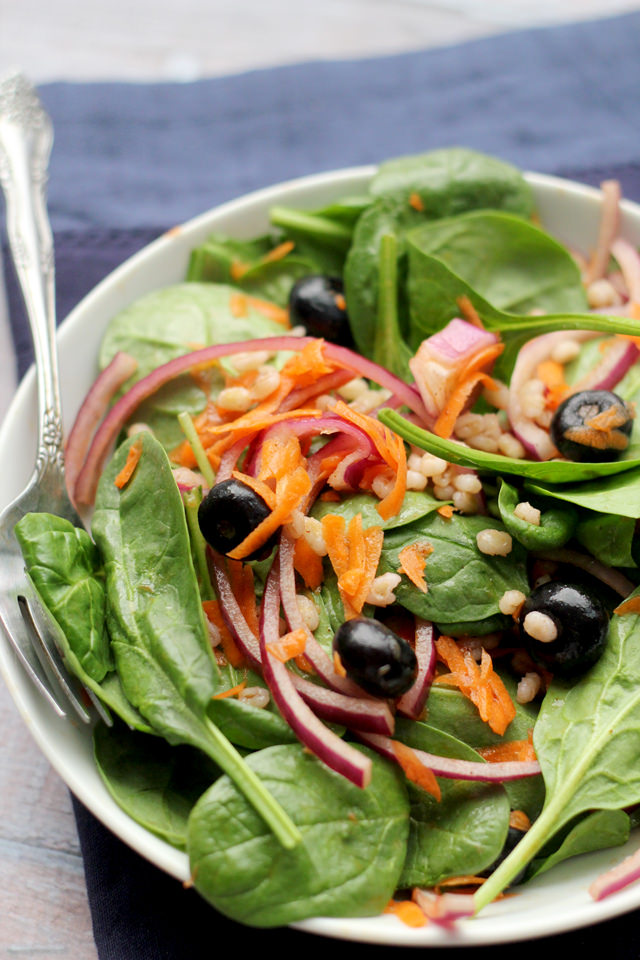 Spring is sprunging.
I know, not because the temps are starting to get warmer, which doesn't happen in NYC until June when it suddenly goes from 20 and frigid to 95 with 100% humidity, but because all my blog friends start talking about all the produce they're going to grow in their beautiful outdoor gardens, dishing on which heirloom tomato grows the sweetest, and preemptively humble-bragging/complaining about the summer squash that's going to take over their lives.
While I smile, nod, and try to suppress the pangs of jealousy thumping within my chest.
Don't get me wrong, city life has its perks (like, for instance, never having to drive anywhere, which makes the whole world safer for both myself and anyone who would have to share the road with me).
But it would be pretty darn super to toss together a big bowl of salad that I could proudly say was brought to life with my own two hands and a pot of soil. Not to mention the obvious health benefits of farm-to-table eating, so that you know and have control over everything you put in your body.
I had come to terms with the fact that it just wouldn't be possible for me, in my 1.5 room apartment, to have a flourishing garden. And then along came Scotts Organic Choice with an alluring offer to provide me with all the tools I would need to achieve just that.
How could I not jump (for joy) at such an opportunity? Obviously I accepted and will be starting my own organic garden this spring! And I am super excited to share with you guys how it is going along the way.
This salad was obviously made from store-bought ingredients, but it's just the kind of meal I'd love to fawn over with motherly pride, knowing that it came entirely from ingredients I had grown myself. Somehow, with the bursts of fruity flavor from the fresh blueberries and the citrus infused vinaigrette, each bite tastes just like spring should – happy, healthy, and delicious.
A preview of what is to come, I hope.
Spinach Salad with Barley and Cinnamon Vinaigrette
Feels more and more like spring with every bite of this fruity spinach salad with barley and cinnamon vinaigrette!
Ingredients
½ cup barley
6 oz baby spinach
1 cup blueberries
½ cup shredded carrots
½ red onion, thinly sliced
For the dressing
2 tbsp olive oil
2 tbsp blood orange juice
2 tbsp white wine vinegar
1 tbsp honey
1 tsp cinnamon
Instructions
Cook the barley according to package directions. Drain and let cool.
For the vinaigrette, whisk together the olive oil, orange juice, white wine vinegar, honey, and cinnamon. Add in salt to taste.
Toss together the barley, baby spinach, blueberries, carrots, onion slices, and vinaigrette.