Chock full of asparagus, carrots, garlic, and peas, this spring vegetable egg drop soup is vibrant, healthy, and, most importantly, SPICY from a healthy dose of harissa.

You're like, "GRRRRRLLLLL! It's 90 DEGREEEEESSSS OUTSIDE TODAY WHERE YOU ARE.
ENOUGH WITH THE SOUP ALREADY!"
And I'm like slurp.
Sorry, were you saying something?
I got distracted by ALL THE VEGGIES and ALL THE HEAT and EGGS ON TOP.
== all of my favorite things in one brothy bowl.
So good even when you're living in a citywide sauna. (I mean, that's what after dinner/lunch/breakfast popsicles are for, #amIright??)
This recipe is from the new cookbook, A Girl and Her Greens
by April Bloomfield. April has a very root-to-leaf eating style and her recipes definitely reflect her appreciation for eating every part of a vegetable and celebrating the underdogs of the vegetable world. There are so many recipes I have bookmarked from it (most memorably, her broccoli rabe morning buns) but somehow this stuck out to me as the one that I NEEDED IMMEDIATELY. Probably because asparagus is having it's moment in the sun and who am I to not devour it every chance I get?!
The best part about this is that it can totally be adapted depending on what vegetables are available where you are. For instance, the original called for spring onions and spring garlic but since I couldn't find either, I went with scallions and regular garlic. Still delicious.
You do you, is the point. YOU.DO.YOU.
The one thing I absolutely MUST insist on though is the SPICE. Admittedly, the original recipe didn't call for it and I found it to be a tad bit lackluster without it, but a few spoonfuls of harissa later and I was beside myself with happiness as I gulped down spoonful after spoonful. You can pretty much use whatever hot sauce you have on hand, but I love harissa because I feel like it has a tangy hint of sweet flavor to it that other condiments don't have. Also, I love working up a sweat while I eat…so there's that. I realize that not everyone has the appreciation for heat that I do, though, so obviously feel free to add it to taste.

Since I love you guys INSANELY MUCH and also since I adore my friend Taylor from the fabulous blog Food Faith Fitness, who is celebrating her two year blogiversary today, I am teaming up with a bunch of other bloggers today to GIVEAWAY a $500 Amazon gift card to TWO lucky readers!! See the widget below for details on how to enter and be sure to check out the blogs of the other participants, without whom this wouldn't have been possible!!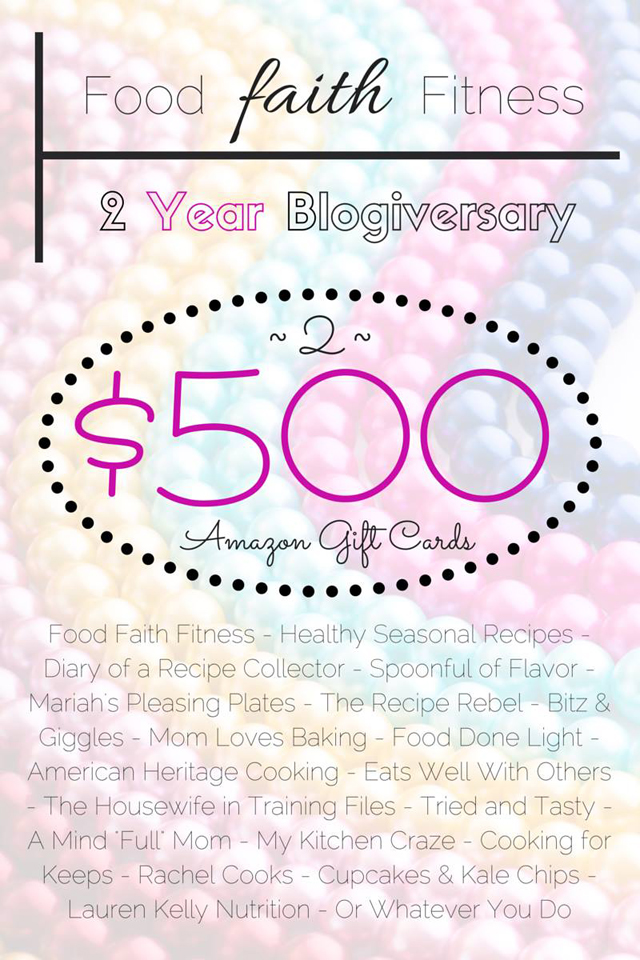 Diary of A Recipe Collector / Spoonful of Flavor / Mariah's Pleasing Plates / The Recipe Rebel / Bitz & Giggles / Mom Loves Baking / Food Done Light / American Heritage Cooking / Eats Well With Others / The Housewife in Training Files / Tried and Tasty / A Mind "Full" Mom / My Kitchen Craze / Cooking For Keeps / Rachel Cooks / Cupcakes and Kale Chips / Lauren Kelly Nutrition / Healthy Seasonal Recipes / Or Whatever You Do
Spicy Spring Vegetable Egg Drop Soup
Chock full of asparagus, carrots, garlic, and peas, this spring vegetable egg drop soup is vibrant, healthy, and, most importantly, SPICY from a healthy dose of harissa.
Ingredients
¼ cup olive oil
½ lb carrots, peeled and cut into ½-inch pieces
8 scallions, chopped
6 cloves garlic, thinly sliced
2 tsp sea salt
4 cups vegetable broth
1 bunch asparagus, trimmed and cut into ½-inch slices
1 lb peas
2 large eggs
2 tbsp grated parmesan cheese
handful of mint, roughly chopped
handful of basil, roughly chopped
½ lemon
⅓ cup harissa
Instructions
Heat olive oil in a large pot over medium heat. Add in the carrots, scallions, garlic, and salt. Cover and cook, stirring after 5 minutes, and then occasionally until the vegetables start to brown, about 8-10 minutes.
Uncover and add the vegetable broth. Bring the heat to high until the broth simmers. Add the asparagus and peas to the pot and cook until just tender, about 3 minutes.
Meanwhile, beat the eggs and the parmesan cheese in a small bowl with a pinch of salt. Once the vegetables are cooked, reduce the heat to low and stir in the herbs. Drizzle the egg mixture over the soup. Stir gently once and then let sit for a minute or two, until the egg sets. Remove the pot from the heat. Season to taste with salt. Squeeze in the lemon juice and serve dolloped with the harissa.
Notes
Recipe adapted from
A Girl and Her Greens: Hearty Meals from the Garden
More spiced up soups!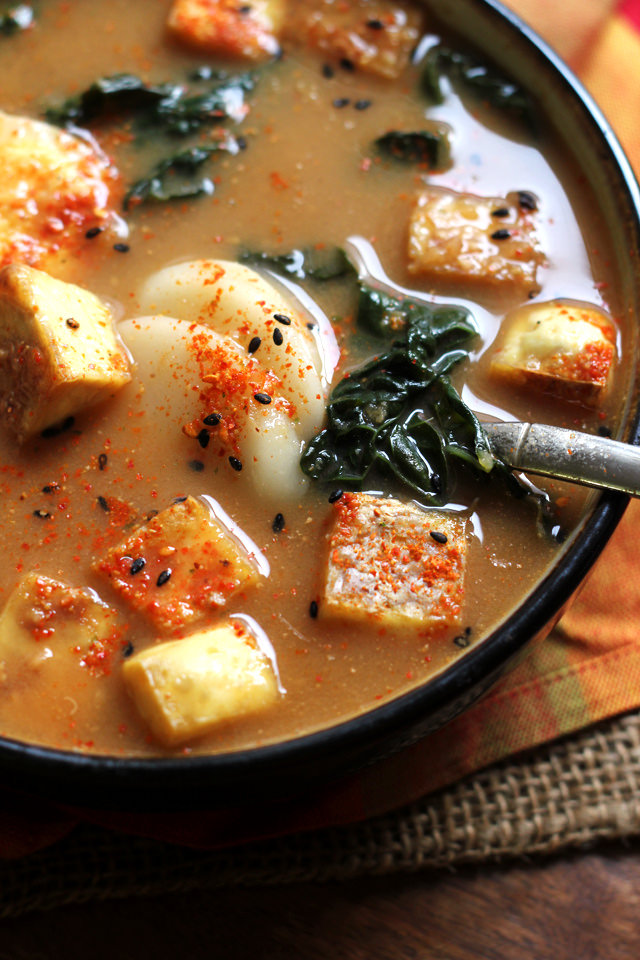 Spicy Miso Soup with Korean Rice Cakes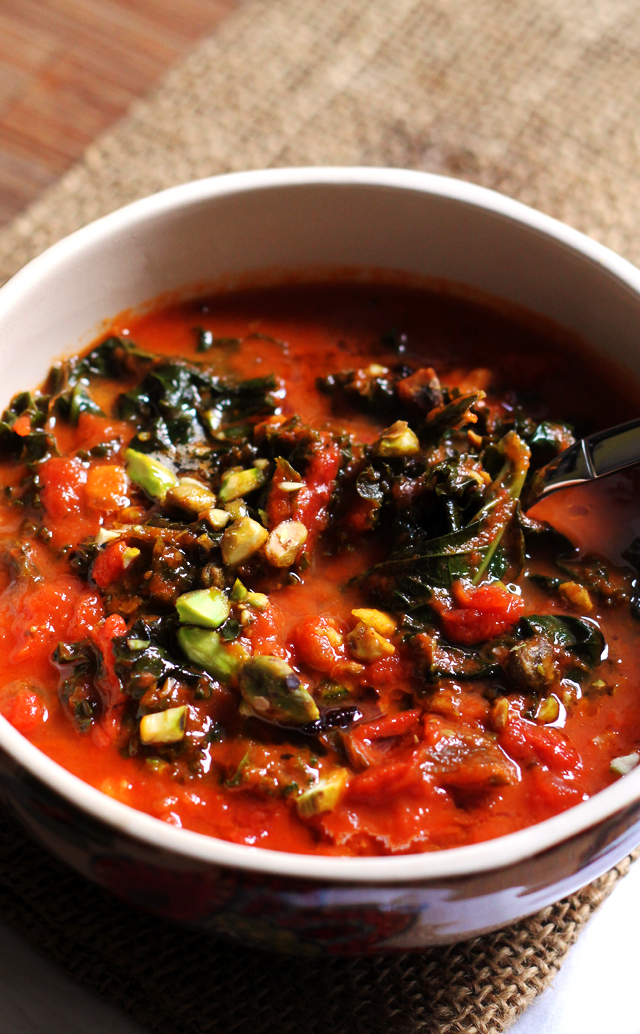 Tomato Soup with Brown Butter, Kale, and Pistachios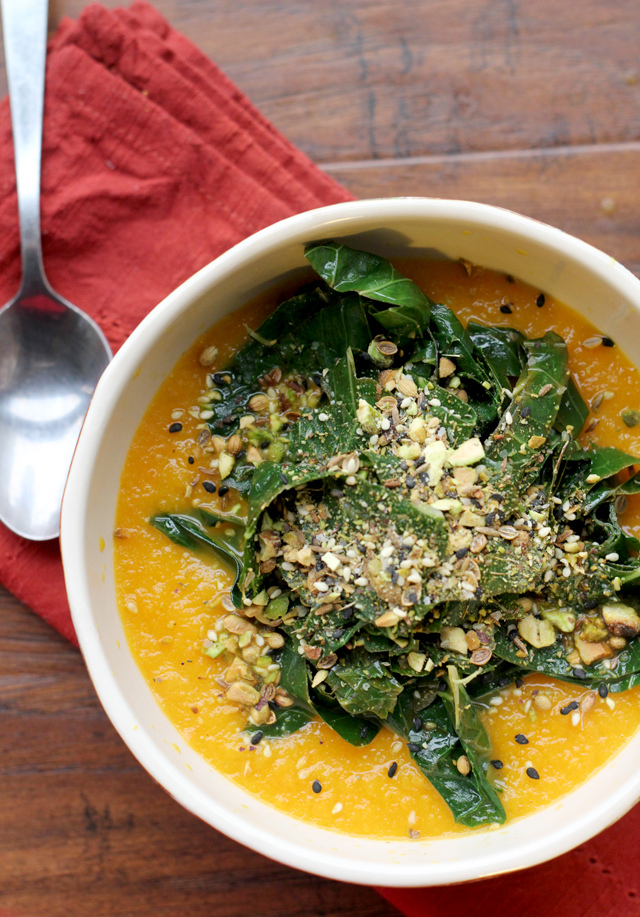 Carrot Soup with Tangled Collard Greens
From Around the Web:
Greens and Goat Cheese Bisque from Girl Versus Dough
Chunky Pea and Leek Soup with Poached Eggs from Blogging Over Thyme
Ginger Turmeric Spiced Spring Carrot Soup from Gourmande In The Kitchen
Quinoa Vegetable Soup with Kale from Cookie + Kate
Green Chile Chowder from Annie's Eats