This brightly flavored ginger carrot soup topped with coconut-laced collard greens and Dukkah, an Egyptian condiment made of toasted nuts and seeds, is full of the kinds of great flavor and texture you can crave!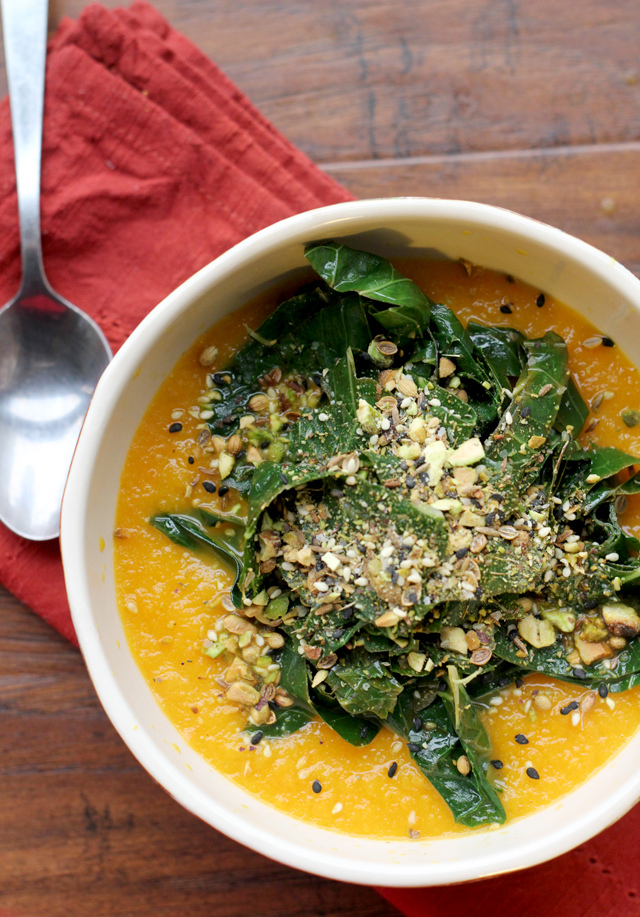 Good news.
I still eat vegetables!!!!!!!!!!!!!
I know. You don't believe me because of all this salted caramel chocolate pepper cookie tart STUFF (aka heaven) I've been shoving in your face.
So, as they say in every writing class I've ever taken (okay…just one writing class. In high school.).
Show, don't tell.
So. Voila:
There are double vegetables in this soup. So they totally count twice.
Carrots and ginger are boiled up together and then pureed into a silky smooth brightly flavored blend.
Collard greens are steamed and tossed with coconut oil and lime juice.
Pistachios, sesame seeds, cumin seeds, and coriander seeds get all roasty toasty in an oven and are then crushed together with a bit of thyme, oregano, salt, and pepper.
Layer (in that order).
And healthify your weekend. To make room for all the cookies. (Moderation = key.)
One year ago…Poached Eggs in Curried Tomato Sauce
Two years ago…Caramel Pecan Hand Pies, Maple Cranberry Coffee Cake
Three years ago…Italian Braised Beef with Root Vegetables and Yia Yia's Sunday Sauce
Four years ago…Light Brioche Burger Buns
I am submitting this to Deb over at Kahakai Kitchen for Souper Sundays!
Carrot Soup with Tangled Collard Greens and Dukkah
This carrot soup with coconut-laced collard greens and a crunchy nutty spice blend topping is a healthy bowl of big flavor!
Ingredients
1 tbsp olive oil
1 onion, thinly sliced
1¼ lb carrots, scrubbed and thinly sliced
1 tbsp grated ginger
1 tsp ground cumin
sea salt
1 bunch collard greens
1 tbsp coconut oil
juice of ½ lime
Instructions
Heat the olive oil in a large pot over medium heat. add the onion, carrots, ginger, cumin and 1 tsp salt. Cook, stirring frequently, about 6 minutes. Add 4 cups of water and bring to a boil. Lower to a simmer, and cook, covered for about 20 minutes, or until vegetables are tender.
While the soup is cooking, remove the collard leaves from the stems. Roll them up and then cut them into thin strips. Put the strips in a second pot with ½ cup water and a pinch of salt. Steam until tender, about 4-5 minutes. Drain and toss with the coconut butter and lime juice. Season with salt to taste.
When the soup is ready, puree it until smooth. Season to taste with salt. Serve topped with collard greens and a sprinkle of Dukkah.
Dukkah (Toasted Nuts and Seeds with Cumin)
This Egyptian condiment is the perfect topping for soups, salads, eggs, and more!
Ingredients
1 cup pistachios
½ cup sesame seeds
¼ cup coriander seeds
¼ cup cumin seeds
a few pinches of dried thyme
a few pinches of dried oregano
sea salt
freshly ground black pepper
Instructions
Heat the oven to 350.
Spread the pistachios, sesame seeds, coriander seeds, and cumin seeds in a baking pan. Toast until fragrant, about 8 minutes. Let cool for a few minutes.
Transfer the nuts and seeds, thyme oregano, and ¾ tsp salt to a food processor. Pulse until roughly ground but still crunchy. Season with pepper.