Disclosure: This post was sponsored by AeroGarden and Kitchen PLAY! Though I was compensated for this post and received a free AeroGarden for participating in this campaign, my thoughts and opinions, as always, are my own.
Kick up plain Jane shortbread with this brown butter basil twist!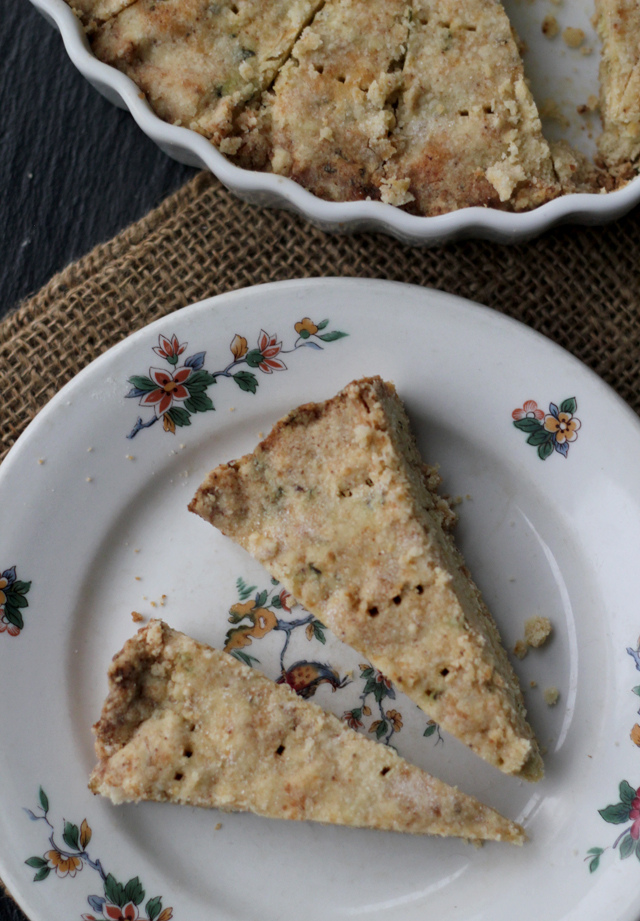 In the cookie alphabet, shortbread is kind of like A, B, and C.
Except it's S. But also A, B, and C. Really. Hear me out.
Butter, flour, sugar, salt.
All the basics, in one crunchy sweet salty, so-easy-to-throw-together cookie.
So of course I had to go and overcomplicate the most undercomplicated cookie on the cookie tray.
But when you have a basil forest growing in your apartment and brown butter dreams growing in your heart, you gotta do what you gotta do.
Don't think I don't see you checking out my sprout babies up there.
(That's the pet name that The.Boy and I gave to them. We're practicing cooing and ooing and aahing for when we have real babies. Well. At least one of us is. The other is rejecting the suggestion of us ever having real babies. I'll let you guess which is which.)
Aren't they cute?!?
But how did I ever grow them in the middle of my bleak dark New York City apartment during these gray cold days of almost-winter???
AeroGarden ULTRA, TO THE RESCUE! In case you didn't know, AeroGarden is an indoor garden system that makes growing herbs inside pretty much foolproof. All you have to do is turn on your AeroGarden, fill it with water and the provided nutrients, insert the pods from your seed kit, and within days you'll have sprout babies of your own!! The AeroGarden also keeps track of how many days it's been since you last added nutrients to the plants, and will remind you when you need to add more, as well as when your plants are in need of some hydration. It takes all the guesswork out of gardening.
Luckily, AeroGrow, maker of AeroGarden, will be running its '12 Days of Deals' for the holidays with discounts and special bundles for the season!! Plus, you can get up to 20% on everything storewide when using the promo code 'Holiday20' in the shopping cart at checkout. WIN.
Take it from someone who has the blackest of black thumbs. This thing is magical.
Or at least, having your own private stash of fresh basil in the middle of these wintry days is magical. There is no other flavor that brightens up my day more, which is why I love having a bit of it at every meal, including dessert! I've infused basil into my desserts before with this Thai basil ice cream and these chocolate cupcakes with basil buttercream. But this shortbread takes it to a whole new level. It's nutty and buttery with a hint of bright basil flavor.
And it's absolutely just as easy as its plain Jane vanilla shortbread counterpart. But it makes for a much more exciting bite.
One year ago…Greek Yogurt Cheesecake with Pomegranate Syrup
Two years ago…Brussels Sprouts and Potatoes with Almonds, Raisins and Capers, Chard, White Bean and Sweet Potato Gratin, Sweet Potato Chocolate Chip Cookies
Three years ago…Beef and Beer Chili, Grasshopper Bars
Four years ago…Lazy Chile Rellenos and Breakfast Potatoes, Classic Italian Lasagna
Brown Butter Basil Shortbread
Classic shortbread gets kicked up a notch with this brown butter basil twist!
Ingredients
1 cup + 5 tablespoons unsalted butter
2 tbsp minced fresh basil
¾ cup sugar, plus more for sprinkling
¾ teaspoon salt
2 large egg yolks
3 cups all purpose flour
Instructions
Grease a 10-inch tart pan and set aside. Preheat oven to 375F.
Put the butter in a medium saucepan over medium-low heat. Melt, stirring frequently, and cook until the butter is an amber/brown color and smells nutty. Remove immediately from the heat and pour it into a separate bowl. Allow to cool a bit.
In a medium bowl, whisk together the brown butter, basil, sugar and salt. Whisk in the egg yolks.
Using a rubber spatula, stir in the flour until totally incorporated. Pat the dough into the prepared pan and let chill for 30 minutes.
Sprinkle the top of the dough with a bit of sugar before baking to ensure that it browns evenly. Poke holes all over the dough with a fork, making sure the holes go all the way through to the bottom of the pan. This will ensure that the shortbread doesn't spread and rise while baking! You really want it to be a compact buttery crunchy cookie.
Bake for 35-40 minutes or until the top starts to turn golden brown. Remove from the oven and immediately cut into wedges. Serve either plain with a steaming cup of coffee or hot chocolate for dunking, with a scoop of vanilla ice cream on top, or with a dash of whipped cream!
Notes
An Eats Well With Others Original