Roasted sweet potato and fresh fig salad topped with scallions, hot red peppers, and a balsamic drizzle.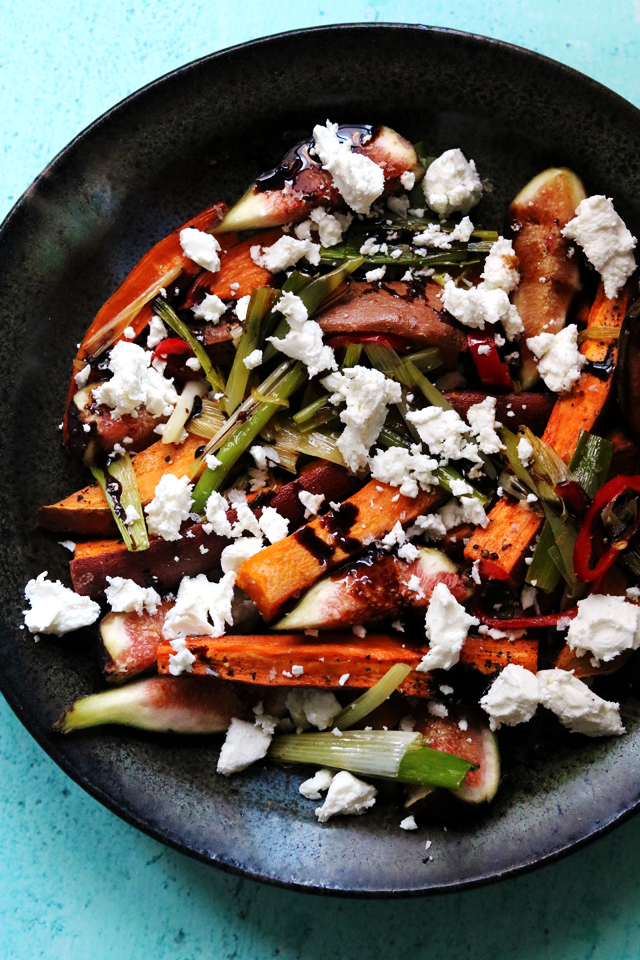 We had not one, but TWO fig trees in our backyard when I was a kid and honestly I didn't realize how good I had it.
All-you-can-eat FREE pink orbs of juicy deliciousness. There is nothing better.
Some years were good and we got like forty or fifty figs, others were not so good and the figs only produced three or four between them. No matter what, it was always a race to pick the figs before the birds could get them. The worst was when you decided to wait just one more day for a fig to get to peak ripeness only to find that a bird had plucked it off the branch before you woke up.
Supermarket figs are a whole other beast. They are SO hit or miss. Either totally bland and flavorless because they were picked before their prime or practically perfect but about to go bad in a hot second.
This year I've been pretty lucky with my supermarket fig finds. Last week the cashier had no idea what they were so she rung me up for PLUMS instead, which are about a quarter of the price. Not saying I encouraged this but…I also didn't correct her. It was kind of nice paying $2 for a pound of figs and I figure Fairway is so overpriced anyway that they could take the hit.
Basically I've been eating figs for dessert, throwing them into salads, and topping my morning yogurt with them (so inhaling them at every meal). IT HAS BEEN GLORIOUS.
This Ottolenghi salad from the Jerusalem cookbook was a new favorite find during my fig adventures this year. It pairs roasted sweet potatoes, lightly charred scallions, and spicy red chili pepper slices with fresh figs. There's so much sweetness from the figs and roasted sweet potatoes, heat from the peppers, and some earthy onion flavor from the scallions. The whole gang gets topped with a balsamic syrup drizzle and goat cheese crumbles. Get a little bit of everything on one fork and you've got the perfect bite! Just make sure your figs are super ripe or this won't be as delicious. If they're not, then throw them in the oven and roast them with the sweet potatoes to caramelize them and bring out some of their natural sugars.
Roasted Sweet Potato and Fresh Fig Salad
Roasted sweet potato and fresh fig salad topped with scallions, hot red peppers, and a balsamic drizzle.
Ingredients
4 small sweet potatoes (~2.25 lb total)
5 tbsp olive oil, divided
12 scallions, halved lengthwise and cut into 1½-inch segments
1 red chili pepper, thinly sliced
6 ripe figs, quartered
4 oz goat cheese
Maldon sea salt and freshly ground black pepper
balsamic syrup, for drizzling
Instructions
Heat oven to 475F.
Halve the sweet potatoes lengthwise and then cut each half into 3 long wedges. Toss the sweet potatoes with 3 tbsp of the olive oil, 2 tsp salt, and black pepper. Spread on a baking sheet skin side down. Bake for 25 minutes, or until soft. Remove from the oven and allow to cool slightly. Spread on a serving platter and set aside.
Heat the remaining 2 tbsp olive oil in a medium saucepan over medium heat. Add the scallions and chili pepper to the pan. Fry for 4-5 minutes, stirring often. Spoon the scallion mixture over the sweet potatoes.
Arrange the figs over and among the sweet potato wedges. Drizzle with balsamic syrup. Crumble the cheese over the top. Serve at room temperature.