Vegetarian black bean and cheese enchiladas made with a homemade ancho pepper enchilada sauce.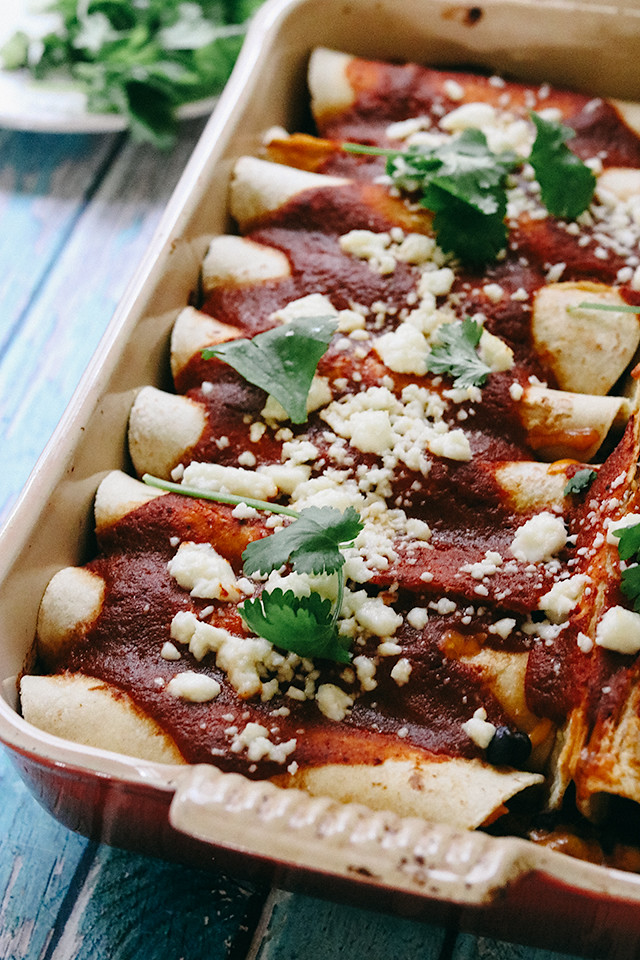 These ancho-ladas are a day late to make an appearance at your Superbowl party but RIGHT ON TIME for Taco Tuesday and the rest of your life!!
And really you will be making them for the rest of your life because they are insanely delicious and insanely easy.
What a catch.
I'm in the mood for enchiladas almost as often as I crave Indian food, which is honestly every meal, every day.
They're cheesy and homey and comforting, and I can usually stuff them with anything and Remy will maybe taste them.
(That's really a step up from basically all other foods, which she will take one look at and definitely refuse to taste.)
What's special about these enchiladas is that they are made with a homemade ancho-lada sauce! This sauce is super easy and comes together in the blender, of all places. You just soak dried ancho peppers for about ten minutes in hot water (IN THE BLENDER, don't even think about dirtying another pan)…and then add the rest of the ingredients and blend! SO EASY.
While the anchos are soaking, saute up a filling mix of peppers and onions and then toss them together with enchilada staples like black beans and ALL THE CHEESE.
Stuff the enchiladas –> bake –> and voila! You have dinner for a week. Or at least until Wednesday depending on how hungry your Taco Tuesday is.
Vegetarian Black Bean and Cheese Ancho-ladas
Vegetarian black bean and cheese enchiladas made with a homemade ancho pepper enchilada sauce.
Ingredients
For the ancho-lada sauce
2 cups hot water
4 dried Ancho chili peppers, seeded and destemmed
1 small onion, diced
1 (15 oz) can diced fire-roasted tomatoes
4 garlic cloves
1 tbsp honey
2½ tsp kosher salt
For the filling
1 red bell pepper, seeded and thinly sliced
1 small onion, thinly sliced
2 tbsp olive oil
½ tsp kosher salt
2 (15 oz) cans black beans, drained and rinsed
1½ cups grated cheese (blend of cheddar and Monterey Jack cheese)
2¼ cups ancho-lada sauce (recipe above), divided
16 taco-sized flour tortillas
For the toppings
2 tbsp crumbled cotija cheese
fresh cilantro
Instructions
For the ancho-lada sauce
Combine the hot water and the chili peppers in a high-powered blender. Allow to sit for ten minutes, then add the remaining sauce ingredients. Blend on high until smooth. Set aside. Refrigerate whatever you don't end up using for this recipe.
For the filling.
Heat oven to 400F.
Meanwhile, preheat a 10-inch cast iron skillet on medium high heat for 5 minutes. Add the pepper, onion, oil, and salt to the skillet. Saute for about 10 minutes, or until charred and softened.
Toss the onion and pepper mixture, black beans, cheese, and ¼ cup of the ancho-lada sauce together in a large bowl.
Add 1 cup of the ancho-lada sauce to the bottom of a 9x13-inch enameled baking dish and spread it in an even layer to cover the bottom of the pan. Fill each tortilla with ⅓ cup of filling. Roll around the filling and place seam-side down in the prepared baking dish. Repeat with the remaining filling and tortillas.
Pour 1 cup of the sauce down the center of the rows of enchiladas. Spread it towards the edges of the tortillas, leaving about an inch of clear space. Cover with foil and bake for 20 minutes. Remove the foil and sprinkle with the cotija cheese. Bake for another 10 minutes. Sprinkle with cilantro and serve.