Salty and sweet fleur de sel shortbread cookie sandwiches filled with a nutty halvah buttercream.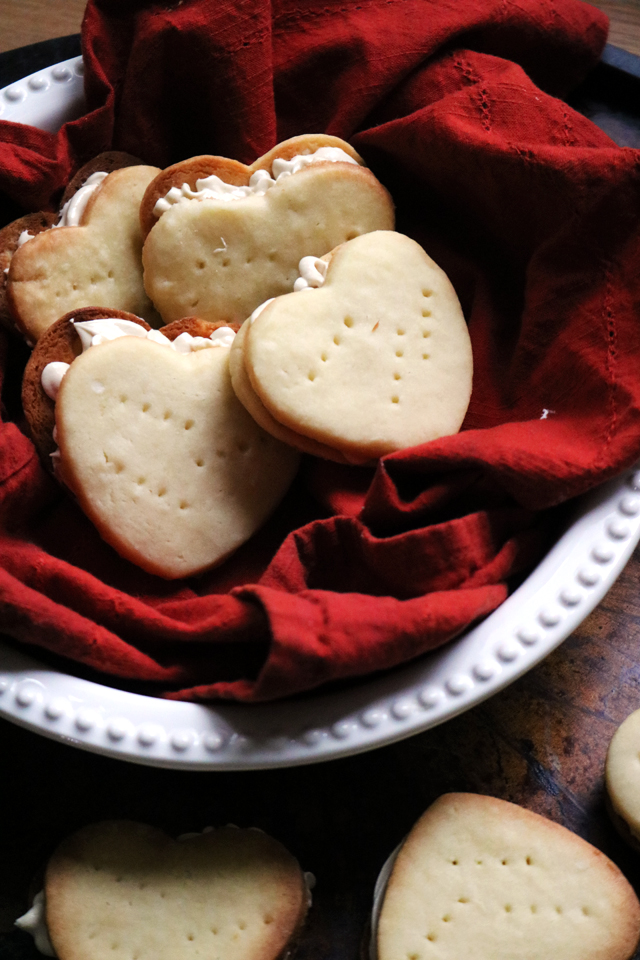 Well, I have six night shifts in-between now and Christmas vacation, which is basically akin to TORTURE. My sleep schedule is a total disaster, especially since I've had every-other-day days off and so I've just been flip flopping from nights to days and basically staying awake for 24 hours at a stretch on nights when I have to work. I'm sure there is a better way to do this, and maybe if I didn't have a kid I would just flip entirely to nights and stay there for the duration. But instead I'm just an eternal zombie.
And I'd be lying if I said I wasn't relying on excessive cookie consumption to get me through.
(And coffee. So. Much. Coffee.)
The benefit of all this cookie baking (other than the obvious, of course – #lovehandlesanonymoushereicome) is that I now have a glut of new cookie recipes to share with you all this year!
First up is these adorable cookie sandwiches made with a salty fleur de sel shortbread that gets tempered by a sweet and nutty halvah buttercream. If we're being totally honest, there is nothing I hate making more than roll-out cookies. Unlike pie crust, which is fairly easy to manipulate with just a light dusting of flour, cookie dough has TONS OF SUGAR, which makes it extra sticky and altogether impossible to deal with.
That being said, these cookies were totally worth the thirty minutes of hair pulling that accompanied them. The one tip I have for getting through with at least some of your hair follicles intact is to roll out the dough between two pieces of parchment paper and then chill it in the fridge or freezer before cutting out the cookies. This helps them come off the paper a bit more easily and will save you the embarrassment of teaching your toddler allthecursewords while making them.
The original recipe called for cutting these into rectangular cookies, which looked oh so pretty in the cookbook, but my limited cookie cutter collection did not have such a shape in its repertoire. Hearts worked well in its place, but feel free to substitute any cookie cutter you like.
Also, I should warn you that the cookies on their own really are quite salty. Almost alarmingly so. But paired with the frosting, they have such a wonderfully balanced flavor. It really is a perfect bite.
Fleur de Sel Shortbread with Halvah Buttercream
Salty and sweet fleur de sel shortbread cookie sandwiches filled with a nutty halvah buttercream.
Yield:
24 sandwich cookies
Ingredients
For the shortbread
1½ cups + 2 tbsp unsalted butter, at room temperature
1¼ cups powdered sugar
2 extra-large egg yolks, at room temperature
2 tsp vanilla extract
3 cups all purpose flour
2 tbsp sea salt flakes
For the frosting
8 oz plain or vanilla halvah, cubed
2 oz white chocolate, melted
1¼ cups unsalted butter, room temperature
1 cup powdered sugar
½ tsp vanilla extract
½ tsp kosher salt
Instructions
For the shortbread
Combine the butter and powdered sugar in the bowl of a stand mixer fitted with the paddle attachment. Mix on low until incorporated, then increase the speed to medium and beat for 3-4 minutes, or until fluffy. Scrape down the sides of the bowl then add in the yolks, one at a time, and the vanilla, approximately 5 seconds for each. Scrape down the sides of the bowl again. Mix on medium speed for 20-30 seconds until just combined.
Add the flour and salt to the bowl and mix on low speed until the dough just starts to come together, about 30 seconds. With a dough scraper, bring the dough together by hand. Divide the dough in half, placing each on a sheet of plastic wrap. Pat each into a rectangle, wrap tightly, and refrigerate until chilled, at least 2 hours or overnight.
Once ready to bake, let the dough sit at room temperature until slightly warmed up but still cool to the touch, about 15-20 minutes.
Place a sheet of parchment paper on a work surface and dust lightly with flour. Put one dough half on top and then top with a second piece of parchment paper. Roll the dough into a half rectangle that is about 11x13-inches and ¼-inch thick. Peel off the top layer of parchment paper. and place the rolled out dough onto a sheet pan. Repeat with the second half of the dough, then place both in the refrigerate and chill until firm, at least 30 minutes.
Meanwhile, heat oven to 350F and line a sheet pan with parchment paper. Allow the dough to sit at room temperature for 5-10 minutes. Pierce it with a fork all over. Cut out the cookies with whatever cookie cutter you desire and remove to the parchment-lined baking sheet. Reroll the trimmings and cut out more cookies.
Bake one pan at a time for 10 minutes, then rotate and bake until the cookies feel firm, about 3-5 more minutes. Allow to cool completely on the sheet pans.
For the frosting
Place the halvah in the bowl of a food processor and blend until smooth. Drizzle in the melted white chocolate and again blend until smooth and incorporated.
Add the butter to the bowl of a stand mixer fitted with the paddle attachment along with the sugar. Beat on medium until fluffy, about 3-4 minutes. Scrape down the sides of the bowl, then add in the vanilla and salt and mix again until incorporated, about 1 minute. Add in the halvah paste and mix until smooth.
Fill a pastry bag fitted with a star tip with the frosting. Pair up the cookies so that they are similarly sized. Pipe swirls or rows of dots onto half of the cookies, then top with their sister cookie, pressing lightly to adhere.