The superstar of fall gets an Italian infusion in this recipe for rigatoni with spicy pumpkin cream sauce.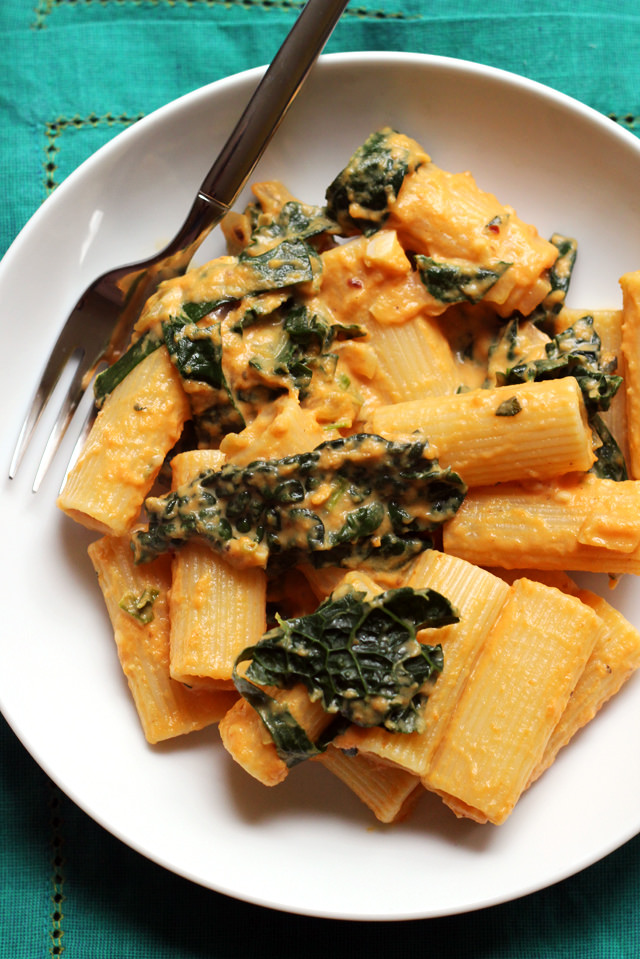 So it seems like my wedding diet has been pushed aside for things like "happiness", "sanity", "the.boy's general well being", and "pumpkin cream sauce".
It was fun while it lasted.
(lies.)
In full disclosure, it mostly ended when we experienced The Mouse Part Two on Thursday.
Thankfully the.boy was home when it happened so he doesn't continue to believe that I'm prone to hallucinations.
I won't go into many of the gory details, but WE FOUND THE HOLE and the.boy only had to slightly risk his life crawling over our counters and behind our refrigerator to fill it. It was not pretty back there, let me tell you. I still maintain he should get a tetanus shot.
The things we do for love. And because I withheld sex donuts from him.
I never promised to fight fair.
Anyway, so then I had to have a donut as well, in solidarity and also because WE MIGHT BE FINALLY MOUSE FREE. Which means I can sleep at night. Hallelujah.
Apparently once you decide a pumpkin donut is wedding diet-approved, it's really just a slippery slope to pumpkin cream sauce consumption.
Before you start to dry heave from imagining that I trashed up alfredo sauce with pumpkin spice, NO NO NO. I would never do that.
This creamy sauce does have pumpkin in it, but the flavors are all Italian comfort. With a hint of subtle pumpkin sweetness to go with that red pepper flake spice.
You will lick your bowl clean. And that's an order.

Rigatoni with Spicy Pumpkin Cream Sauce
The superstar of fall gets an Italian infusion in this recipe for rigatoni with spicy pumpkin cream sauce.
Ingredients
2 tbsp olive oil
1 large shallot, minced
2 garlic cloves, minced
salt and black pepper, to taste
1 tbsp minced sage
1 tbsp minced chives
1 tsp red pepper flakes
15 oz pumpkin puree
½ cup heavy cream
½ cup whole milk
¼ cup parmesan cheese
1 lb rigatoni
1 bunch kale, stems removed and leaves coarsely chopped
Instructions
Bring a large pot of salted water to a boil.
Meanwhile, in a medium saucepan, heat the olive oil over medium heat. Add the shallot and garlic to the pan, along with a pinch of salt. Cook until shallot is translucent, stirring frequently, about 3-4 minutes.
Stir in the sage, chives, and red pepper flakes, cooking for 30 seconds, stirring constantly. Pour in the pumpkin, heavy cream, whole milk, and parmesan cheese. Stir to combine. Let simmer until mixture starts to boil, then remove from heat. Season to taste with salt and black pepper.
Meanwhile, when the pot of water is boiling, cook the rigatoni until al dente. In the last few minutes of cooking, add the kale to the pasta water. Drain and then toss the pasta and kale with the pumpkin cream sauce. Serve warm.
Notes
An Eats Well With Others Original
Nutrition Information
Serving size:
¼ of recipe
 For more pumpkin-filled pasta, check out these: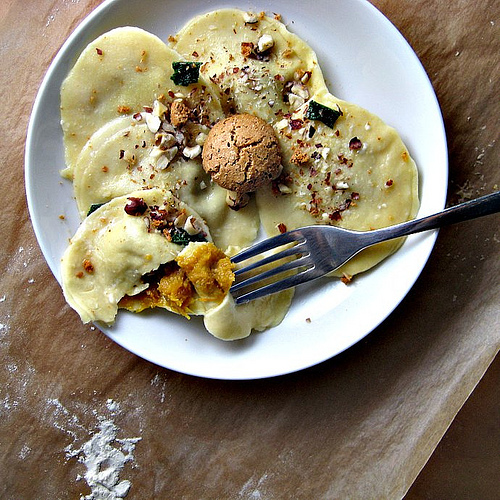 Pumpkin Ravioli with Sage and Toasted Hazelnuts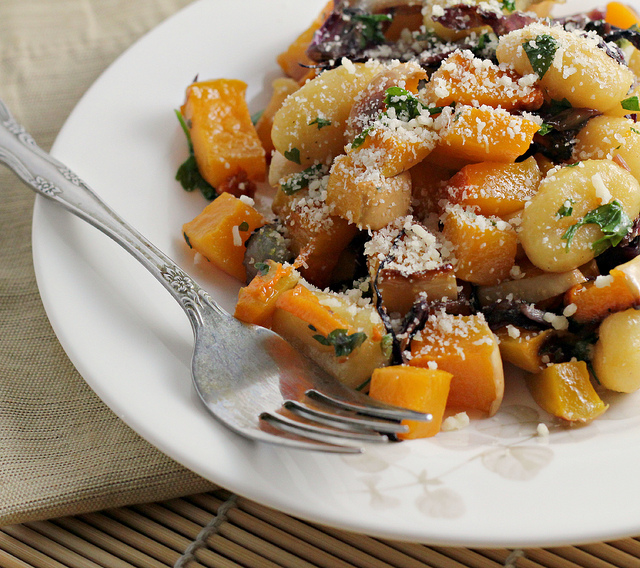 Pumpkin Gnocchi with Winter Squash and Seared Radicchio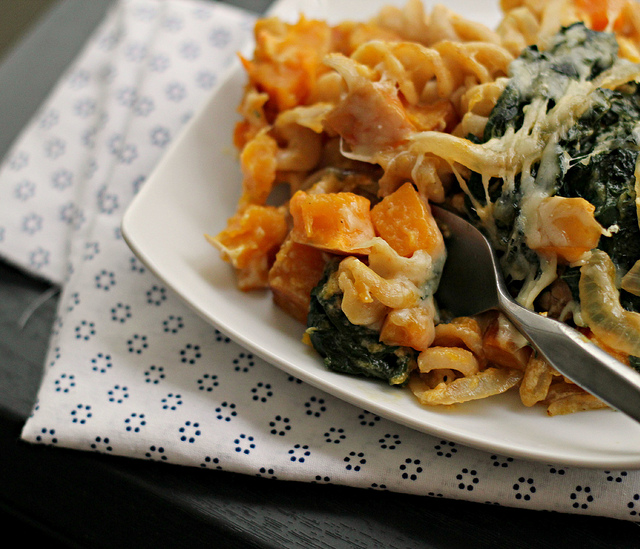 Butternut Pasta with Kale and Caramelized Onions
From Around the Web:
One-Pot Creamy Pumpkin Pasta from Kitchen Treaty
Maple Roasted Delicata Squash and Chickpea Zucchini Pasta with Toasted Pumpkin Gremolata Breadcrumbs from Inspiralized
Creamy Pumpkin Pasta from My Whole Food Life
Creamy Pumpkin Pasta with Parmesan and Sage from Bake Your Day
Creamy Pumpkin Pasta Bake from A Family Feast