Rhubarb adds the perfect tartness to these decadent blondies that are also filled with white chocolate and slivered almonds.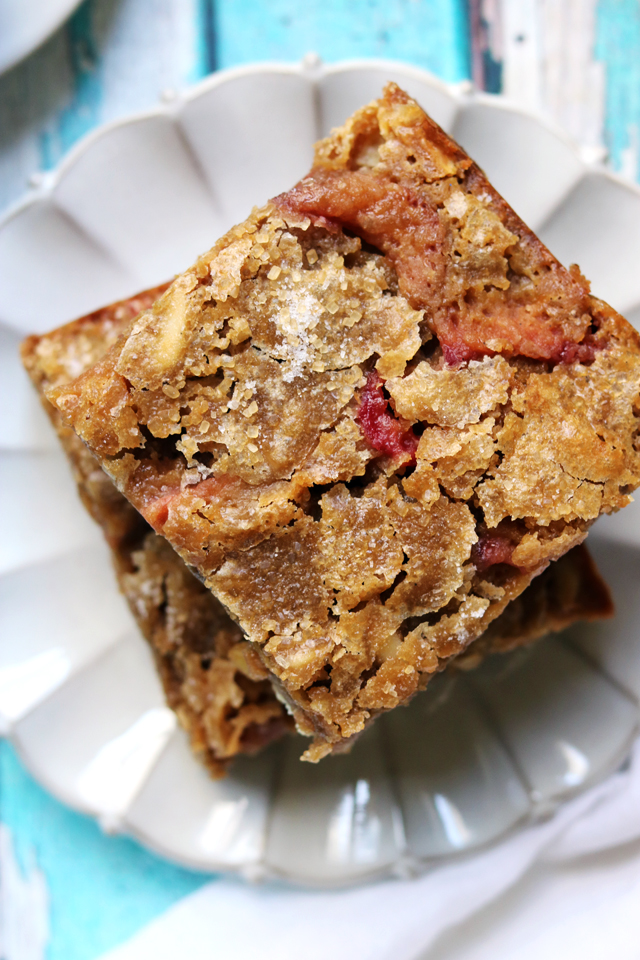 Look, I'm just trying to eat my vegetables before we leave for Disney World.
TOMORROW.
!!!!!!!!!!
I'm already exhausted just thinking about it, especially because I have six trillion things still to do before we leave, including:
cleaning our apartment so that we don't come back to a mouse/roach infestation.
PACKING. (<– ugh, doesn't this seem like a job a husband should do?? not into it.)
doing my LAST WORKOUT of 80 Day Obsession.
catching up on Southern Charm.
cleaning out the fridge.
bikini wax. (<– also, UGHHHHHHHHHH.)
napping.
And now you understand why some vegetable fuel is so totally needed.
HOW PERFECT that these blondies are chock full of veggies.
Rhubarb is most often cooked as if it were a fruit, but if we're getting all technically botanical, it really and truly is a vegetable.
If that's not one of life's best WIN/WINS, I'm not really sure what is.
These blondies are from the Sister Pie cookbook and, much like Mary Poppins, they are practically perfect in every way.
They're dense and decadent and fudgy. Super rich as blondies so often are, but just as you're getting to the point where you kind of feel sick at how cloyingly sweet they are, a tart bit of rhubarb pops up and pulls you back from the edge.
They've also got some great textural assets going for them, including slivered almonds and a crispy sugar-crusted top.
I can't wait to bake more from this book (like, I feel like I should make everything in it. thoughts??) and plan on making the rhubarb pie from it as soon as I get back. I'm sure after a week at Disney, I'll need all the veggies (and rosemary streusel) I can get.
Rhubarb, White Chocolate, and Almond Blondies
Rhubarb adds the perfect tartness to these decadent blondies that are also filled with white chocolate and slivered almonds.
Ingredients
1 cup sliced rhubarb
2 tsp sugar
½ cup + 2 tbsp unsalted butter, melted and cooled
½ cup packed light brown sugar
½ cup packed dark brown sugar
2 large eggs, room temperature
1½ tsp vanilla
1¼ cups flour
1 tsp kosher salt
½ cup slivered almonds
½ cup chopped white chocolate
For the sugar topping
1.5 tbsp white sugar
1.5 tbsp demerara or turbinado sugar
Instructions
Heat oven to 350F. Grease an 8x8-inch baking pan and line with parchment paper. Set aside.
In a small bowl toss the rhubarb with the sugar. Set aside.
In a large bowl, whisk together the melted butter with the light and dark brown sugars until smooth. Scrape down the sides of the bowl, then add in the eggs and the vanilla and mix until smooth.
Add in the flour and salt. Fold into the batter until just incorporated, then mix in the rhubarb-sugar mixture, almonds, and white chocolate until just combined.
Pour the blondie batter into the prepared baking pan, using an offset spatula to smooth it into an even layer.
Mix together the white and demerara sugars to form the sugar topping, then sprinkle over the top of the blondie batter. Bake for 25-30 minutes, or until just set.
Cool completely on a wire rack, then remove the blondies from the pan and cut into 9 squares. Serve.