A Persian zucchini frittata that is rich with spices, tart barberries, and floral orange zest. It is truly an explosion of flavor.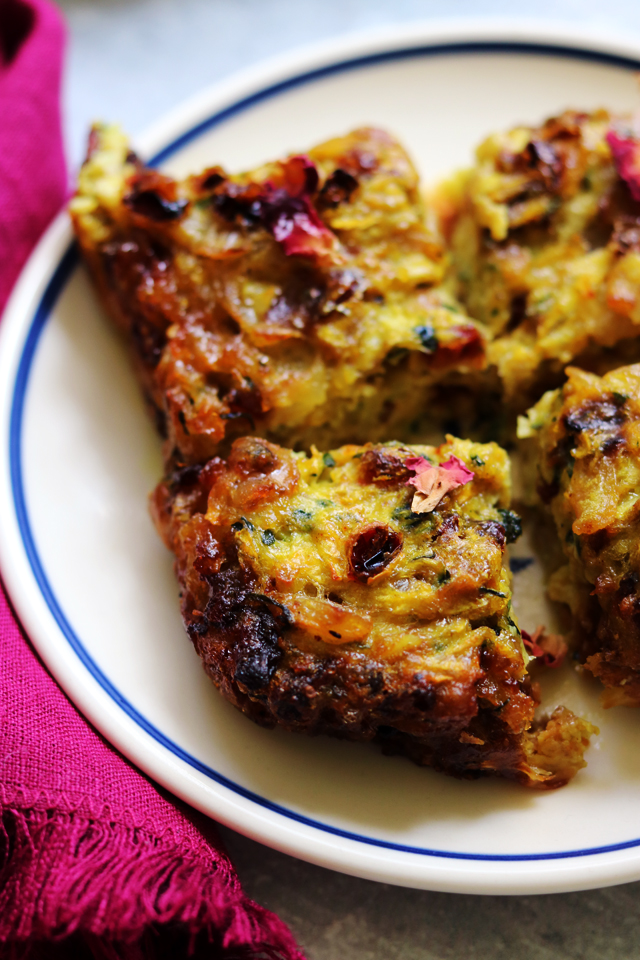 Probably one of the best things about knowing how to cook (or at least how to follow a recipe) is that it saves a lot of money I would otherwise spend on travel.
Like, HELL YEAH, I would love to go to the Middle East and shack up with an Iranian grandmother for a few weeks and learn all of her secrets/eat her out of house and home, but it's just not feasible at this point in time for a whole slew of reasons.
So in the meantime, while I wait for the world and my life to come together so that can happen, I am really grateful for fabulous cookbooks that get me at least part of the way there in my own kitchen.
I've been cooking along with the Food52 Cookbook Club group on facebook and last month we explored Bottom of the Pot, which is a wonderful tome filled with authentic Persian recipes. Middle Eastern foods are some of my favorites – so many rich, unfamiliar flavors that speak to me on a whole other level. There were a lot of delicious dishes that I cooked from it over the past thirty days, but none were as eye opening as this zucchini frittata.
It's hard to describe it, other than to say that it is just so different from everything that I know a frittata to be.
One of the hallmarks of Persian cuisine is the abundance of flavors that get mixed into each dish. Each meal is richly spiced with warm, fragrant spices like cinnamon and nutmeg. But then there's always a bit of sour in the mix as well, which can come from any number of ingredients including sour plums, dried barberries, or even just a simple lemon.
This zucchini frittata (or kookoo in Persian) starts as you would expect, having you shred and salt the zucchini and summer squash to eliminate as much of their liquid as possible. Wringing them dry is key for the frittata to keep its integrity, otherwise it will just be soggy and unappealing.
Then into the batter goes soaked barberries, cinnamon, turmeric, saffron, nutmeg, dried rose petals (!!!), and orange zest. From there, you mix in the eggs and then bake in a bath of olive oil.
The end result is incredibly fragrant and simultaneously savory, tart, sour, and sweet. I'm sure that it will be polarizing for some given that it combines so many flavors in a way that is unfamiliar to our western palates, but try to keep an open mind.
Persian Zucchini Frittata (kookoo kadoo)
A Persian zucchini frittata that is rich with spices, tart barberries, and floral orange zest. It is truly an explosion of flavor.
Ingredients
2 medium zucchini
2 medium yellow summer squash
2¼ tsp kosher salt, divided
7 tbsp olive oil, divided
1 onion, diced
1 tsp dried mint
3 tbsp flour
⅓ cup barberries, soaked for 10 minutes in hot water and drained
2 garlic cloves, chopped
¼ tsp ground cinnamon
¼ tsp ground turmeric
¼ tsp ground dried rose petals
⅛ tsp ground saffron
⅛ tsp ground nutmeg
⅛ tsp black pepper
zest of 1 small orange
5 large eggs
Instructions
Heat oven to 375F.
Grate the zucchini and summer squash using the shredding blade on a food processor. Place in a large colander and sprinkle with 2 tsp of the salt. Toss to combine and set inside a large bowl or in the sink.
Meanwhile, heat 2 tbsp of the olive oil in a small skillet over medium-high heat. Add the onion and cook for 12 minutes, or until golden. Sprinkle with a pinch of salt and remove from the heat. Add the dried mint to the onion and stir to combine. Set aside.
Place the grated zucchini and squash in a square of cheesecloth or a clean dish cloth. Squeeze out as much of the extra liquid as possible.
In a large bowl, toss together the zucchini and squash, onion-mint mixture, and the remaining ingredients except for the eggs and remaining olive oil. Stir to combine. Add in the eggs and stir to combine.
Pour 4 tbsp of the olive oil into an 8x8-inch baking pan. Swirl around the bottom and up the sides so that it is completely coated in the oil. Place in the oven to heat for 1 minute, then pour the batter into the pan and spread into an even layer. Bake for 20 minutes, or until mostly set. Remove from the oven and cut into 8 portions. Drizzle the remaining 1 tbsp of olive oil into the dividing cuts. Place back in the oven and bake for an additional 15 minutes, until fully set and crisp on top. Cool slightly before serving.